Anyone who's used one of RIM's trackball-equipped BlackBerrys during the past couple of years very likely knows the pain of a stuck or impeded navigation ball. Scrolling slows to a crawl; you can't move in one direction at all; the ball won't click or, worse, it gets stuck completely, rendering your precious BlackBerry all but useless.
BlackBerry-maker RIM recently decided to do away with the trackball completely in its latest lineup of BlackBerry smartphones, opting instead to go with a more reliable optical "trackpad" with fewer moving parts. The company does not plan to ship future devices with trackballs, but it's still selling a number of handhelds with the less-than-stellar navigation system.
In fact, RIM's single most popular device-line, the BlackBerry Curve 83xx family, sports the problematic trackball. But you're in luck if you're a BlackBerry Pearl 8100, 8120 or Curve 8320 user on T-Mobile U.S.A.–assuming you purchased your device through the carrier.
As of February 15, T-Mobile Pearl and Curve owners will be able to waltz on into a T-Mobile retail store to swap out their abused, or just plain ol' faulty, trackballs for shiny new ones, according to reports. (Note: The offer appears only to be valid if you're using a Pearl 8100/8120 or Curve 8320; T-Mobile Pearl 8220 and Curve 8900 users are out of luck, since a different type of trackball and a more intensive removal process are required for these specific devices.)
I applaud T-Mobile for its efforts, but honestly, it would've been nicer to see this offer arrive six months or a year earlier, when the affected devices were the top-of-the-BlackBerry-line and before many of us upgraded to newer devices without trackballs. Some Verizon Wireless stores will already swap out bum trackballs for you, as well, but it's not official, and I'm not sure all stores are equipped to do so.
T-Mobile representatives will assumedly handle the dirty work for you, but those interesting in replacing their own trackballs will want to keep moving for my how to on swapping out your BlackBerry trackball.
FREE CIO BlackBerry Newsletter
Get better use out of your BlackBerry and keep up-to-date on the latest developments. Sign-up »
1) Find a PLASTIC–not metal–tool with a very thin edge that can be wedged between the outer trackball "ring" and the device housing. I use a prying tool designed for similar jobs, but you can employ the edge of a credit card or something similar. T-Mobile BlackBerry Curve 8320 with trackball ring removed 2) Power off your device and take out your battery. 3) Remove the trackball ring with your pry-tool, starting on the top and slowly moving around the circumference of the ring, freeing it from the rest of the BlackBerry. The trackball ring has to notches on both right and left sides that clip to tiny holders on the BlackBerry housing. T-Mobile BlackBerry Curve 8320 with both trackball ring and trackball removed
Be careful when you're prying up the sides, because the notches are delicate and they can snap. If you accidentally snap one of the ring's notches, you can purchase replacement rings online for less than $1 each. T-Mobile stores participating in the new trackball replacement program will presumably have replacement trackball rings, as well. And a variety of colored trackballs can also be found online.
4) Once your trackball ring is removed, tip your device sideways to drop your old trackball out. If it's secured, use the your pry-tool to unseat it. Grab the new trackball, ensure that you're seating it correctly in the open trackball space–you'll see indentations on the sides of the trackball mechanism that coincide with the ring's notches. The new trackpad should "click" into place if inserted correctly.
5) Finally, you should snap your trackball ring back into place, ensuring that the snap-in notches are on the right and left sides. Again, be careful replacing the trackball ring, because the notches are delicate. Do not force it into place if it doesn't click in without issue. Instead, remove the ring and ensure that notches are correctly positioned and that the plastic isn't bent out of place.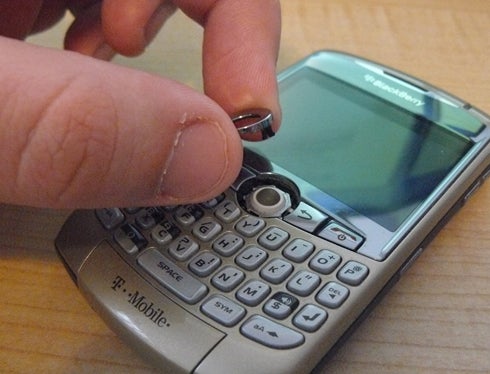 6) Pop your battery-pack in, power up and get rollin'!
AS