If you follow the ERP market closely—and, really, who doesn't these days?—then you've probably heard of Big ERP. For those not familiar with Big ERP's polarizing musings on Twitter or his gluttonous Web ads, the outsized character's views on enterprise software can best be summed up this way: He loves everything about bloated traditional on-premise ERP systems—the excess and expense that frustrated customers have been dealing with for decades.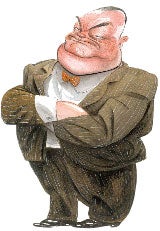 Scheduling an interview with Big ERP was not easy. But once on the phone, Big ERP did not disappoint. His views are unsurprisingly anti-choice, anti-customer, anti-cloud—pretty much anti-everything that takes revenues out of his coffers and makes customers' ERP lives more manageable.
CIO.com Senior Editor Thomas Wailgum discussed a wide range of topics with Big ERP, including his views on the "rip and replace" vendor strategy, why he loves upgrades, and what he finds so funny about ERP ROI and TCO.
CIO.com: What's your favorite thing about being Big ERP—the recurring maintenance revenues? The favorable licensing agreements? The locked-in customer base?
Big ERP: Yes.
CIO.com: I see. It seems that you have an intense aversion to change. What is it about the status quo that you love so much?
Big ERP: You know what they say: "If it ain't broke…." Unless, of course, we're talking about the customer's infrastructure. Then, truthfully, all bets are off. After all, it's not like we can charge our customers for what they already have! I mean, well…could we? Hmmm. Will have to get my people working on that.
CIO.com: You've often talked about "paying through the nose" for ERP maintenance and support. Sounds like it hurts?
Big ERP: It doesn't hurt us, not at all…Oh! You meant the customer!!! That's a good one.
CIO.com: Your Twitter bio @Big_ERP says: "Providing the biggest software solutions possible for the biggest companies in the world. (Not yours.)" At the biggest price, too?
Big ERP: Well, by popular demand, we've just introduced two "tiers" of "biggest prices." So now our customers can either choose to pay the "biggest" prices for the mandatory upgrades as we crank them out. Or, they can pay one all-inclusive "biggest" price and be done with it. Can't say we don't listen.
CIO.com: Quiz time! ERP software is to choice, as WHAT is to WHAT?
Big ERP: As…the Dodo [bird] is to evolution.
CIO.com: Interesting. Why do ERP implementations still have to be so darn expensive?
Big ERP: How can our implementations possibly be cheap? We're going to go in, rip everything you have right out, and replace it with brand spanking new solutions—ours, of course—and we are going to charge you an arm and a couple of legs for it. Then we are going to charge you for customization, because you can't seriously expect our solutions to work right out of the box. And then we are going to charge you for maintaining those new solutions—until, of course, it's time for the upgrade. How else do you expect us to make any money?
CIO.com: So, is "rip and replace" an actual business strategy?
Big ERP: It beats trying to build a business off some crazy notion like "customer satisfaction."
CIO.com: I'm going to go out on a limb and guess that you love upgrades. Why is that?
Big ERP: It's Big ERP 101: We can keep maintaining our old products or charge you a fortune for new licenses and implementation fees. Sprechen Sie "Profit"?
CIO.com: What do you call CIOs who complain about high ERP implementation costs, integration headaches and lack of user adoption?
Big ERP: SMBs.
CIO.com: What about ERP vendor user groups: A valued way to tap into "voice of the customer," yes?
Big ERP: That whole "voice of the customer" concept is way overrated, Tom. It's what people like Ray Wang and his namby-pamby "Enterprise Software Licensee Bill of Rights" will have you believe, but we are not buying.
CIO.com: Word association time! Just give me the first word or words that pop into your head. Ready? First: "22 percent"?
Big ERP: "Stock price."
CIO.com: How about vendor "lock in"?
Big ERP: "Customer Loyalty Program."
CIO.com: "Oracle" and "SAP"?
Big ERP: Will have to plead the fifth on that one.
CIO.com: What about ERP "ROI" and "TCO"?
Big ERP: "LOL."
CIO.com: And last, "customization"?
Big ERP: "Double the customer's IT department!" (Oops, were those too many words?)
CIO.com: Thanks for your time, Big ERP. I'm sure we'll be hearing much more from you.
Big ERP: Thanks, Tom. By the way, how's CIO magazine's CRM working these days?…Looks like it could use a little "upgrade."
Do you Tweet? Follow me on Twitter @twailgum. Follow everything from CIO.com on Twitter @CIOonline.