Microsoft mobile chief Robbie Bach may believe that the Linux OS will lose out to Windows Mobile in the smartphone space, but Linux Foundation director Jim Zemlin is having none of that.
In a blog post this week, Zemlin fired back at comments Bach made to financial analysts at CES (consumer electronics show) that there is too much complexity in Linux and too many versions for phone carriers to manage.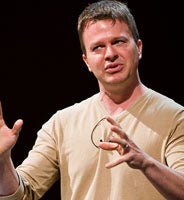 "By Bach's count there are 17 variants of Linux available on mobile phones," writes Zemlin. "He sees this as a bad thing for customers. We, unsurprisingly, see this as a bad thing for Microsoft."
At CES, Bach, president of Microsoft's Entertainment and Devices division, predicted a mobile OS shake-out where carriers will reject some Linux mobile operating systems because they complicate support issues. He stated that that various versions of Linux on mobile are "a little quirky and a little different, require separate network certifications, network product support, and the like that goes along with that."
Windows Mobile Out of the Loop, Survey Says
Slideshow: The Definitive Android Smartphone Guide
Slideshow: Windows 7 in Pictures: The Coolest New Hardware
Bach also said that mobile Linux's "quality bar won't stack up, and they won't get the scale that they need."
To that line of argument, Zemlin countered that Linux mobile variants such as Android, Moblin, Palm WebOS, Maemo and others are growing rapidly on mobile devices ranging from smartphones to netbooks precisely because of the choice they offer hardware makers.
"Palm, Motorola and others have jumped ship from Windows Mobile to Linux-based offerings in recent years," writes Zemlin. "LG is now using Android on 50 percent of its handsets. According to Gartner Group, Windows Mobile's global market share fell to 7.9 percent in the third quarter of 2009 down from 11.1 percent the same quarter of last year."
That Gartner report also cites that Android's market share grew from 0 percent in Q3 of 2008 (because it was brand new) to 3.9 percent in Q3 of 2009.
Indeed, Windows Mobile has been losing market share for the past two years while the iPhone and BlackBerry devices have had steady growth. An October survey by market researcher comScore marked the first time Windows Mobile's market share has fallen behind the iPhone, putting the iPhone in second place below BlackBerry and dropping Windows Mobile to third place.
It doesn't help Microsoft that the poorly-received Windows Mobile 6.5 is seen as a placeholder for when the real deal Windows Mobile 7 hits the market. Yet WinMo 7 delays — it reportedly may not be released until 2011 — have curbed momentum for the OS and allowed Google's Linux-based Android time to win over phone makers, consumers and businesses.
In his post, Zemlin criticizes Windows Mobile's entire business model, pointing out that phone carriers and manufacturers have to pay Microsoft a per-device charge for Windows Mobile, but pay nothing for Linux-based platforms.
He also attacks the branding and licensing restrictions of Windows Mobile. "Basically Microsoft wants to 'own the glass.' With Linux you have multiple ways to brand and market your product, making it your product."
Individual variants of Linux may come and go and working with Linux on mobile is a complex task, admits Zemlin, but with this complexity comes more choice in technology and branding flexibility for carriers and manufacturers, "instead of getting the technology and pricing dictated to them from Redmond," he writes
Zemlin also stresses that building a phone on Linux is simpler now than it was a few years ago when "handset manufacturers had to build from scratch their own OS if they didn't want to give up a big percentage of their margins to Microsoft."
What Microsoft cannot deny is the sudden demand for Android phones with the release of devices like the Motorola Droid, Droid Eris and the new "Google phone" Nexus One. A December report from research firm Forrester forecasts that Android phones will take 10 percent of the mobile market in 2010 due to increased acceptance of the open OS by developers and industry support from partners such as Verizon, Qualcomm, Motorola and Google.
In his blog post, Zemlin references the recent Android surge, and offers a warning to Bach and Microsoft.
"I suppose if he [Bach] truly believes choice is a bad thing, he may truly believe Linux will lose, but unfortunately the market momentum and adoption numbers are proving quite the opposite."
Shane O'Neill is a senior writer at CIO.com. Follow him on Twitter at twitter.com/smoneill. Follow everything from CIO.com on Twitter at twitter.com/CIOonline.