When search engine giants Microsoft Bing and Google announced their moves into the real-time search arena late last year, they joined a number of small startups racing to position themselves ahead of their competitors. Unlike traditional search engines, real-time search sites index updates from social communities such as Twitter, Delicious, Flickr and YouTube, providing you with a peek into the hot discussion topics on the Web.
Many people have turned to real-time search sites to follow events (think Captain Sully landing on the Hudson River or the aftermath of the earthquake in Haiti)—these results can often point you to blogs and other new sources of information that traditional search engines may have overlooked. "It essentially allows you to tap material…where there is almost no delay between composition and publishing," says Michael Fleischner, author of SEO Made Simple.
Give these five real-time search sites a try. Many of them have great, intuitive interfaces (like Thoora and Leapfish) and are customizable, to help you find exactly what you're looking for, as it's happening.
1. Collecta
At Collecta, you'll see a list of "what's hot right now"—a list of topics with related articles, tweets, blog posts, photos and comments about popular searches. The ranking of these topics and the related content change in real time, based on popularity. When you enter a search and click "Now!" Collecta gives you a streaming list of real-time posts—everything from comments from readers on news sites to recent tweets and WordPress blog entries. You also have the option to narrow your search to just blog posts and articles; comments on blog posts; updates from Twitter and microblogging sites Jaiku and Identica; photos from Flickr, TwitPic and yFrog; and videos from YouTube and Ustream. 2. Leapfish
Leapfish lets you search two ways: via real-time search and a more conventional search. The results page will give you top news results, a Wikipedia page (if there is one assigned to the topic), top Web results (you can choose whether Leapfish uses Google, Yahoo or Bing as the search engine), video results, Twitter results, a section for blog results and images, top posts from Digg and a shopping section (where you can view top hits from Amazon or eBay). Leapfish also lets you filter results by Web-only, real time, videos, images, news, blogs and shopping.
3. OneRiot
You can sort your search results two ways with OneRiot: "Realtime" and "Pulse." Searching Realtime will yield results that reflect the most recently shared content. If you choose Pulse, you'll find the most "socially valued" content related to your search—this ranking takes into account how many times it's been shared on various social sites and how often it's shared, among other factors.
Your search results page will list a number of hits, and each one will denote when the piece of content was last shared, how many times it's been shared, where the piece of content was originally first shared from (i.e. from Digg, Twitter, etc.) and the name of the user that first shared it.
4. Scoopler
Scoopler aggregates and organizes content in real time by indexing updates from news sources and social sites such as Twitter, Flickr, Digg, Delicious and more.
The results page for your Scoopler search is divided into two columns: "popular shares"—hits that include videos, images and links (you can also sort the results by these three categories); and "live posts"—a selection of mentions from Twitter, Delicious, Digg and more that update in real time.
One cool feature is the "peek" function that appears when you hover your mouse over a particular search result. Clicking it allows you to preview the website (without leaving Scoopler). Close the box to return to your Scoopler search results.
5. Thoora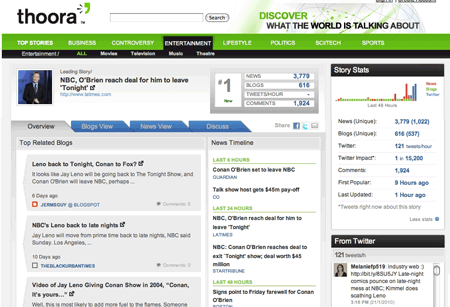 Thoora explains that it takes the traditional approach to online news (events create news, which yield blog posts that create buzz around the topic) and inverts it: Thoora identifies what's attracting the most buzz by indexing the blogosphere to determine which mainstream news stories attract the most interest.
You'll see that Thoora's search results page is broken into three panes: one with search results from the Web—generally with a main news story and supplemental blog posts; a "search stats" box that displays a timeline of your topic's popularity and breaks down the categories with the most search hits; and a box with relevant tweets about your search.
Thoora has a number of ways you can customize your search (such as by category or top stories of today/this week/this month). You can also browse top stories; by clicking on a story, you're given the option of three "views"—a tabbed page with just blogs, just news and a tab where you can discuss with others your thoughts related to the subject. This page also displays the number of news stories, blogs, tweets per hour and comments related to the topic.
Staff Writer Kristin Burnham covers consumer Web and social technologies for CIO.com. She writes frequently on Twitter, Facebook, LinkedIn and Google. You can follow her on Twitter: @kmburnham.