The 2010 Consumer Electronics Show (CES) is about to kick off in Las Vegas, and BlackBerry-maker Research In Motion (RIM) isn't wasting any time announcing new products–though you're unlikely to see any new BlackBerry smartphones announced at the show.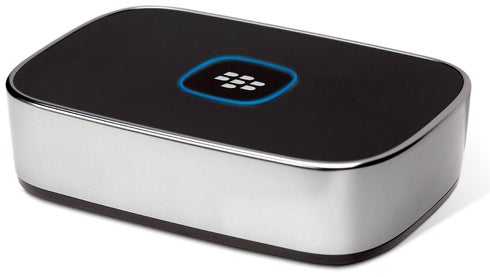 This morning, RIM took the wraps of its latest BlackBerry accessory: The BlackBerry Presenter. The product is a 3.4 inch x 2.4 inch box-shaped gadget that connects to a projector or other display and wirelessly transfers PowerPoint presentations stored on your BlackBerry smartphone via Bluetooth.
From RIM:
"BlackBerry Presenter is easy to use–to start your presentation, all you need to do is plug it in and select "Present" on the wizard on your BlackBerry smartphone. There are no settings to worry about, as the single, mounted button on top of the device is used to put it to sleep, wake it up, or reset it to show a new presentation."
It works with Microsoft PowerPoint 2003 and 2007 and supports "most of the animations (24, to be exact) and transitions (55) in the slides." Users can also activate "loop mode," which sets a specific time between slide transitions so you can start the slideshow and put your BlackBerry aside. And a "freeze mode" lets you navigate your collection of slides via BlackBerry without changing the current slide being viewed on your projector or monitor.
The BlackBerry Presenter device software, along with the associated application that runs on your smartphone, can also be updated in the future for added features and functionality not available at launch–though you'll need a Windows PC. BlackBerry handheld software 4.6 or higher is required. And unfortunately, the Presenter does not work with RIM's most popular device-line to date, the BlackBerry Curve 83xx series, or the Pearl Flip 82xx,. That's due to processor and memory constraints, according to the company.
The product isn't restricted to use with only RIM products; it's compatible with a number of third-party Bluetooth enabled devices, according to the BlackBerry maker.
The BlackBerry Presenter is a lot like Impatica's existing Showmate "projector connector" for RIM smartphones, which has been available for years. In fact, the two products offer almost identical functionality. The new Presenter has two advantages over the Showmate, according to RIM: 1) Showmate requires a file-transcoding process on a PC prior to presenting them while RIM's version does not; and the BlackBerry Presenter has a resolution output of 1024×768, compared to the Showmate's 800×600.
The BlackBerry Presenter is expected be available this month on RIM's ShopBlackBerry.com for $199. And it should hit additional online dealers and retail stores in February, RIM says. The product comes with a carrying case, USB cord for software updates and a power supply. It does not ship with VGA or S-Video cables, which must be used to connect the Presenter to a projector or display, so you'll need to pick up one of your own.
Impatica's Showmate is listed as "coming soon" on ShopBlackBerry.com for $187.49, but you have to wonder whether the competing product will be removed once the BlackBerry Presenter goes to market. Impatica's asking significantly more for the Showmate on its own site: $249.99.
RIM's not expected to make any "major" announcements at CES–sorry, you most likely won't see any new device. But the company will have the new BlackBerry Presenter on display, along with its full lineup of smartphones and accessories, for CES attendees to paw.
As you read this, I'm on my way to Vegas, where RIM's holding a BlackBerry Presenter evaluation unit with my name on it. I'll be sure to post a full review after spending some time with gadget, so check my CIO.com author page often if you've got your eye on the new BlackBerry Presenter. And visit BlackBerry.com/Presenter for additional product details.
AS
FREE CIO BlackBerry Newsletter
Get better use out of your BlackBerry and keep up-to-date on the latest developments. Sign-up »