BlackBerry enthusiasts, "CrackBerry" addicts and gadget-heads in the United States can now officially purchase Research In Motion's (RIM) latest and greatest smartphone: the BlackBerry Bold 9700. I've used many BlackBerrys in my day, but this is almost my dream smartphone…almost.
T-Mobile became the first U.S. carrier to offer RIM's new Bold smartphone when it listed the device for sale last Monday for $199.99 with a new, qualifying two-year wireless service contract. AT&T quickly followed suit, releasing its own version of the Bold 9700 to the masses a week later for the same exact price and contract commitment–after a mail-in rebate.
I've been using the T-Mobile BlackBerry Bold 9700 for a few weeks now, and I'm nothing short of infatuated with the smartphone. It has nearly everything I want in a high-end device. It's reasonably priced–the original BlackBerry Bold, the Bold 9000, was more expensive upon release more than a year ago and still sells for $199.99 on contract. And the 9700's just plain ol' good-lookin'.
Here are nine reasons, in reverse order, why the new BlackBerry Bold 9700 is RIM's best BlackBerry ever. If you're considering a BlackBerry upgrade or are thinking of taking the plunge into the world of BlackBerry for the first time, I strongly suggest you keep these points in mind when checking out the Bold 9700.
Still, you'll find a few minor shortcomings. None of them are deal-breakers in my opinion–I wouldn't be naming the Bold 9700 RIM's best BlackBerry ever if they were—but the points are worth noting, nonetheless.
Hit that jump for specifics. And you can check out a full BlackBerry Bold 9700 unboxing here.
FREE CIO BlackBerry Newsletter
Get better use out of your BlackBerry and keep up-to-date on the latest developments. Sign-up »
Why RIM's BlackBerry Bold 9700 is the Best BlackBerry Ever
9) BlackBerry Bold 9700 Screen Resolution: The BlackBerry Bold 9700 has the highest screen resolution or pixel count of any existing BlackBerry smartphone with a 480×360 pixel display. That's the same resolution as the new BlackBerry Storm2 and the BlackBerry Tour 9630, which was first released last July by Verizon Wireless in the United States.
The iPhone 3GS, by comparison, has a 480×320 pixel screen, which means images and video generally don't look as sharp on Apple's smartphone as on the Bold 9700.
I've watched a variety of music videos, movie clips and scrolled through countless images on the device, and the Bold 9700's screen is simply beautiful.
8) BlackBerry Bold 9700 Application Memory: RIM packed the Bold 9700 with 256MB of Flash application memory–the most of any BlackBerry, and the same amount of app memory as Storm2 and Tour. The BlackBerry OS restricts users' application storage to the app memory, so the larger amount of application memory available, the more apps that you can store and employ at a given time.
I'm not exactly satisfied with just 256MB of app memory–512MB or more would certainly be better–but it's a step up from the Bold 9000's 128MB of flash. And it's the most app memory RIM has squeezed into any BlackBerry to date.
7) BlackBerry Bold 9700's 3.2 Megapixel, Autofocus Digital Camera: The 3.2 megapixel camera found on the BlackBerry Bold 9700's really nothing to write home about, but it's a solid, mobile phone camera and the best you'll find on any of RIM's handhelds. The Bold 9700's camera has autofocus features, which can take some getting used to–the on-screen autofocus "box" is a bit awkward at times. But pictures generally appear vivid and clear.
And a digital zoom function makes zooming in or out as simple as rolling a thumb or finger up and down over the device's "trackpad."
6) Bold 9700 Form Factor:The BlackBerry Bold 9700 is without a doubt the most visually attractive BlackBerry RIM has ever produced. Gone are the days when BlackBerrys could be mistaken for clunky old remote controls, or even bricks. The Bold 9700 is thin, light, shiny and downright sexy.
Not only is the Bold 9700 a looker, it's built to last. The most common problems I've had with BlackBerrys over the past few years typically relate to trackballs, wireless signal issues and faulty battery covers. The Bold 9700 doesn't have a trackball, and the new trackpad is a solid replacement–I've yet to have any issues with my Bold 9700 trackpad. I haven't experienced any significant wireless signal problems since embracing the 9700. And the Bold 9700 battery cover, composed with a "leatherette" material, not unlike the original Bold's cover but classier looking, both fits like a glove and is easy to remove and replace.
A new bezel-design with contoured edges gives the device a more polished look. In-set, user-customizable "convenience" keys on both the 9700's sides look like they're all part of a single surface. And shiny silver charging panels on the bottom left and right let users employ the BlackBerry Bold 9700 Charge Pod to power up while reducing wear and tear on the main microUSB charging port.
5) BlackBerry Bold 9700 is a Wireless Powerhouse: The new BlackBerry Bold 9700 is T-Mobile U.S.A.'s very first 3G BlackBerry–just like I predicted it would be way back in August. The AT&T version is also 3G, and both versions pack Wi-Fi radios, stereo Bluetooth and integrated GPS with assisted (A)-GPS.
AT&T and T-Mobile's BlackBerry Bold 9700 devices are exactly the same except for a few minor differences: T-Mobile uses a different 3G radio frequency band in the United States than AT&T, so the T-Mobile version supports different bands. And T-Mobile also supports unlicensed mobile access (UMA) for Wi-Fi calling, while AT&T does not.
4) BlackBerry Bold 9700 Runs BlackBerry OS 5.0: The BlackBerry Bold 9700 is just the second U.S. device to ship with RIM's latest handheld operating system, BlackBerry OS 5.0–the Storm2 was the first. Verizon Wireless also just released the BlackBerry Curve 8530, which is now the third device to ship with the new OS, behind the Storm2 and Bold 9700.
RIM has shipped OS 5.0 for the original BlackBerry Storm, but that device is the only "older" BlackBerry with an official OS 5.0 build. Verizon Wireless shipped the OS 5.0 update for the first Storm in late October, shortly before releasing the new Storm2.
T-Mobile and AT&T released the Bold 9700 with different 5.0 software builds–T-Mobile went with a newer version than AT&T–but the basic functionality is the same, and both devices run the best software the BlackBerry-maker has to offer.
3) BlackBerry Bold 9700 Keyboard: RIM currently makes four different kinds of keyboards: 1) SureType keyboards, found on RIM's various BlackBerry Pearl devices, with multiple characters on single keys; 2) SurePress keyboards, or touch-screen keyboards for BlackBerry Storm devices; 3) the "Curve"-style full QWERTY keyboard found on Curve devices; and 4) the "Bold"-style full QWERTY keyboard on RIM's Bold and Tour devices.
I'm a very heavy texter, so keyboard design is very important to me when choosing a smartphone. In fact, keyboard design is one of the top factors that keep me loyal to BlackBerry, despite flashy devices like the iPhone and Motorola DROID.
RIM's Bold-style keyboard–contoured keys with little or no horizontal space between them and guitar-like, chrome frets spaced vertically between rows–is by far my favorite BlackBerry keyboard design. And the Bold 9700's keyboard doesn't disappoint…though I do wish it was slightly larger. (More on that subject in the next section.)
2) BlackBerry Bold 9700 Gets RIM "Trackpad": As mentioned earlier, a common problem-area for recent BlackBerry smartphones was the pearl-like trackball used for device navigation. BlackBerry trackballs typically work great when you first get them; they roll smoothly with no obstruction. But as you employ your BlackBerry and the trackball sees a bit of wear and tear, it's not uncommon for the ball to start to stick or slow down.
In the past, I typically replaced my BlackBerry trackball once every three or four months. That's all fine and good if you're comfortable with replacing BlackBerry parts, but the trackball has been a thorn in the sides of BlackBerry power users and large IT departments, which constantly have to deal with faulty trackballs.
No more, thanks to the new BlackBerry trackpad, which I've really come to love over the past months. The trackpad was first found on T-Mobile's BlackBerry Curve 8520, released last August. It has since made its way to the BlackBerry Bold 9700 and Curve 8530. And RIM has plans to do away with the trackball entirely, so you'll be seeing more of the new trackpad in the future.
1) BlackBerry Bold Battery Life is Exceptional: Finally, the best thing about the BlackBerry Bold 9700, in my opinion, is the device's outstanding battery life. The Bold 9700 has average talk-time of six hours on 3G; standby time of up to 17 days; and music playback time of as long as 38 hours, according to RIM.
Those are impressive numbers, especially when you compare them to the weak battery life stats of comparable devices like the BlackBerry Bold 9000 and iPhone 3GS, which both get significantly less talk, standby and music-playback times than the 9700.
What's more, I've found the Bold 9700's battery to exceed RIM's claims. My BlackBerry Bold 9700 on T-Mobile is currently lasting approximately 36 hours bouncing between Wi-Fi, 3G and EDGE coverage–I get around–frequently listening to music, making a few random voice calls and receiving well above a hundred messages a day.
And the Bold 9700 employs the same 1500mAh battery found in the Bold 9000, so original Bold users who upgrade will be able to use their old Bold batteries as backups.
I use and evaluate many different smartphones in the course of my job as a mobile blogger, and I can say without any hesitation that the Bold 9700 is a cut above the rest when it comes to battery life. For that, RIM, I salute you.
So, that's a whole lot to like. But nothing in this world's perfect–beyond Patron tequila, let's be fair. I found a few things I don't like so much about the BlackBerry Bold 9700, and they are as follows…
Three BlackBerry Bold 9700 Limitations
3) No On-Device Storage Memory: Unlike the BlackBerry Bold 9000 and the vast majority of RIM's recent BlackBerry smartphones, the Bold 9700 has no built-in "on-board" memory or storage space. The Bold 9000 has one GB of on-board memory, so the Bold 9700 took a step down in that regard. And the new Storm2, which is largely aimed at consumers who employ the device to manage and consume multimedia, packs a full 2GBs of on-board memory.
That means the Bold 9700 needs a microSD memory card to store any significant amount of pictures, images or other data. And it reduces the total potential storage space available to Bold 9700 users. Whereas a Storm2 user with a 16GB microSD memory card might have a total of 18GB of BlackBerry memory, Bold 9700 users have access to only the memory afforded by a microSD card.
RIM's Bold 9700 is the BlackBerry-maker's flagship business device, and frankly, I'm disappointed that it doesn't have at least one GB of on-board memory.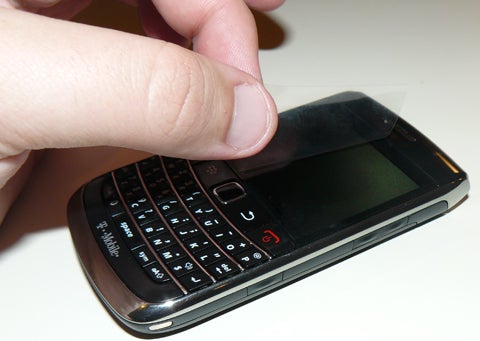 2) BlackBerry Bold 9700 is Only Available on T-Mobile, AT&T: As wonderful a device as the Bold 9700 may be, it won't be of any use to Verizon Wireless, Sprint or any other wireless carrier's customers because it's currently available only on T-Mobile and AT&T in the United States.
In other words, you're out of luck if you're a Verizon or Sprint customer who wants the new Bold 9700 but you're unwilling to switch carriers. Furthermore, you cannot unlock a Bold 9700 and employ it on Verizon or Sprint, like you could a Verizon or Sprint BlackBerry Tour for use on AT&T or T-Mobile, because the device employs entirely different wireless technology.
1) Bold 9700's Just a Little Bit Too Small: The Bold 9700 is just the second device in RIM's Bold smartphone lineup. Its older brother, the Bold 9000, is roughly 4.5 inches high and 2.6 inches wide, which, in my opinion, is just about right. The new Bold 9700 trimmed down a bit to 4.29 inches high and 2.36 inches wide.
Those changes might not sound like a lot, but when you consider the tiny size of most smartphones, the tweaks can–and do–make a world of difference.
I'm mostly used to the new size of the Bold 9700, but initially it bothered me to no end that RIM reduced the original Bold's size so drastically. I would've liked to see a slightly larger version–I make more typos on the 9700 than I did the 9000, and that's entirely size-related. I have to believe that RIM will release another device in the future for us folks with large hands. But as is, the Bold 9700, particularly its keyboard, is just a bit too small to be my ideal BlackBerry.
Learn more and/or purchase RIM's BlackBerry Bold 9700 on AT&T.com and T-Mobile's website.
AS
FREE CIO BlackBerry Newsletter
Get better use out of your BlackBerry and keep up-to-date on the latest developments. Sign-up »