'Tis the season for business not-as-usual: The holidays are supposed to be a time of peace, harmony and gathering together with family and friends.
Everyone is supposed to leave their cubicles and corporate offices behind, the point being to get away from troubleshooting ERP systems, gazing at Excel spreadsheets and answering customer complaints via your smartphone.
Bah Humbug!! 'Tis the season for stealing your parents' neighbor's Wi-Fi signal, struggling to set up a VPN connection while your flight gets delayed again, locking yourself in a closet to join a conference call, and trying to not catch the H1N1-type virus your sister's kid just sneezed all over your BlackBerry.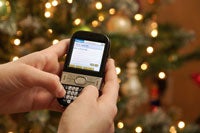 It was the most beautiful and heartwarming of sights,

all of us gathered 'round the fire,

with the glow of iPhones, Laptops, Pre's, Macbooks and Nintendo DSs

lighting up everyone's faces.
It's just not possible for work not to invade your holiday activities and weeklong family sojourns: Such is life in the always-on 21st century, and most everyone (spouses not included) loves the lifestyle. But there are alternatives to the madness. Here's is CIO.com's guide to surviving the holiday season.
What Will I Need for a Home Office?
Check out this Home Office Gear slideshow. And if this whole "working from home" thing is very new to you, be sure to see CIO.com's 5 Tips for New Telecommuters.
Are Those "Free Wi-Fi Offers" at Airports Safe?
Even though most of us probably aren't overly concerned with wireless security and privacy measures, one needs to be careful. "Free Wi-Fi while you're waiting for your flight sounds like a great way to save money, and kudos to Google for offering it at many U.S. airports during the holidays. Unfortunately, Google's generosity may also lure identity thieves and nefarious hackers to the nation's terminals to prey on clueless travelers," according to Google's Free Airport Wi-Fi: 5 Ways to Protect Yourself, which also compares the holiday offerings from Google, Microsoft and Yahoo.
Where Can I Find Free Web-Based Services to Help Stay Productive?
There are many options: Here's a CIO.com list of Five Ways to Get Free Wi-Fi (don't forget about your local library) as well as 8 Free Mobile Services for Staying Productive on the Road.
Should I Use My BlackBerry During a Religious Service?
Not a good idea. "For many people, the holiday season is a time to recharge the spiritual batteries with religious events and gatherings. Such events are not the time to tweet," according to CIO.com's Smartphone Etiquette: Five Unspoken Rules for the Holidays.
Which Restaurants Offer Wi-Fi…and Oh Yeah, Decent Food, Too?
A trip to Panera or McDonald's with the kids might be in order—for everyone's sanity. Some establishments charge for public Wi-Fi connectivity (McDonald's), some don't (Panera), and some offer "hybrid" plans (Starbucks). See CIO.com's Wi-Fi Still Not Universally Free, Though Consumers Think It Should Be for the business reasons that each strategy offers. (By the way: Don't forget the hand sanitizer.)
How Desperate Do People Get Trying to Connect to the Internet?
Pretty desperate. Situations to avoid: Climbing on your parents' roof or plugging into a back of a retailer's cash register, as detailed in CIO.com's 20 Crazy Things People Do to Get Wi-Fi Connections.
I'm in IT, and Everyone Is Telecommuting: How Do I Prepare?
A great primer on the topic asks: "Can technology keep your data secure, your teams connected, and your employees accountable? You bet it can, as long as you plan well." See Telecommuting: A Simple Plan for Managing Employees Who Work at Home for more.
Why Doesn't My Company Allow This All the Time?
The business case for telecommuting policies has been made again and again—though it has to be done right or you could wind up with a bust of a telework program.
Do you Tweet? Follow me on Twitter @twailgum. Follow everything from CIO.com on Twitter @CIOonline.