If you're a BlackBerry smartphone owner and craigslist.com user, you've got reason to rejoice today: An official craigslist BlackBerry app is about to hit Research In Motion's (RIM) BlackBerry App World mobile software shop.
The new app, craigslist mobile from Movela, makers of the popular Movela Netflix Queue Manager, offers all the basic features found on the full craigslist.com website, and its intuitive user interface (UI) makes it simple to browse various site listing and respond to interesting posts immediately from within the app, via e-mail or phone.
BlackBerry users who are familiar with Movela Netflix Queue Manager will immediately recognize the craigslist mobile UI, as it works very much like the company's Netflix app. And craigslist mobile for BlackBerry offers quick, one-click access from the app's home screen to listings on craigslist sections including Community, Personals, Housing, Jobs, For Sale, Services, Gigs and more.
A Preferences tab atop the app home screen lets you quickly swap between cities, states and countries, and you can elect to employ your device's font style within the app to make it feel more your own.
And a basic navigation bar along the bottom lets you quickly return to the home screen; view saved searches and perform new queries; check on bookmarked listings; submit feedback to the app's makers; and send alerts BlackBerry-toting friends who might want to check out craigslist mobile for themselves.
Warning screens popup before you can view any "adult-related" content, and you must agree to specific terms of service to view further pages.
A "Post on craigslist" menu option opens up the BlackBerry Browser and brings you to the craigslist mobile site, where you can login and post new listings of your own. Ideally, you'd be able to post new listings from the application itself, but that's really the only downside I see to craigslist mobile for BlackBerry…expect for its rather hefty price tag.
craigslist mobile is currently awaiting RIM's approval, and the company expects the app to find its way to BlackBerry App World in the very near future. When it does, it will cost $4.99, which is slightly expensive, in my opinion. If you use craigslist constantly, $5 may seem like an insignificant amount of scratch, but I would've liked to see it priced slightly cheaper, perhaps $2.99 or $3.99.
craigslist mobile is not the only BlackBerry application that provides access to craiglist.com–Viigo, one of my personal favorite BlackBerry apps, also offers very basic craigslist features, for free. But in my mind, Movela's new craigslist mobile is currently the best option for BlackBerry toting craigslist users.
The new craigslist mobile app is also officially supported by craigslist, according to Movela.
Hit the jump for additional screen shots of craigslist mobile for BlackBerry in action.
FULL DISCLOSURE: I've worked with Movela on beta testing apps in the past–though I did not test craigslist mobile. I also communicate frequently with one of the developers who worked on the craigslist app, Matt Haag, via social networks like Twitter.
AS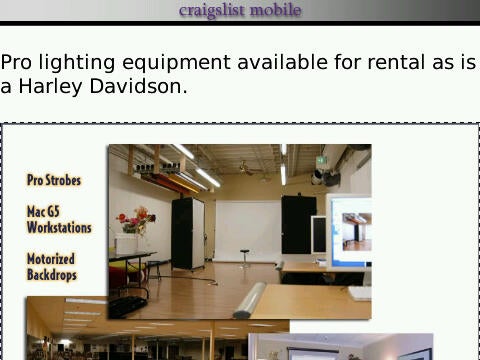 FREE CIO BlackBerry Newsletter
Get better use out of your BlackBerry and keep up-to-date on the latest developments. Sign-up »