For the last three holiday shopping seasons, the Nintendo Wii gaming console has been the gift that has keep on giving for the Japanese videogame manufacturer: Record sales, insatiable demand and tons of never-ending buzz.
During that time, Nintendo's manufacturing facilities, supply chain planners and merchandising decisions-makers have been questioned and tested by a product like few others in modern retailing history. The Wii's three-year run as the gotta-have gift even earned the rare retail label of "recession proof" in 2008. Wii demand defied many basic economic principles and happily flummoxed its executives with Oprah Effect-type sales. "We are selling hardware at rates that no system has ever experienced," Nintendo president Reggie Fils-Aime proclaimed at a media event in October 2008.
But the Wii's heyday appears to be over.
Last week, executives announced that sales and profits fell sharply during the first half of Nintendo's financial year (which starts in April) as demand for the console dropped, according to an IDG News Service article. Sales of the Wii consoles from April to September plunged 43 percent when compared to the 2008 period, and beleaguered executives offered up a dismal outlook for the rest of the fiscal year's sales and profitability.
And yet it would appear, again, that the global economic conditions weren't a factor—one way or the other—as was the case with previous year's sales. In other words, a good or bad economy had virtually no impact on sales.
Industry analysts point to two factors contributing to the Wii's sudden demand decline: First, Nintendo delivered just a few hit videogames in 2009, notes a FinancialTimes.com article. Hot, new games typically sell more consoles. Second, midway through 2009, competitors Sony (PS3) and Microsoft (Xbox) cut the prices on their consoles. (Nintendo trimmed the Wii's price tag to $199 in September.) In turn, Wii sales that were once-certain may not be anymore.
Nintendo Wii Console Sales
Worldwide unit sales since its U.S. debut in November 2006
| Fiscal Year | Unit Sales |
| --- | --- |
| FY April '06- | 5.8 million |
| FY April '07- | 18.6 million |
| FY April '08- | 25.9 million |
| FY April '09- | *Forecasted: 26 million; Actual: 5.75 million (April-Sept. '09); New Forecast: 20 million units |
Perhaps, too, the Wii has saturated all the U.S families that want the gaming system, and some of the buzz might have finally died down. (Rumors abounded that Nintendo was planning to release a new version of the Wii console this holiday season, which turned out not to be the case.)
Nintendo execs aren't publicly saying why they think Wii sales are trending downward. In July 2009, Nintendo of America VP of corporate affairs Denise Kaigler told Wired.com, "There are a lot of factors when sales go either up or down. And it's hard to point to any one particular factor. I've read reports from analysts that point to any number of factors. What I can say is our launch calendar is very different from 2008 versus 2009."
Dealing with a Wii Problem
How Nintendo's supply chain planners and marketing executives deal with this downward trend will be interesting to watch. AMR Chief Research Officer Bruce Richardson noted the importance of and complexities involved in managing consumer-electronics' product life cycles, when interviewed by CIO.com in August 2008.
A challenge that companies such as Nintendo face is getting the "life cycle right: trying to get to profitability as you try to maximize manufacturing," he said. "This is really a timing issue where you can produce to demand and still make money, versus finally getting the economies of scale in manufacturing and distribution only to find out that the demand window is closed."
For its fiscal year starting April 1, 2009, Nintendo forecasted that it would sell 26 million Wii units. From April through September, however, it sold only 5.75 million Wii consoles. Officials reduced the sales forecast in October to 20 million units for the remainder of its fiscal year.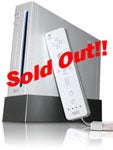 Of course, forecasting holiday sales is always risky business, even in the bullish of financial times and by those with the best supply chains. But for Nintendo, forecasting manufacturing output and product demand way back in March 2009—during what we now know was the trough of a global recession with consumer spending and confidence sputtering—on what and how much is going to sell 10 months from then is extraordinarily difficult. That's due, in part, to the fact that the assumptions that most companies use in creating forecasts are based, to a large extent, on what happened during previous holiday shopping seasons with their products.
The concept of "demand sensing" is not just a buzzword. For instance, supply-chain import data this year shows that one of this holiday season's most in-demand product is hand sanitizer gel. It appears that consumer product companies reacted to the intense media coverage of the H1N1 Swine Flu outbreak earlier in the year and wanted to ensure that they would have plenty of it on hand: Imports more than doubled this year when compared to 2008 data, according to Panjiva, a company that analyzes public and proprietary supply chain data.
Read the Enterprise Software Unplugged Blog
What's good news for Nintendo, other manufacturers and retailers is that October retail sales were the strongest since the recession began. "Things are better than they were a year ago," Michael McNamara, VP for research and analysis at SpendingPulse, told The New York Times. "But we're still below where we were two years ago."
As for the Wii, its time as the must-have gift for Billy and Suzy might finally be over. Which is also terribly hard to predict. In the interview with CIO.com, Richardson added: "For every product that exists on the market, they'll soon be a better version," he said. "In consumer electronics, you've got to be very fickle and pay close attention to the product lifecycle."
Do you Tweet? Follow me on Twitter @twailgum. Follow everything from CIO.com on Twitter @CIOonline.