Verizon Wireless yesterday became the first carrier to officially release Research In Motion's (RIM) latest major BlackBerry device software upgrade, BlackBerry OS 5.0 for the BlackBerry Storm 9530. Storm users need only connect their devices to RIM's BlackBerry Desktop Manager to download and install the new software.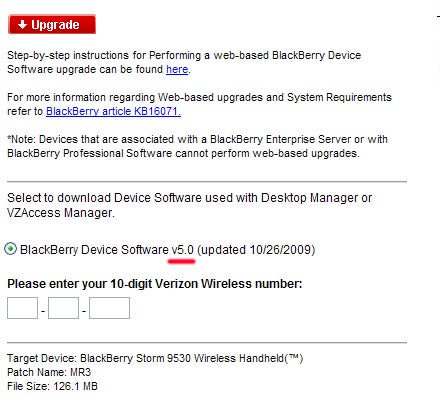 Last May, while formally announcing BlackBerry Enterprise Server v5.0, RIM promised it would start rolling out BlackBerry handheld OS 5.0 before the end of the year. Verizon's release of Storm 9530 OS 5.0.0.328 is the first official OS 5.0 release, so it looks as though RIM's sticking to its word.
This weekend, the BlackBerry maker also published an official list of BlackBerry smartphones that will get the OS 5.0 upgrade in the future:
BlackBerry Pearl Flip 8200 series smartphones

BlackBerry Curve 8330 smartphones

BlackBerry Curve 8350i smartphones

BlackBerry Curve 8900 smartphones

BlackBerry Bold 9000 smartphones

BlackBerry Storm 9500 series smartphones

BlackBerry Tour 9630 smartphones
Notable new features found within BlackBerry handheld OS 5.0 include the ability to flag messages in your inbox; improved mail-folder management; auto-correct and word-completion typing software; and a variety of personal information management (PIM) feature-enhancements. (Note: Some new features require BES 5.0.)
Notably absent from the list is RIM's new Curve 8520 device. I can only believe that this lack of inclusion of the Curve 8520 is simply an oversight on RIM's part, as I've already installed at least one beta OS 5.0 on my 8520, so RIM's clearly building the software for that specific smartphone.
Other popular RIM smartphones like the majority of the Curve 83xx family are also missing from the OS 5.0 upgrade list, but RIM addresses this in the document overview:
"In order to optimize the BlackBerry smartphone user experience with BlackBerry Device Software 5.0, BlackBerry smartphones must have more than 64MB of memory to support this version of BlackBerry Device Software. BlackBerry Device Software 5.0 is targeted to be supported by Research In Motion on the above noted BlackBerry smartphones."
All BlackBerry Curve 83xx devices, with the exception of the Curve 8330 (96MB) and Curve 8350i (128MB), have only 64MB of memory, and therefore, they don't make the grade for a 5.0 update, according to RIM.
In the end, wireless carriers decide if/when to release official BlackBerry OS updates after RIM sends the software to them, so it's unclear when exactly OS 5.0 will be released for BlackBerry devices other than the Storm 9530. Verizon's approval of OS 5.0.0328 for the Storm 9530 means that RIM's in the process of sending off OS 5.0 builds to carriers, so it shouldn't be long at all before others release the code, as well.
AS
Via CrackBerry
FREE CIO BlackBerry Newsletter
Get better use out of your BlackBerry and keep up-to-date on the latest developments. Sign-up »