One of the hottest holiday items on retailers' shelves this year won't be a video console or chattering toddler doll. It just might be antiseptic-smelling hand sanitizer.
Can't you see the TV ads now? "Put the Pure back in your holiday season with Purell."
According to Panjiva, a company that analyzes public and proprietary supply-chain data sources to decrease companies global sourcing risks, hand-sanitizer shipments in the third quarter of this year more than doubled when compared with the same quarter in 2008.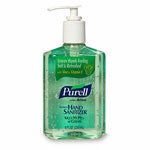 Read the Enterprise Software Unplugged Blog
In the third quarter of 2009, according to a Panjiva report, there were 128 waterborne "hand sanitizer" shipments to the U.S.; there were just 56 shipments in Q3 2008.
Panjiva also looked at the weight of the shipments and found a threefold increase in the amount of hand sanitizer shipped in the third quarter of 2009, compared to the same quarter last year.
How does Panjiva do this? To find the sanitizer data, Panjiva's "natural language processing algorithms analyzed tens of millions of shipping records to quickly identify shipments that included the phrase 'hand sanitizer,'" according to the company.
What's interesting: Between August and September 2009, Panjiva data showed a 5 percent decline in the number of global manufacturers shipping to the United States. Which makes the spike in hand-sanitizer shipments all the more noteworthy. (For more on seasonal supply-chain risks, see Why the "Oprah Effect" Can Take Down the Best Supply Chains.)
Holiday shoppers can, however, take comfort knowing that most consumer hand-sanitizers bottles come in a festive green color. Kids will just love them as stocking stuffers.
Do you Tweet? Follow me on Twitter @twailgum. Follow everything from CIO.com on Twitter @CIOonline.