Microsoft will ship this little operating system called Windows 7 tomorrow, as you may have heard. We here at CIO.com have been writing about Windows 7 for more than a year. Microsoft has trickled out the details for months and IT veterans have sweated all of them, because history teaches us that OS upgrades go about as smoothly as a Kanye West appearance at an awards show.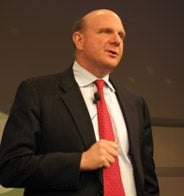 All that's left now is for the bald guy to sing. Maybe he won't sing, but as the big day approaches, we have some colorful ideas that Microsoft CEO Steve Ballmer could use to add a hint of drama to the launch event.
Here's our Top 10 list of quotes that we'd love to hear from Ballmer—but surely won't—tomorrow in New York City at the Windows 7 launch:
1. "True, Vista was our Hurricane Katrina, but we've got FEMA on standby for Windows 7."
2. "Windows 7's features will make your company fly faster than Balloon Boy!"
3. "There is absolutely no truth to the rumor that Windows 7's improvements are a hoax made up for reality TV."
4. "Tune in tonight for our breakthrough TV series Jon and Kate Get You Ready for Windows 8!"
5. "We've scaled back those aggravating security prompts designed to prevent counterfeit copies. We just ask that you store all your personal information in our new cloud service, hosted by Google!"
[ For complete coverage on Microsoft's new Windows 7 operating system — including hands-on reviews, video tutorials and advice on enterprise rollouts — see CIO.com's Windows 7 Bible. ]
6. "Windows 7's 3D Task Switcher has a secret 'Cloudy with a Chance of Meatballs Mode!' Enable it and let the food fly—but no cream pies aimed at Mr. Gates, please!"
7. "Participate in our black turtleneck recycling program and get an extra $10 off Windows 7!"
8. "Yes, I am going as Mac guy for Halloween. How did you hack my PC and find that out?!"
9. "Baldness? I've got a cap for that!"
10. "Oh, and one more thing. I just love this new iPhone of mine!"
Follow me on Twitter @lmclaughlin. Follow everything from CIO.com on Twitter @CIOonline.