It's about time.
After months of leaked images, pre-release reviews and video walkthroughs, Research In Motion (RIM) has finally acknowledged one of its worst-kept secrets of 2009: the BlackBerry Storm successor, the Storm2.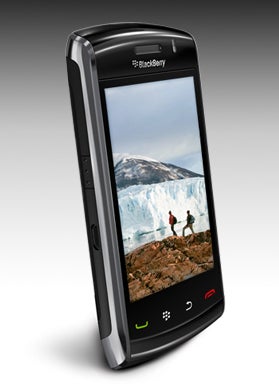 And that's not all. T-Mobile Germany also listed the BlackBerry Bold 9700, the latest in the RIM's business-oriented Bold lineup, on its website. That device should be available to the German market in November, according to the site, and even though RIM has yet to officially announce the Bold 9700, the development suggests an official statement and release isn't far off.
RIM posted images and details of the Storm2 on its BlackBerry.com website, and the handset-maker also issued a joint press release with U.K. carrier Vodafone acknowledging the new Storm2 9520. Though no specific launch details are available just yet, Vodafone customers in seven European countries including Germany, the Netherlands and Spain, will be able to purchase the Storm2 in time for the holidays," Vodafone says.
Vodafone's U.S arm, Verizon Wireless, should get the Storm2 9550 soon as well, especially since the company's CEO recently touted the new smartphone to the press, hinting that it would be available soon.
Barring any unforeseen delays, the BlackBerry Bold 9700 should land in the United States on T-Mobile U.S.A., AT&T or both, shortly after the T-Mobile Germany launch and just in time for the 2009 holiday season–Engadget.com pegs the date as October 21.
Last month, I brought you the first official marketing image of the Bold 9700 from T-Mobile U.S.A., confirming the device's imminent launch on that carrier.
And RIM's big developer show, the BlackBerry Developer Conference, start November 9, so the company will likely use the event to show off its new wares.
Both new devices build on the features of the earlier Bold and Storm models, but pack additional goodies, as well, in slightly smaller packages. For example, the original BlackBerry Storm 9500/9530 was widely criticized for its less-than-perfect "haptic" technology, called Sure Press, as well as a lack of Wi-Fi. The new Storm2 9520/9550 uses a new touch-screen SurePress technology that's reportedly much more functional than original iteration, and it also has Wi-Fi.
The new Bold packs 256MB of application memory, compared to the Bold 9000's 128MB, it employs RIM's new optical trackpad for navigation–previously available only on the Curve 8520–and it's significantly smaller than the 9000.
RIM has clearly established a number of BlackBerry brand names over the past year or so, including the Pearl, Curve, Storm and Bold lineups. However, the company's still confusing customers by using different naming conventions for each brand. For example, there are two different Pearl families: the Pearl 81xx and Pearl Flip 82xx series. BlackBerry Curves come in three different versions, differentiated only by model numbers like, 83xx, 85xx and 89xx. The new Storm is the "Storm2"–no space, same 95xx model numbers–and the Bold successor is the Bold 9700–not Bold2, etc.
I think it would be wise to standardize those names, so all devices have either a static brand name and model number, or just one or the other. You can find more Storm2 information on RIM's website. And you can expect an official Bold 9700 acknowledgement from the BlackBerry-maker in the near future.
AS
FREE CIO BlackBerry Newsletter
Get better use out of your BlackBerry and keep up-to-date on the latest developments. Sign-up »
Al Sacco was a journalist, blogger and editor who covers the fast-paced mobile beat for CIO.com and IDG Enterprise, with a focus on wearable tech, smartphones and tablet PCs. Al managed CIO.com writers and contributors, covered news, and shared insightful expert analysis of key industry happenings. He also wrote a wide variety of tutorials and how-tos to help readers get the most out of their gadgets, and regularly offered up recommendations on software for a number of mobile platforms. Al resides in Boston and is a passionate reader, traveler, beer lover, film buff and Red Sox fan.