More than a year ago, I brought you the first official confirmation from Research In Motion (RIM) that it would release a long-awaited Macintosh-compatible version of its BlackBerry Desktop Manager software in 2009.
Today, RIM plans to make good on those claims, by publicly releasing the free BlackBerry Desktop Manager v1.0.0 (build 89) at 1 PM EST. The BlackBerry-maker was nice enough to send me the official build a few days ago, and I've been putting it through the paces ever since.
Little remains unknown about this new BlackBerry software for Apple users, since both unofficial and official walkthroughs of Desktop Manager for Mac are available online, and a near-final version leaked a couple of weeks back. Anyone interested had only to download and install that unofficial version to witness the fruits of RIM Mac developers' labors over the past couple of years.
For the purposes of this review, I'll stick to high-level observations about the final build–features or bugs that I believe are noteworthy, even if you've already spent time poking around the leaked beta. If it's more specifics on features that you seek, read "BlackBerry Software for Mac: Four Brand New Features," and "Four Things You Didn't Know About Desktop Manager for Mac."
First, the good stuff.
FREE CIO BlackBerry Newsletter
Get better use out of your BlackBerry and keep up-to-date on the latest developments. Sign-up »
BlackBerry Desktop Manager for Mac is a PIM Machine
BlackBerry Desktop Manager for Mac quickly and easily syncs users' personal and work calendars, contacts, notes and tasks. I synced up my BlackBerry Bold 9000 with my MacBook's iCal application and its associated tasks, as well as my Address Book for contacts, and had no issues whatsoever. In fact, I was pleasantly surprised how quickly the syncs completed–at least in comparison to BlackBerry Desktop Manager for Windows.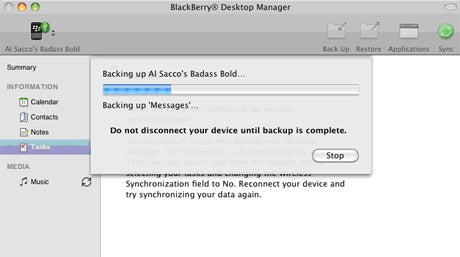 The application's user interface is also impressive; it's both functional and handsome, and it's laid out in a similar fashion to other core Apple apps, like iTunes, so it should seem familiar to most Mac users.
Gone are the days when Mac users had to resort to expensive third-party BlackBerry syncing programs like The Missing Sync or PocketMac for their personal information management (PIM) needs. BlackBerry Desktop Manager for Mac performs all the basic syncing functionality a BlackBerry user needs. And best of all: It's completely free.
Unlike current version of BlackBerry Desktop Manager for Windows PCs, the Mac-version incorporates BlackBerry Media Sync, so there's no longer any need to employ an addition program for syncing media files between your computer and RIM handheld. But therein lies one of the biggest problems I have with the new BlackBerry Desktop Manager for Mac: media sync troubles.
Media Sync Tribulations
I was able to sync small amount of media from my iTunes library between my BlackBerry Bold and MacBook–as much as six GBs–but as soon as I tried syncing any amount of data more than 10GB, I encountered problems. Specifically, the sync process stopped after an hour or so, leaving me frustrated and my device frozen until I force-quit the program and reformatted my memory card.
I used a SanDisk 16GB Ultra microSDHC card in my trials, and I reformatted it and ran through the very same process a number of times to simulate a new user experience, but was never able to successfully sync up more than six GBs of music at a time.
I couldn't help but picture a novice, or "noob," BlackBerry user attempting to fill up his memory card via the new Mac software for the first time, only to find that the program hung up and his device is frozen because it got stuck trying to index the new files on the card. Anyone unfamiliar with this problem would then need to seek a solution–removing or reformatting the card will do the trick–and I could see them steering clear of Desktop Manager for Mac in the future, for fear of similar problems.
That is not the experience RIM's looking for here, especially since the Desktop Manager for Mac release is really geared toward consumer users. BlackBerry Desktop Manager for Windows has been available for years, but it wasn't until RIM successfully broke into the vast consumer market that it started even considered releasing BlackBerry software for Mac.
And which function of the new Mac software will those consumers use most often? You got it, the media sync feature.
I brought the issue to RIM's attention and was told:
"The RIM software team continues to look into this. [sic] although it isn't an issue they experienced during testing."
Frankly, I find that a bit hard to swallow, as I had similar media sync issues the entire time I used the unofficial beta software. Seems to me that RIM's having problems ironing out those kinks, but it can't wait any longer to release the software. That's because the company posted months ago on its BlackBerry for Mac Web page that the software would be available in September.
RIM clearly missed that date–in fact, the company told me initially that the software would be available in the "first half of 2009"–but it did drop a somewhat misleading press release in the last days of September that made it seem like the company had achieved its target release date…sort of.
I spoke to a number of folks who also downloaded the Mac Desktop Manager beta, and many experienced similar media sync problems, so my issues aren't unique, at least in that early build.
No Unofficial OS for You!
My final gripe relates to the fact that BlackBerry users can't employ the new Mac software to load unofficial or beta software and operating systems on their devices. I've bemoaned this point before multiple times, but I still can't get over the fact that I must employ the Windows version of Desktop Manager if I want to load an unofficial OS on my device, which I do quite frequently–until, of course, some crafty soul comes up with a "work around."
RIM altered the way files are loaded and backups created, so traditional BlackBerry installer files aren't used by the Mac software. I understand why RIM made the change; the company wants to discourage the use of unofficial software, which could potentially damage user hardware and harm the overall BlackBerry experience. But I feel like RIM should give its customers freedom to do whatever they wish with their property.
I'm well aware of the risks of loading beta software onto my BlackBerry, and I've been bitten in the ass a few times because of bad code. But I was always able to resolve the problem on my own, and I'm a better, more-informed BlackBerry user because of it.
Conclusion: Close but No Cohiba
I'll end this review by saying that I'm very happy BlackBerry Desktop Manager for Mac is here, and Mac users the world over can stop messing with inadequate third-party BlackBerry syncing software. But I really wish I could've sat down with the new software's official release and walked through each and every feature without any major problems.
That didn't happen, and as such, I'm a bit disappointed in RIM and its latest offering for Macintosh computer users.
BlackBerry Desktop Manager for Mac is available for free on RIM's BlackBerry for Mac page.
AS
FREE CIO BlackBerry Newsletter
Get better use out of your BlackBerry and keep up-to-date on the latest developments. Sign-up »