It seems like nobody has anything good to say about BlackBerry-maker Research In Motion (RIM) these days.
Analysts, bloggers, journalists, rival device makers, gadget geeks–even RIM shareholders and employees–all seem to have turned a cold shoulder to the struggling Canadian handset maker. Indeed, it's mostly doom and gloom in the tech press when it comes to RIM and BlackBerry today.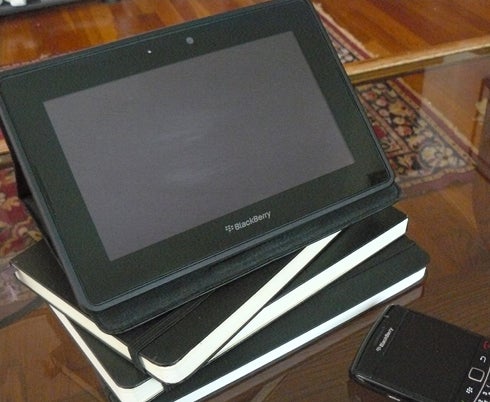 The negativity isn't without reason. RIM is seeing its North American market share drop sharply as smartphone users jump ship for better waters around the Apple/Google/Microsoft/whatever camps. The BlackBerry-maker has toughed out some particularly ugly product launches over the past couple of years. (Think: Storm, Storm2 and, more recently, the Wi-Fi-only BlackBerry PlayBook with no native e-mail or PIM apps.) RIM recently cut as many as 200 jobs in and around its Waterloo, Ontario headquarters. And a number of key staffers, including a former chief marketing officer and senior product manager, have turned tail, leaving RIM shorthanded in its time of trouble.
These things certainly haven't been good for RIM or the BlackBerry brand. And it's easy to focus on the negative in difficult times. But such a focus only paints one side of the story. I think RIM and its BlackBerry customers still have grounds to remain positive and upbeat. What follows is a quick list of reasons why I still keep a BlackBerry in my pocket–and why I don't see that changing any time soon.
1) Love that BlackBerry QWERTY Keyboard
First up, the number one reason I still use a BlackBerry as my "main" smartphone, or my "daily driver:" That QWERTY keyboard.
I love the BlackBerry "Bold-style" keyboard. And though I've used a variety of handhelds from other manufacturers with similar keypads over the years, I've yet to find one that works better.
I can practically hear a collective groan from iPhone users who would unequivocally swear they can type just as well on their touch-screen keyboard as I can on my BlackBerry's QWERTY keyboard. Perhaps, but I have found after much experience that I can't type as fast and effectively on any touch-screen keyboard as I can with my BlackBerry keypad. Make no mistake, I have given touch-screen keyboards a fair chance, I own an iPhone, Motorola Atrix, Samsung Focus and a number of additional handhelds with no "physical" QWERTY keyboards.
I use my BlackBerry almost exclusively for messaging, so the ability to type rapidly and with as few errors as possible is extremely important to me. RIM still makes the best keyboard on a mobile device, and as such, it offers something its rivals can't or at least haven't yet. Until that reality changes, folks like me who want the best messaging device on the market will stick with RIM and BlackBerry.
2) BlackBerry Battery Life Can't be Beat
BlackBerry battery life differs with each specific model of RIM handheld; for sure, some BlackBerrys get much more life than others. And some specific software builds provide much more battery life than others when installed on the exact same device. So it can be difficult to accurately quantify BlackBerry battery life.
But one thing is certain: In general, the average modern BlackBerry battery life is superior to the average battery life of RIM rivals, including Apple's iPhone and Google Android handhelds.
Just how long your mobile device lasts depends on a variety of factors, including the strength of your wireless network at a given time, the applications and services running on your device, screen brightness and timeout duration, and much more. But I've yet to use any smartphone that offered better battery life than my BlackBerry Bold 9780.
For example, I'm constantly sending and receiving mail on my BlackBerry and updating my various social networks. And though I carry either my iPhone or my Motorola Atrix, too, I mostly only use those devices to listen to music during my morning and evening commutes, which arent long at all, or access a few apps. Yet my BlackBerry easily outlasts both of these devices day in and day out.
My example may not exactly be "scientific," but the fact is that my experience with many modern smartphone tells me that in general, most BlackBerry smartphones offer significantly better battery life than many of today's most popular handhelds. And all current BlackBerry smartphones have removable batteries, as well, so you can always swap out a dead one for freshly charged power pack. Not so for the iPhone and other popular handhelds.
3) BlackBerry Enterprise Security and Manageability
RIM's near dominance in the enterprise mobility space is slowly eroding, but BlackBerry is still King when it comes to enterprise security and manageability. That's because BlackBerry smartphones are literally designed to work along with RIM's BlackBerry Enterprise Server (BES), which offers hundreds of IT security safeguards and management features in the form of "IT policies." (RIM even offers a free version of BES, called BES Express, for organizations who don't want to pay the pricey licensing fees for the full version.)
Sure, many BES-like products and services are available to help secure and manage non-BlackBerry devices, and some of them offer many of the same or similar features found in BES. Many of the most popular non-BlackBerry smartphones can connect to Microsoft's Exchange Server using ActiveSync, as well.
But since BlackBerrys were designed with security in mind, they're generally easier to manage and control. And they offer the highest level of security, for organizations that may want or need it.
For example, connecting a new BlackBerry to BES is a breeze, even for newbie administrators. And RIM's Web-based BES management console makes it simple for BlackBerry admins to monitor, manage and wipe BlackBerrys, from wherever they have Internet access. In other words, BlackBerry smartphones are IT friendly. Unfortunately–or fortunately for RIM–the same cannot always be said about the other smartphone platforms, including iOS and Android.
As long as security remains a priority for organizations and government agencies, and as consumers increasingly become aware of smartphone security threats, RIM's BES will continue to be a much valued enterprise solution.
4) BlackBerry Messenger and BBM Social
BlackBerry owners love RIM's proprietary BlackBerry Messenger (BBM) IM app that lets any and all RIM smartphone users shoot messages back and forth without incurring text-message charges from wireless carriers. Though many similar cross-platform IM apps with comparable features exist–Apple even copied RIM when it recently released its iMessage app–none have gained as large and as loyal a user base as BBM.
RIM knows that BBM is one the BlackBerry platform's strengths and a valuable competitive advantage. It even launched a widespread advertising campaign based entirely on BBM and its various users around the globe. The company also recently released some cool new developer tools and an associated "BBM Social" API that lets software makers integrate their applications with BBM. Very few applications with this BBM social integration are available at this point. (Foursquare recently released a test build of its location-based social networking app with BBM integration.) But I see huge promise in the idea if RIM can convince enough developers that it will be worth the time and effort to build BBM Social features into their apps.
As such, BBM Social has the potential to make BBM even more attractive to BlackBerry users, while also making the app a stronger, and that could give it a more competitive advantage. BBM Social could even drum up some much needed enthusiasm around BlackBerry app development, which would certainly be a good thing for RIM, BlackBerry and its customers.
5) Future is Bright for BlackBerry PlayBook Tablet
Okay, so RIM's BlackBerry PlayBook launch wasn't exactly a study in how to successfully market and release a brand new, potentially groundbreaking product. More specifically, RIM basically launched an unfinished tablet–no cellular connectivity, no native e-mail, etc.–after spending lots of time and bundles of cash hyping the PlayBook up to the masses. Not surprisingly, the tablet was blasted by many influential reviewers, many of whom couldn't seem to stop comparing the PlayBook to Apple's hugely popular iPad. (The fact that RIM took jabs at Apple in its PlayBook ad campaign, stating that "Amateur Hour Is Over," probably didn't help.)
I believe the BlackBerry PlayBook has a ton of potential. And most of the pieces of the puzzle are there, they're just not in place yet.
RIM is expected to release native e-mail and personal information management (PIM) apps any day now, which will should make the tablet more attractive to non-BlackBerry smartphone users, who have heretofore been unable to access Web mail via PlayBook without launching a browser first. And the Android App Player for PlayBook, which will allow BlackBerry tablet users to run compatible Android applications, should also be extremely well received.
When all of these pieces come together, the BlackBerry PlayBook could come out looking rather impressive–and those early negative reviews may prove insignificant.
6) Seven New Handhelds in 2011, Promise of QNX-Based BlackBerrys
RIM has been slow to release new BlackBerry handhelds during the past year, but that's all about to change. The Canadian company plans to release at least seven brand new smartphones before the end of 2011, according to its co-CEO Mike Lazaridis, though only one of those devices, the BlackBerry Bold 9900/9930 has been officially announced.
Thanks to a variety of leaked confidential materials, it's known that RIM also plans to release a revamped version of it BlackBerry Torch 9800 device, the Torch 9810; and the BlackBerry "Touch" 9850/9860, a new Storm-like device with no physical keyboard, along with a couple of updated BlackBerry Curve devices.
All seven new devices will presumably run RIM's latest mobile OS, BlackBerry 7, formerly referred to as BlackBerry 6.1. And though BlackBerry 7 honestly doesn't seem all that different from BlackBerry 6, it does pack some cool new features including support for Near Field Communications (NFC) technology, more powerful search capabilities and improved Web browsing, among other things.
While BlackBerry 7 won't likely draw many smartphone users away from Android devices or their iPhones, it should help to retain current BlackBerry users, since it's certainly a step up from the BlackBerry 6 OS.
And BlackBerry 7 is really just a building block toward the next major BlackBerry mobile OS, which will be based on a software foundation from QNX Systems. (RIM bought QNX in 2010.) The BlackBerry PlayBook Tablet OS was similarly built on QNX code, and thanks to some help from another recent RIM acquisition, The Astonishing Tribe (TAT), the BlackBerry PlayBook Tablet OS is a much more functional, modern and visually appealing OS than the aging, bland BlackBerry smartphone OS.
The impressive BlackBerry Tablet OS bodes well for the upcoming, QNX-based BlackBerry smartphone OS. And a more modern BlackBerry handheld OS with a better overall user experience should certainly catch they eyes of gadget geeks and help RIM compete with its major rivals in the smartphone space.
7) BlackBerry Data Compression
BlackBerry smartphones employ "DataSmart" technology to compress data sent back and forth between wireless networks and RIM handhelds. DataSmart tech, according to RIM, "works a lot like zipping large files on your computer. When you use data on a BlackBerry smartphone, it's almost as if the data is zipped up before it's sent or received so it's smaller and uses up less of your data plan."
Most average smartphone users couldn't care less what goes on behind the scenes, as long as their devices work when they need them. But DataSmart technology can actually save BlackBerry users money. And that ought to grab some attention, especially in a time when many unlimited smartphone data plans are being phased out and mobile data use in general is rapidly getting more and more expensive.
In fact, a RIM-sponsored study by research firm Rysavy Research recently found that BlackBerry users can get two times more Web browsing, four times more e-mail and two times more social networking, than users with "other leading smartphones."
As more and more individuals and businesses start to feel the effects of cellular data price hikes, the BlackBerry platform, with its DataSmart tech, should become more attractive.
Bottom line: RIM is, with good reason, struggling right now, but I believe the company can pull itself back up by its metaphorical bootstrap. RIM didn't become one of the world's largest smartphone makers overnight. And similarly, it's foolish to think the company will collapse just because it had a couple of rough years struggling with new challenges.
RIM still has some fight left in, and I still have faith in RIM.
AS
Al Sacco covers Mobile and Wireless for CIO.com. Follow Al on Twitter @ASacco. Follow everything from CIO.com on Twitter @CIOonline and on Facebook. Email Al at asacco@cio.com