Weren't we supposed to be watching movies wearing virtual reality helmets by now? Full immersion, not just 3D. But the technology, it turned out, fell short of its lofty promise. Helmets delivered small, pixilated pictures. Refresh rate? Horrid. Even worse, blinking images caused headaches.
"I think the same happens with augmented reality" apps, says Alex Makarov, head of development at SHAPE Services, a mobile app developer delivering iOS apps such as IM+ (free). "Proof-of-concept apps are looking cool, especially on Youtube. When you start to put these things in the real world, a bunch of problems arrive."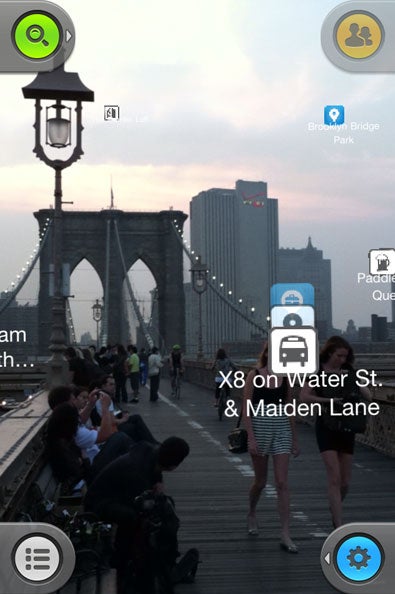 Augmented reality, or AR, burst on the mobile scene a couple of years ago to much fanfare—and fizzled shortly after. Basically, AR is the overlaying of information usually gleaned from the Internet onto a live image or video feed on a screen. Fans of the National Football League have been staring intently at AR on their television sets for years. It's the digitized yellow line on the football field indicating a first down.
Slideshow: 12 Tech Revolutions That Fizzled
Companies working hard in the AR space include Layar, Zugara and Total Immersion. Other app makers such as SHAPE Services are dabbling in the technology. SHAPE Services recently launched CheckIn+ (free), an iPhone app with built-in AR that lets you find places and check into them with Foursquare and Facebook Places. Another popular iPhone search app, AroundMe app (free), which made CIO.com's list of 15 best iPhone apps for newbies, also has AR features.
Part of what's holding AR back, though, is its murky definition. Let's say you're shopping at an electronics store and run across a pricey item. You whip out your iPhone and fire up the super-popular RedLaser (free) app. RedLaser scans the item's barcode using the iPhone camera and retrieves information about competitive pricing. Is this AR at work, too?
"In short, this is a technology that is not well understood," says Gartner analyst Van Baker, "and the value proposition is not immediately apparent until you see a specific implementation. Then people can react to the value they see."
Another possible hurdle tripping up AR: poor performance. Like those virtual reality helmets, AR on smartphones delivers a lackluster user experience, at least when compared to its promises. Augmented data, for instance, takes too long to show up on the screen.
The problem might be due to current hardware limitations, namely the iPhone's multitasking ability. "If you wanted to navigate while listening to music—something I do in the car a lot—the phones will struggle with that," says tech analyst Rob Enderle. "Augmented reality is a huge performance hog, which is why it is in its infancy still."
Nevertheless, Apple recently doubled-down on AR. AppleInsider discovered an Apple filing published last week by the United States Patent and Trademark Office that details a split screen on the iPad, separating the live camera feed from the AR information layer.
The Apple filing also describes AR's challenge: "Despite strong academic and commercial interest in AR systems, many existing AR systems are complex and expensive making such systems unsuitable for general use by the average consumer."
The bet is that AR will make good on its promise in the future. The Apple filing gives examples of what may be possible. Imagine a teacher holding the iPad camera over a student's exam paper and seeing incorrect answers displayed over the live video on the screen. Or a doctor uses AR combined with pattern recognition on the iPad to get information about a patient.
Kyle Wiens of iFixit, a Web site that provides free repair manuals and advice forums, hopes to see an iPad AR app for car repair that sounds eerily familiar to another Apple filing example: a car mechanic holding an iPad over a car engine to identify parts and see schematics and excerpts from a repair manual. (Check out Wiens' insights on an iPhone 5 redesign.)
"It would be amazing," Wiens says. "We're waiting for the killer app on augmented reality."
Tom Kaneshige covers Apple and Networking for CIO.com. Follow Tom on Twitter @kaneshige. Follow everything from CIO.com on Twitter @CIOonline and on Facebook. Email Tom at tkanshige@cio.com