During his keynote at the Office 365 launch Tuesday, Microsoft CEO Steve Ballmer wasted no time in mentioning that Office 365 is tailor-made for SMBs.
"Small and midsize businesses represent two-thirds of global job growth," said Ballmer less than a minute into his opening remarks. "But they need an edge that doesn't require big investment and complex IT infrastructure."
Office 365, according to Microsoft, provides that edge by eliminating the need to own and manage physical servers, and be tied down by complicated and expensive software licenses.
Microsoft's rebranded and revamped cloud service — which brings together Microsoft Office, SharePoint Online, Exchange Online and Lync Online — is an enticing offer for smaller companies because it can save money quickly and reduce manual labor. One small business at the Office 365 launch, temporary housing provider Travelers Haven, claims they will save $100,000 a year and cut 30 hours of work a day across its 35 employees by switching to Office 365.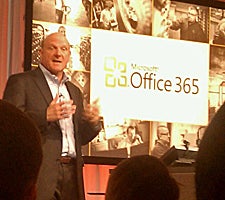 (Credit/Shane O'Neill)
But Microsoft's usual target, the enterprise, received less emphasis than normal at the Office 365 launch event in New York City. For many large businesses that have heavily customized, mission-critical applications and thousands of employees, Office 365 does not provide enough functionality to warrant a wholesale move to the cloud, according to Forrester analyst TJ Keitt.
"On-premise remains more functional for enterprises than the cloud, at least for now," says Keitt.
Nevertheless, enterprises should not dismiss Office 365 as just for SMBs, says Keitt. For an enterprise to take advantage of a cloud model like Office 365, it must take an extensive look at its inventory and its workforce behavior, and figure which workloads can go off premises.
Slideshow: 13 Cool Features of Office 365
Slideshow: Google Apps for Business: 10 Powerful Add-Ons
"Every enterprise is different, but you'll mostly see Exchange migrations to Office 365 happening first in the enterprise. For SharePoint, it's more effective to have it on-prem because of all the customization that many enterprises do to SharePoint sites," says Keitt.
Microsoft is indirectly admitting the limitations of the cloud by promoting the hybrid method where a company can run, say, SharePoint on-premise and Exchange and Lync in Office 365, and have the two worlds integrate seamlessly — at least that's the promise.
Kirk Koenigsbauer, senior VP of the Microsoft Office Division, says that someday 90 percent or 100 percent of the enterprise apps will be in the cloud. But the next three to five years will be a transition period.
"We follow the mentality of delivering the cloud on the customer's terms," says Koenigsbauer. "I do think workloads like Exchange will go to the cloud faster than SharePoint. When customers have done lots of SharePoint customization with line-of-business data and have developed complex workflows, then SharePoint may be better suited on-prem."
Koenigsbauer says Microsoft has a methodology it usse with customers to make sure the cloud is right solution for them. "We're happy to say that maybe the cloud is not right for you in this case, and that this particular workload or application is better off on-premise."
Analyst Keitt commends Microsoft's pragmatic, piecemeal approach to getting enterprises to move to a cloud model.
"At least Microsoft admits that an enterprise can't move it all — something Google does not do," he says. "Google Apps offer a lot of features, but not as much as Microsoft. For example, SharePoint sites are more sophisticated than Google Groups. Google will offer you YouTube and Blogger as part of the Google Apps package, but enterprises don't want to use that stuff."
Whether or not an enterprise pushes all of their workloads to the cloud or stays completely on premise depends on the dynamics and behavior of a company's workforce and its financial position.
"If you're in a pinch to cut costs and more and more of your workforce is going mobile, then a cloud service like Office 365 is appealing," says Teitt. "But if your collaboration and communication apps are tied to a legacy system such as SharePoint server, then Office 365 may not be right for you at the moment."
Yet cloud services like Office 365 and Google Apps will continue to grow in the enterprise, adds Keitt. One indicator is the choice recently by the GSA (General Services Administration) to migrate all its employees in 17 locations around the world to the cloud for email and collaboration tools.
The GSA chose Google over Microsoft after a six-month bidding process. But regardless of the vendor, government agencies are often early technology adopters that test the waters for the private sector, says Keitt.
"If you can convince the GSA with all their security requirements that the cloud is OK to use, it sets the stage for enterprises to follow."
Shane O'Neill covers Microsoft, Windows, Operating Systems, Productivity Apps and Online Services for CIO.com. Follow Shane on Twitter @smoneill. Follow everything from CIO.com on Twitter @CIOonline and on Facebook. Email Shane at soneill@cio.com