Research In Motion's (RIM) popular BlackBerry PlayBook tablet may not ship with native e-mail and personal information management (PIM) applications just yet–they're expected this summer–but thanks to the BlackBerry Bridge application, consumers and enterprise users alike can securely access their mail, calendars, contacts, etc., using PlayBook tablets.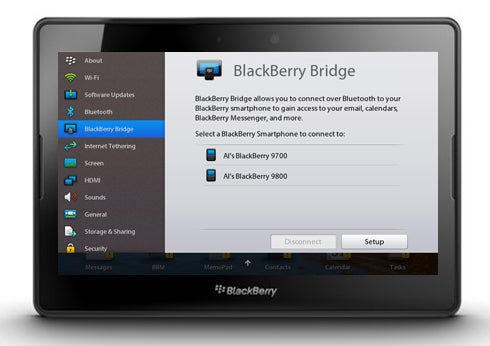 BlackBerry Bridge is an app that RIM smartphone users can install on their handhelds to securely access consumer-oriented BlackBerry Internet Service (BIS) or BlackBerry Enterprise Server (BES) apps and services via BlackBerry PlayBook tablets using Bluetooth wireless technology.
Though not exactly ideal for all users, BlackBerry Bridge can be a particularly effective tool for individuals or organizations concerned with tablet security, since no BIS or BES data is ever stored on the PlayBook. Instead, Bridge simply enables PlayBook users to take and view data from their smartphones, and when Bridge is disabled, no BlackBerry data is stored on the tablets. The downside is that you must be connected to Bridge to access your BIS or BES data.
Bridge is available for download for most BlackBerry users via RIM's BlackBerry App World software store. But organizations that want to quickly deploy the Bridge app to groups of users via BES can now download installer files from RIM's website, as well. (Individuals and consumers may also want to download the BlackBerry Bridge desktop installer files, particularly AT&T customers, since that carrier does not currently allow Bridge installation via App World.)
RIM yesterday posted a new resource that includes a variety of details on BlackBerry Bridge, along with the above mentioned desktop install files and instructions on how to deploy Bridge via BES.
In addition, the BlackBerry maker also released new information on how BIS and BES data on BlackBerry smartphones stays protected while connected to a PlayBook tablet via Bridge.
From RIM:
" Bluetooth profiles specify how applications on the BlackBerry PlayBook tablet, BlackBerry smartphones and other Bluetooth enabled devices connect and interoperate. The BlackBerry PlayBook tablet and a BlackBerry smartphone use the Serial Port Profile (SPP), which emulates a serial port between two Bluetooth-enabled devices, to communicate over Bluetooth.
"A BlackBerry Enterprise Server administrator can control which applications on the smartphone can use the Serial Port Profile, effectively limiting its use to trusted applications, such as BlackBerry Bridge.
"The tablet and the smartphone use an encryption key (the BlackBerry Bridge pairing key) and AES to encrypt data that is sent between the tablet and the smartphone….When a BlackBerry PlayBook tablet connects to a BlackBerry smartphone that was activated on a BlackBerry Enterprise Server, the tablet and smartphone share an encryption key (the BlackBerry Bridge work key) to encrypt and decrypt data that is stored on the tablet."
FREE CIO BlackBerry Newsletter
Get better use out of your BlackBerry and keep up-to-date on the latest developments. Sign-up »
(Note: BES v4.0 or higher is required for PlayBook tablet administration.) I've been using BlackBerry Bridge along with my PlayBook tablet for about a month now, and though my experience has been a bit rough due to bugs that cause Bridge to randomly crash and otherwise misbehave, I think the app has a lot of potential. And I know security conscious organizations will appreciate the fact that Bridge enables them to employ PlayBook tablets along with their existing BlackBerry smartphones with no risk of data loss related to the tablet.
Find more information on BlackBerry Bridge and PlayBook security on RIM's website.
AS
Al Sacco covers Mobile and Wireless for CIO.com. Follow Al on Twitter @ASacco. Follow everything from CIO.com on Twitter @CIOonline and on Facebook. Email Al at asacco@cio.com