This morning, Research In Motion (RIM) officially announced its latest smartphone, the BlackBerry Bold 9900/9930, at its annual BlackBerry World Conference in Orlando.
I was lucky enough to get some hands-on time with the new Bold this morning, and though it's difficult to get a truly accurate feel for a smartphone that's tethered to a table and while hundreds of feisty journalists peer over your shoulder, I can say with little hesitation that the Bold 9900 is one very impressive BlackBerry. Here's why.
BlackBerry Bold 9900 First Impressions
The BlackBerry Bold 9900 is a successor to RIM's original Bold handheld, the BlackBerry 9000. And it looks the part; on first glance, the Bold 9900 looks very much like the Bold 9000. And in many ways the exterior of the device is similar: the keyboard design, shape and size are practically identical to the 9000, and the shiny silver bezel that surrounds the handheld also looks just like the old Bold's bezel.
But the similarities end there.
The Bold 9900 is significantly slimmer and a bit lighter than the 9000. In fact, the Bold 9900 is RIM's thinnest BlackBerry ever. And it feels great in the hand. The Bold 9900 form factor is probably my favorite of any BlackBerry smartphone to date.
And the 9900 keyboard is to die for; RIM even called it the best keyboard on any BlackBerry smartphone. And I tend to agree. Though the keyboard looks almost identical to the original Bold 9000 keypad, it's actually slightly larger, because it stretches almost all the way to the sides of the device, while the Bold 9000's bezel is thicker and takes up keyboard space.
I spent a few minutes typing on the Bold 9900, and it was truly a pleasure, especially since I used to employ a Bold 9000, and I really miss that keyboard.
On the inside, the Bold is packing an impressive 1.2GHz processor, which helps the software experience feel fast and smooth, with very little lag–at least in the 20 minutes or so I spent with the device. It also has 768MB of RAM, with 8GB of internal storage for media and other data, the most RAM and built-in storage of any current BlackBerry. And the Bold 9900 also supports microSD memory cards up to 32GB. All of these things make the Bold 9900 feel much more "modern" than RIM's past few handhelds.
It's also great looking. Though the silver bezels on both the Bold 9900 and Bold 9000 look similar, they're actually quite different. The new Bold's bezel is made of brushed stainless steel, compared to the silver plastic bezel on the 9000. And that change in bezel material makes a noticeable difference in the appearance of the device; the stainless steel just looks nicer and less flimsy or "cheap."
The rear battery cover is also notable, since it's coated in some sort of glassy-looking epoxy, which adds another touch of luxury to the Bold 9900. RIM definitely seems to have put more focus on looks with the BlackBerry 9900 than any other RIM device. And it shows.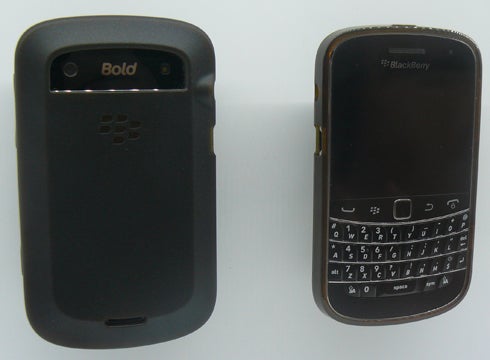 While the original Bold used a trackball for navigation that was sunk into three separate panels that served as the device's call, menu, escape and end call buttons, the new Bold employs a more efficient trackpad that sits in a single piece of smooth material that forms its call and navigation buttons. (The call and end-call buttons are no longer green and red on the Bold 9900. Instead, they're both translucent white.) The new Bold's trackpad also has a glowing ring around it that makes it easy to use in dark environments, another first for a BlackBerry, and a nice addition overall.
The Bold 9900 also has a new mute button on its side, between the volume up and volume down keys, both of which also serve as media controls when music or video is playing. And it has two very small charging panels on its base for use with a BlackBerry Charge Pod–the Bold 9000 had similar, larger panels on its lower sides. (See the image below for a look at the 9900 charging panels.)
The Bold 9900's 2.8-inch, 640×480 (287 PPI) display is impressive as well, and colors look both vivid and bright. The Bold 9900 is the first "candy bar" style BlackBerry with both a touch screen and "physical" QWERTY keyboard. And though it's going to take me a while to get used to using both the screen and trackpad for Bold navigation, I was impressed with how responsive the display was to my touches, taps and pinches. And I look forward to seeing what sorts of new touch-gestures RIM adds in the future.
On the software side, RIM's Bold 9900 is the first BlackBerry smartphone to run the upcoming BlackBerry 7 mobile OS, which packs a variety of cool new features and enhancements, as well as a slightly different look and feel due to some modified icon sets. Most notably, BlackBerry 7 packs a new voice-activated universal search feature and a speedier Webkit browser.
Honestly, BlackBerry 7 doesn't really feel too different than BlackBerry 6, and that's somewhat unfortunately, since RIM is marketing it as a major OS update. But as mentioned, I was only able to spend 20 minutes with the device, so there could be more to the software than I saw in my brief time with it.
BlackBerry 7 supports Near Field Communications (NFC) technology for mobile payments and other short-range wireless data transactions. (Check out this video from BlackBerry World for a look at how NFC works on the Bold 9900.) And the OS also adds support for new hardware features such as a digital compass, accelerometer and proximity sensor, all of which are found within the Bold 9900.
One feature I would really like to see in the 9900 is mobile hotspot support, which was rumored to be coming along with the 9900. But RIM didn't mention it at all while detailing the device. The RIM representative I asked for more details wouldn't comment on unannounced features, though, so there's still a chance the 9900 will have mobile hotspot functionality.
Finally, the device should become available on all or most major U.S. carriers in "late summer" in two flavors: the 9900, for GSM/UMTS networks like AT&T and T-Mobile; and the 9930 "World Phone," with support for both CDMA networks, such as Verizon's, and GSM/UMTS. So the device should become widely available.
Unfortunately, the Bold 9900 is not a 4G device, which is a slight turnoff, since the device could feel outdated shortly after its release. It does, however, support HSPA+ downloads up to 14.4 Mbps and uploads up to 5.76 Mbps.
So, to sum that all up: I'm already a big fan of the Bold 9900. And it will probably be my next BlackBerry smartphone. Now, I anxiously await the BlackBerry Bold 9900 release. You can expect a full review on CIO.com just as soon as possible, so stayed tuned.
AS
Al Sacco covers Mobile and Wireless for CIO.com. Follow Al on Twitter @ASacco. Follow everything from CIO.com on Twitter @CIOonline and on Facebook. Email Al at asacco@cio.com