After more than six months since announcing the Questions platform and releasing it to a small group of users, Facebook has finally rolled it out—with some changes—to everyone.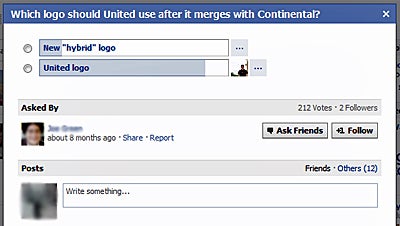 Facebook Questions lets you pose an open-ended question to your friends or post it in poll form with choices. These polls will appear under your Questions section and in your News Feed. Your friends can then respond to the question or vote on it.
Facebook says it hopes that Questions will become your go-to source for advice when you're trying new things, such as looking for a new restaurant or deciding which movie to see. While Questions will soon be available to everyone, you can get started immediately by visiting its landing page to opt-in.
The new Facebook Questions differs from past iterations in that it focuses only on answers from your friends and your friends' friends, instead of answers from everyone on Facebook.
While Questions has the potential to be a useful resource for Facebook users—since many already ask friends questions via status updates—there are a few facts that you should understand before participating.
[Want more tips, tricks and details on Facebook privacy? Check out CIO.com's Facebook Bible.]
1. Your questions and answers are not private.
When you ask a question, initially only your Facebook friends can view and answer it. However, if one of your friends does answer it, your question becomes visible and available to all of his or her Facebook friends to answer, and so on.
Likewise, everyone will be able to see the questions that you have participated in, so only ask and answer questions that you are comfortable sharing with everyone.
Be sure to check your Facebook privacy settings: If you allow everyone to comment on your posts, your Questions will be available to everyone. In this case, responses to your questions will be filtered to show responses from your friends first.
To change your settings, visit your Privacy Settings page > Customize settings > Posts by me.

Facebook Privacy: 10 Must-Know Security Settings
Facebook Quick Tip: Enable Encryption to Avoid New Privacy Glitch
Facebook Privacy: 4 Valuable Yet Hard to Find Settings
2. You cannot edit the text of questions or posts.
Facebook does not let you edit the text of your questions or posts, but you can delete both.
To delete your question, go to the question box and click the Delete button, located in the lower right of the box. To delete question options that people voted on, go to the question box and click the "Edit options" button, located in the lower right of the box. Then, delete individual options by clicking the X beside them. Note that deleting a question option will delete associated votes for that option.
To delete a post you provided as an answer, go to the question box and find your post within the "Posts" section. The, click the X in the upper right of your post to remove it.
To remove your vote from a poll, go to the question box and click the "Unvote" button, located in the lower right of the box. If you voted for multiple options, uncheck each of your votes to remove them.
3. Right now, search engines will not index questions and answers.
With sites such as Twitter, your actions—i.e. tweets—are indexed by search engines like Google, and are searchable by everyone (unless you have made your account private).
Facebook says that "No, search engines cannot index Facebook Questions at this time." The key here is "at this time"—it appears that in the future, Facebook could allow search engines to index your questions and answers, so again, be careful with what you ask and answer.
4. Facebook Pages can ask and answer questions.
Facebook Pages will also be granted access to Questions. This means that when a Page asks a question, it will be shared with everyone who has "liked" the page. Similarly, Pages can answer questions. When they do so, their answers will also be shared with everyone who "likes" the page.
Facebook cautions that it is easy for people to unlike Pages from the Questions stories that appear in their News Feeds, so Page administrators should proceed carefully when determining how often they ask questions and what they ask questions about.
Kristin Burnham covers Consumer Technology, SaaS, Social Networking and Web 2.0 for CIO.com. Follow Kristin on Twitter @kmburnham. Follow everything from CIO.com on Twitter @CIOonline and on Facebook. Email Kristin at kburnham@cio.com