Most people know social-buying site Groupon for its steep discounts on everything from spa packages and restaurants to sporting events and dry cleaning. One thing most Groupon customers aren't used to seeing: a $12,500 discount on IT consulting.
On Tuesday, IT consulting firm Ajilitee, which specializes in analytics and cloud computing, launched a deal through Groupon Stores that offers buyers 50 percent off strategic business intelligence and cloud computing consulting services.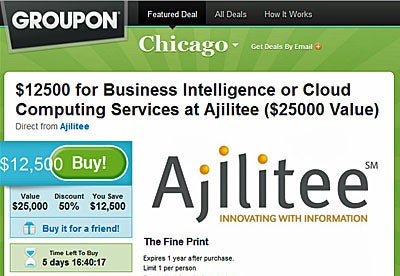 Groupon Stores, which launched in December 2010, is a platform that lets businesses create and launch their own deals whenever they want and as frequently as they want, without waiting several months to be featured as the deal of the day.
"As far as we know, Ajilitee is the first to offer an IT consulting deal on Groupon," according to Ajilitee CEO Terrence Ryan. Groupon has also confirmed that it is the priciest deal it has offered to date.
[Social Buying Sites: How to Get All Offers in One E-Mail]
The deal, which is available until March 7 on Groupon's site, had yet to attract any buyers at the time of publishing.
The challenge with this foray into business-to-business deals—especially since the Groupon model doesn't yet cater to B2B transactions—was determining how they could construct an offer that a business buyer could react to, says Ajilitee Chief Marketing Officer Diann Bilderback.
Since Groupon only allows deals to run for a week, Ajilitee decided to extend the offer for two additional weeks on their website. This, they hope, will be more accommodating for businesses' buying cycles."We didn't go into it expecting someone to just click a button and spend $12,500 dollars in a week," Bilderback says.
Additionally, because space is limited on Groupon's site to describe such an expensive offer, Ajilitee is providing more information about the deal on their website and is encouraging interested buyers to contact them for a more in-depth discussion.
"We have been watching the whole Groupon phenomenon for some time, and knowing that there are always changes in how consumers are purchasing, we decided to give it a try," Bilderback says. "We'll have to see if businesses are able to adapt their buying cycle and take advantage of it."
Kristin Burnham covers Consumer Technology, SaaS, Social Networking and Web 2.0 for CIO.com. Follow Kristin on Twitter @kmburnham. Follow everything from CIO.com on Twitter @CIOonline and on Facebook. Email Kristin at kburnham@cio.com