LinkedIn is rolling out an entirely redesigned privacy and security settings page aimed at helping users find important information quicker and navigate controls easier.
The redesign, which is a change that many users have requested in the past, started rolling out this week, says Nico Posner, principal product manager at LinkedIn. While the interface is different, it's important to note that no member settings or defaults have been changed with this design update.
5 LinkedIn Privacy Settings You Need to Know
LinkedIn Quick Tip: How to Discover the Hottest New Job Skills
LinkedIn's former Account Settings page, which housed profile settings, privacy settings, personal information, account information and more, was a dense page organized in list form.
The new design does away with the list and functions more as an interactive settings dashboard, logically grouping together preferences in an easy-to-navigate page.
The top half of the page highlights information about you and your account. You can view how long you've been a LinkedIn member, change your primary e-mail or password and upgrade to a paid account. You'll also be able to see remaining InMails, introductions and the status of ad campaigns, if you manage one.
Below that are the majority of your LinkedIn account and privacy settings, including ones associated with your profile; e-mail preferences; groups, companies and applications; and account. Toggling between these settings is made easier by grouping them into tabs, eliminating the need to scroll up and down the page like before.
LinkedIn also added a new module to the right side of the page with links to the most frequently asked questions regarding your settings. This makes finding what you're looking for easier and with fewer clicks.
Another change you'll notice: Rather than sending you to a new page when updating a privacy or security preference, you'll complete the change in a pop-up window, without leaving the Account Settings dashboard. "[Fewer] clicks let you change your settings faster," Posner says.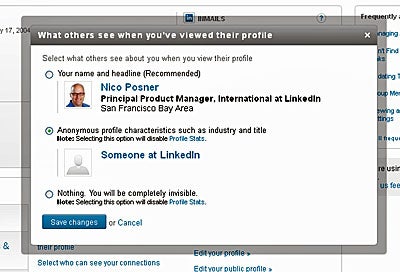 Linkedin's Account Settings page was due for an overhaul. The new design makes better use of less space and is more intuitive, helping you find what you're looking for quicker .
Kristin Burnham covers Consumer Technology, SaaS, Social Networking and Web 2.0 for CIO.com. Follow Kristin on Twitter @kmburnham. Follow everything from CIO.com on Twitter @CIOonline and on Facebook. E-mail Kristin at mailto:kburnham@cio.com.