Google's Gmail service has a lot to offer its 193 million users: labs, add-ons, customization features and easy integration with mobile devices make it one of the most popular e-mail clients. The latest updates and features Google has rolled out beef up account security, streamline group e-mails, relax the obsessive e-mail checker and bring new features to mobile Gmail. Take a look at our tips and tricks below.
Gmail Tips: 5 Great E-Mail Timesavers
Gmail Tips: Five Can't-Miss Features that Boost Google E-Mail
Gmail Tips: How to Take Chat Off the Record; Archive E-Mails
1. Increase Gmail Security Using Advanced Sign-In
Regardless of how strong your Gmail password may be, the threat of a hacked account, spam attack or phishing scam always exists. To further protect your information, Google recently introduced two-step verification, a feature that it released to Google Apps customers a few months ago.
Two-step verification is an opt-in security feature that makes your Google account more secure by helping to verify that you're the real owner. It requires two independent factors for authentication: your password, plus a code obtained using your phone. This feature is rolling out to all Gmail users, so check back if you haven't yet gained access to it.
To enable two-step verification, visit your Account Settings page. Next to Security, choose "Using 2-step verification."
Setting up two-step verification could take up to 15 minutes, so be patient. Follow the prompts to complete the process, which includes setting up a backup phone and creating backup codes. After you enter your password, Google will either call you with the code, send you a text message or give you the choice to generate the code yourself using a mobile app on your phone. You'll be required to enter this code every time you log in to your account.
2. Create Contact Groups in Gmail
One smart way to save time in Gmail: Create groups for contacts, and e-mail them under one label. For example, rather than entering the e-mail addresses for your mother, father, sister and brother when you want to send a message to your family, you can create a "family" group that will include all their e-mail addresses automatically.

To create a contact group, click Contacts along the side of your Gmail homepage. Select the contacts that you'd like to add to a new group by clicking the boxes next to the contact names. Select Groups and choose "Create new." Then, assign a name to the group, and it will appear on the left-side navigation. When you want to send an e-mail to this group of people, start typing the name you assigned to the group, and Gmail will fill in the e-mail addresses.
3. Get "Priority Inbox" for Mobile
Priority Inbox, which came to Gmail late last summer, is a handy feature if you receive a high volume of e-mails regularly. Priority Inbox essentially separates the junk from the important stuff, and organizes it to help you focus on the messages that matter. The more you use it, the smarter Gmail gets at detecting which e-mails you'll deem important. Now, the feature is available for mobile.
To use Priority Inbox, first set it up for your desktop version of Gmail. Visit Settings on your Gmail homepage and click the Priority Inbox tab. Set your preferences and click Save Changes. Once it's activated, it will automatically appear under the Menu screen when you visit gmail.com from your phone's browser.
4. Turn On Desktop Notifications for Gmail and Chat
If you use Google Chat or have a penchant for checking your e-mail obsessively, Google has made it easier to know when something arrives in your inbox or when you've been contacted via Gchat. By enabling desktop notifications, a popup will appear every time you receive an e-mail or a chat message.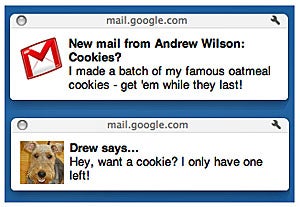 Desktop notifications are only available in the Chrome browser. To enable them, click on Settings on your Gmail homepage. Scroll down to Desktop Notifications and choose whether you want to be notified about chat messages, if you use Priority Inbox and want notifications only for important messages or notifications for all new mail.
Kristin Burnham covers Consumer Technology, SaaS, Social Networking and Web 2.0 for CIO.com. Follow Kristin on Twitter @kmburnham. Follow everything from CIO.com on Twitter @CIOonline and on Facebook. E-mail Kristin at mailto:kburnham@cio.com.