LinkedIn Polls, a feature on the site that lets you pose or vote on a question and analyze results, received some major updates. Polls, according to Jimmy Chen, associate product manager at LinkedIn, have been used by more than 1 million professionals since its launch two years ago.
Among the enhancements are a simpler interface that makes creating polls simpler, six sharing buttons to promote polls and a more advanced analytics page. You can access LinkedIn Polls by clicking here or by choosing Polls from the drop-down menu under More on your LinkedIn page.
[Want more LinkedIn tips, tricks and analysis? Check out CIO.com's LinkedIn Bible.]
Here's how you can create and participate in the new Polls, and how to navigate the most recent changes.
LinkedIn Polls: Now Easier to Create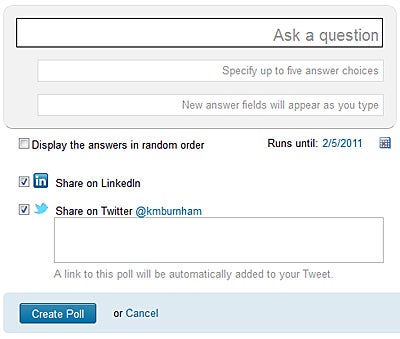 Creating polls is now quicker and easier with its new interface. A sample poll I created, for example, took less than two minutes to complete. To create a new poll, visit the Polls page and choose "Create a new poll" from the left-side menu. Populate the fields (you get up to five answer choices) and set the duration of the poll. You'll also have the option to share the poll directly on LinkedIn or with your followers on Twitter from this page.
If you prefer to only participate in polls, visit the same page and choose "Recently added polls" to browse the newest ones. You can also use the search toolbar to find polls on a specific topic.
[LinkedIn Tips: Three Ways to Polish Your Profile for the New Year]
LinkedIn Polls: Increased Sharing Options
Once you create your poll, or after you vote in one, you can share and promote it via a number of outlets—another update to Polls that LinkedIn added. You can share the poll via LinkedIn, Twitter or Facebook and can automatically generate a link or the code to embed it in a webpage with one click.
LinkedIn Polls: Breaking Down Results
Tracking and understanding the results of your poll or one you voted in is easy: Visit your Polls homepage and choose either "Polls you created" or "Polls you answered." This will bring you to the analytics page in which you can view the breakdown of results by answers, age, seniority and gender.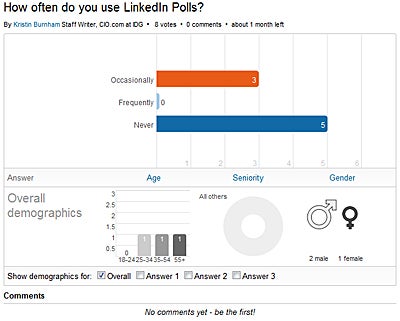 This is also where you can add a comment to the poll, and choose to share your vote publicly.
One thing that's important to note: When you create, vote on or comment on a poll, your activity is displayed on your LinkedIn profile's homepage. To change your settings, scroll down to your Activity module on your profile's homepage and click "edit." Here, you can choose to make your Network Updates visible to no one, only your connections, only your network or everyone.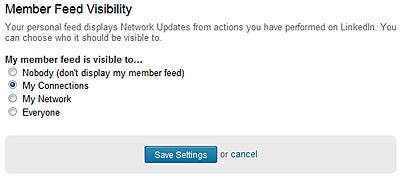 Or, if you prefer, you can delete specific activities from your Activity stream by hovering over the individual activity and clicking the X to delete it.
Kristin Burnham covers Consumer Technology, SaaS, Social Networking and Web 2.0 for CIO.com. Follow Kristin on Twitter @kmburnham. Follow everything from CIO.com on Twitter @CIOonline. Email Kristin at kburnham@cio.com.