Before Oliver Bussmann took the job of CIO of SAP in September 2009, he Googled the terms "SAP" and "CIO" in hopes of finding out about the top tech role as it existed then.
What he found—or, rather, didn't find—surprised him. "There was nothing visible," he says. "Zero."
Inside the German ERP software giant, few SAP employees outside of the IT department knew the CIO, or more disconcertingly, knew whether SAP even had a CIO.
More than a year later Bussmann has performed his own surprising feat with SAP's in-house technology efforts: He's not only made the CIO role more visible inside the company (collaborating with SAP's CTO, developers and support managers), but also made himself available to the world outside SAP's Walldorf, Germany, headquarters. He's meeting with SAP customers, speaking at conferences, being quoted in The Wall Street Journal, blogging, tweeting, basically doing anything to help fellow IT leaders better understand and utilize SAP's portfolio of complex enterprise products.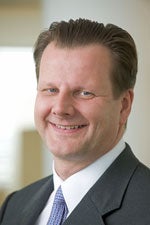 That is, in fact, one of his most important duties, Bussmann says: He's an "alpha" customer who runs SAP enterprisewide and also serves as a powerful, accessible reference for SAP's thousands of customers.
He claims a single-instance SAP environment that is the envy of many other Fortune 500 companies running SAP: 71,000 global users on SAP ERP, Supplier Relationship Management and Human Capital Management packages (with 53 different country payrolls).
"Customers always ask: How did you get there? What did you do?" Bussmann says. It's not an insignificant question for those companies who struggle with SAP's demanding business software.
During Bussmann's 2009 interview with then SAP CEO Léo Apotheker, the now current CEO of HP made it clear what was expected of him. "He said, 'Oliver, it's important we increase the adoption of own software and share learnings with the [SAP] development organization and also with partners and customers,'" Bussmann recalls. "SAP had never shared this experience in any organized way in the past."
The Vendor CIO Paradox
It's not quite the "shoemaker's children" scenario, but the conventional wisdom on high-tech vendor CIOs hasn't always been of the highest order.
There are but a few "rock star" CIOs leading high-tech vendors' IT efforts. Most notable are HP's Randy Mott and Microsoft's Tony Scott.
However, when the right CIO falls into the right situation, the combination can be powerful for both vendor and customer: A peer CIO who knows the lay of the land (IT governance, project management and political challenges that IT leaders face) as well as the guts of the vendor's software (what it can and cannot do).
It's the proverbial "Eat Your Own Dog Food" situation, espoused by many technology leaders. (Bussmann, however, prefers "Drink Your Own Champagne," which is both more elegant and also, unintentionally, hints at the high price of SAP software.)
This type of vendor CIO and customer relationship is demanding: It requires absolute transparency, honesty and a faith between the two parties that everyone's best interests are paramount.
"The conversations are open, honest and very direct," Bussmann says of his meetings with SAP customers. "They're sharing what their challenges are…. Sometimes it's not only about [SAP] products. It's about how they want the governance to run, about managing the portfolio, business-IT alignment, delivery models and sourcing."
In addition, Bussmann's IT team documents and shares its findings in a reference database at help.sap.com.
When asked if he's incented to be an SAP salesperson, Bussmann is blunt: "This is not sales. When we're going in to meet with customers, we try to avoid any salespeople," he says. "My job is not to sell but to share experiences and recommendations. I don't sell."
In addition, his prerogative is to talk about all the good and bad things he's learned by being the "first customer," he says. "I'm going to be vocal and talk about pitfalls if they're there. Sometimes I will say, with certain functions, that I would do something differently. That's part of our job."
NEXT: Being SAP's "First Customer"
One Face of the New SAP
Bussmann may have been hired by Apotheker during his short-lived seven-month reign, but Bussmann represents nothing of the old regime. He's a part of what many are calling the New SAP.

Inside SAP, Bussmann's rising prominence has been a blessing for CTO and SAP board member Vishal Sikka, himself being elevated out of the carnage of Apotheker's departure.

"Oliver told me back in June that 'I want to be your first customer,'" recalls Sikka. "I had heard this before, so I said: 'Are you sure?' But this man is a machine. He is first or one of the first customers for all products done this year."

According to Sikka, the list includes: Duet, the joint SAP and Microsoft collaboration and data-access tool; HANA, SAP's in-memory computing engine; and running SAP's sales dashboard on iPads.

One pillar of SAP's three-pronged strategy is "on device"—enabling the availability of critical business information and analytics to employees running SAP software no matter where they are. Bussmann has responded and been at the forefront of a massive iPad deployment within SAP: more than 2,000 iPads—one of which even co-CEO Bill McDermott was spied using, according to Sikka.

Bussmann's profile has risen accordingly. Thomas Otter, a research director at Gartner, recently had this to say on Twitter: "SAP CIO Oliver Bussmann is probably SAP's best marketing resource, especially for the mobile strategy."

[ Read CIO.com's 7 Essential CIO Leadership Skills That Get Results ]

Identifying enterprise computing trends and how they might fit with SAP's strategy is significant piece of his duties, Bussmann says. For instance, SAP is ensuring that its software will run not only on iPads but also on RIM's Playbook tablet and Android-based devices in the future.

There is a great need for speed right now, Bussmann says."In other industries, you might wait and see what happens," he says. "But in a high-tech company, we need to be quick and fast." These types of first-mover tactics are not just CIO decisions made on a whim, however. "It's a joint implementation with the business folks," he says. "There has to be business value."

At the same time, Bussmann has had to overhaul the 1,500 global IT staffers he inherited. (Prior to joining SAP, Bussmann was regional CIO of North America & Mexico at Allianz.) Initially, he says that he was looking for IT staffers "who are willing to go the extra mile."

What he found were "good pockets of people willing to spend extra time to work on innovative programs." Bussmann points to the success that a small team of five people had in quickly ramping up the iPad rollout during this past summer.

Even with the legal turmoil at SAP, new strategies and executive shake ups during the past year, Bussmann claims that it's a "fascinating" time to be the CIO. "There's a huge demand for IT support to help change the business model," he says. "To me, that's a perfect time to join the company."

Thomas Wailgum covers Enterprise Software, Data Management and Personal Productivity Apps for CIO.com. Follow him on Twitter @twailgum. Follow everything from CIO.com on Twitter @CIOonline. E-mail Thomas at twailgum@cio.com.