While rumors continue to swirl that Google may acquire Groupon, the pioneer in deal-a-day websites is unveiling a new interface that redefines its long-term strategy. This announcement follows that of its personalization feature announced this summer, which customizes deals to a subscriber's likes and dislikes.
When Groupon launched in 2008, the business limited itself to promoting one deal per day because it didn't have any merchant relationships, according to Groupon CEO Andrew Mason. Since Groupon's rise in popularity (Chicago's division of Groupon just reached one million subscribers), demand is so high that merchants wait months to have their deal featured on the site, Mason says. To alleviate this, Groupon is launching Groupon Stores and the Deal Feed.
Groupon Stores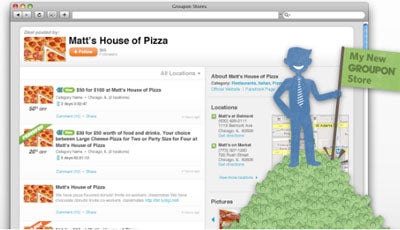 Groupon Stores will let businesses create and launch their own deals whenever they want and as frequently as they want, without waiting several months to be featured as the deal of the day.
Merchants that claim their store, which Groupon says only takes a couple minutes, will have their deals promoted via e-mail, Twitter and Facebook. There's no upfront fee, and business will receive 70 percent of each promoted Groupon sold, and 90 percent of each non-promoted Groupon. (This differs from being featured as Groupon's Deal of the Day, in which merchants only receive 50 percent of each Groupon sold.)
[Want more on sites like Groupon? Read, "Coupons 2.0: Ten Social Buying Sites That Add Up to Savings."]
When people visit a merchant's Groupon Store, they'll have the option to "follow" it, just like on Twitter. Merchants can then message their followers about new deals or special offers.
Each day, Groupon will select the best deals from Groupon Stores and match them to customers using their personalization technology.
The Deal Feed
Groupon's new Deal Feed is like a Twitter stream for the Groupon Stores that you choose to follow, as well as the featured daily deal and deals posted by merchants that Groupon recommends to you—this is where you will keep track of the "extra" Groupon deals.
The deal feed looks like a mashup of the new Twitter and Facebook: The feed features a split screen that shows more details on a post (such as a merchant's deal) when you click on it, and you can also comment on a post.
[Facebook's Rumored "Deals" Service: A Done Deal or No Deal?]
Eventually, Groupon says you will be able to connect your feed to Facebook and get updates on when your friends buy deals, follow a new merchant or comment on an offer.
Kristin Burnham covers Consumer Technology, SaaS, Social Networking and Web 2.0 for CIO.com. Follow Kristin on Twitter @kmburnham. Follow everything from CIO.com on Twitter @CIOonline. Email Kristin at kburnham@cio.com.