Perhaps your wireless carrier released a new software update for your BlackBerry smartphone, but your favorite applications just won't work on the new build. Or maybe you were feeling daring and decided to install a leaked "beta" BlackBerry OS to check out some new features, but it drastically degraded your handheld's performance.
Whatever the reason, every BlackBerry owner–"power users" and newbies alike–should know not only how to upgrade their BlackBerry software, but how to downgrade it, as well.
A quick Google search yields a variety of quality tutorials on how to upgrade your BlackBerry OS. But for whatever reason, good step-by-step articles on how to downgrade are few and far between.
For this in-depth breakdown of the BlackBerry OS downgrade process, I am using a Windows 7 PC and the latest version of Research In Motion's (RIM) BlackBerry Desktop Software, formerly known as BlackBerry Desktop Manager or BBDM, v6.0 bundle 47. And I'm downgrading the OS on my BlackBerry Torch 9800 running BlackBerry 6. (Grab the latest BlackBerry Desktop Software from RIM's website.)
If you're looking for additional BlackBerry Desktop Software tips and tricks, read "How to Fix a 'Bricked' BlackBerry," and "How To Load, Update or Remove Software via Desktop Manager." Or pop on over to my BlackBerry Bible page for a listing of all my BlackBerry-related tutorials.
1) Remove BlackBerry Handheld Software from Your PC
First things first, you'll want to remove any existing BlackBerry handheld software that's already installed on your PC. To do so, open up your PC's Control Panel, navigate to Programs and Features and select that option. Next, find any BlackBerry handheld software for your device, highlight it in the programs list, and then remove it by clicking the Uninstall button near the top of the window. Your PC should guide you through the uninstall process. (Note: You'll want to make sure your BlackBerry Desktop Software is closed when trying to uninstall handheld software.)
If you don't have any BlackBerry handheld software installed, simply move on to the next step.
2) Download, Install New BlackBerry OS on Your PC
You can acquire BlackBerry handheld software in a number of ways, but your best bet, i.e., the "safest" way, is to obtain the software through your wireless carrier. That way you know you're getting carrier-approved software for your device. And you won't have to tinker with the OS to make sure it installs correctly–more on that in the next section.
To find the latest carrier-approved BlackBerry OS for your device, or find an earlier software build, visit your wireless carrier's software downloads page–search Google for something like "AT&T BlackBerry software" etc.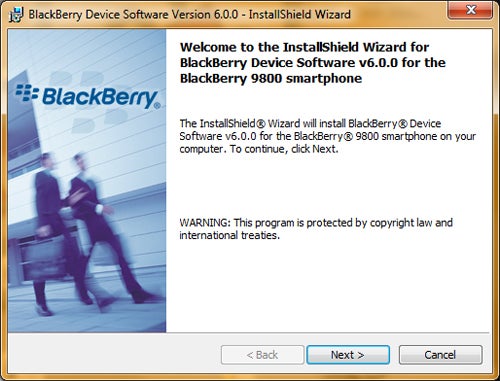 Once you've obtained the software you want for your device, you must first install it on your PC. To do so, simply navigate to the BlackBerry OS setup launcher file, click to open it and then follow the InstallShield Wizard cues to guide you through the process. Installing the OS on your PC should only take 5 or 10 minutes. And again, you should make sure your BlackBerry Desktop Software is closed when trying to install the new software on your PC.
When the process is complete, click the prompt to open up BlackBerry Desktop Software or open the application on your own.
3) Install the "Older" BlackBerry OS on Your Device
(Note: If you're using an unofficial OS or an OS that came from some place other than your wireless carrier, you'll need to remove the Vendor XML file within the OS before installing it on your BlackBerry smartphone. To remove the vendor XML file, navigate to your PC's Program Files–typically found on your local disk or "C" drive–and open the folder. Next, open up your Common Files, navigate down to Research In Motion, click on App Loader and then find the file titled "Vendor." The appropriate file is an XML document, and you should first highlight it and then delete it via a right-click of your mouse. Finally, close all the folders.)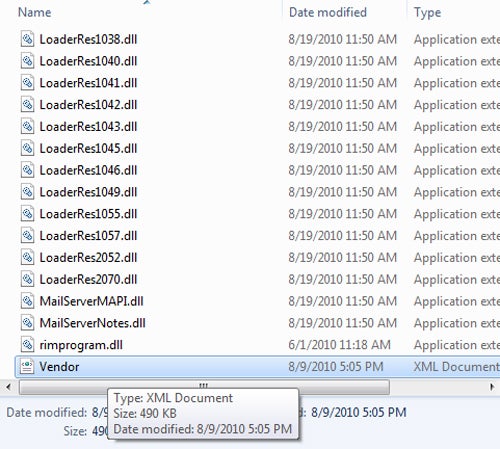 From here on out, the process is the same whether you're using an official OS from your carrier, software from another carrier or a leaked OS.
Return to your BlackBerry Desktop Software application and scroll over to the top-left corner of the app-windows, where you should click to open the Device dropdown menu. Next, choose the Update My Device option from the menu. Your BlackBerry Desktop Software may show updates or inform you there are no updates available for your device, since the software installed on your BlackBerry is "newer" than the version installed on your PC. But you can click the View Other Versions box in the bottom-left corner of the update pop-up, and you'll see a listing for the BlackBerry handheld OS you just installed on your machine.
Make sure the box next to the OS version you plan to install is checked and then click the Install button at the bottom-right of the prompt-window.
You'll see one more prompt before the installation process begins, asking if you want to back up your device data and encrypt that backup. Make your selection, click Install Update and you're good to go. The BlackBerry OS installation process can take a while, depending on how much data you have stored on your device and a number of additional factors, but be patient.
Your BlackBerry Desktop Software will let you know when the install is complete, and you'll have successfully downgraded your BlackBerry OS.
AS
Al Sacco covers Mobile and Wireless for CIO.com. Follow Al on Twitter @ASacco. Follow everything from CIO.com on Twitter @CIOonline. Email Al at ASacco@CIO.com.