In CIO.com's article In-Flight Wi-Fi Turbulence: Travelers Reluctant to Pay, research from In-Stat showed that airlines are investing heavily in Wi-Fi systems—estimated at nearly half a billion dollars by 2013—while passengers now expect the service to be as free as the pack of nuts and half can of Diet Coke.
Today, there are plenty of "legacy" airplanes that don't offer in-flight Wi-Fi connections. (In-Stat notes that just 25 planes offered the service in 2008, though that number is growing.)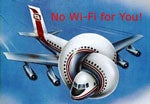 So as a free, "no fee" service to you, Mr. or Mrs. Frequent Business Traveler, here are five signs that there's probably not going to be operable Wi-Fi during your next flight.
1. You sit down in your seat and can't help but notice the well-used ash trays in the arm rests.
2. Asking the flight attendant (who looks a lot like stewardess Elaine Dickinson from the movie "Airplane") about Wi-Fi produces this response: "Why what?"
3. You notice the pilot is wearing a vintage aviator cap and goggles, his jacket says "Pan Am Crew," and he's using a Ham radio to talk to the air-traffic controller.
4. Once on the plane, the only SSID name that appears in your "Networks in Range" list? jimbos_linksys.
5. The supposed wireless antenna is actually a set of 1970's-era TV rabbit ears (with aluminum foil wrapped around them) duct-taped in one corner of the cabin.
Thomas Wailgum covers Enterprise Software, Data Management and Personal Productivity Apps for CIO.com. Follow him on Twitter @twailgum. Follow everything from CIO.com on Twitter @CIOonline. E-mail Thomas at twailgum@cio.com.