Three months ago, LinkedIn began holding "InDays"—a day once a month when LinkedIn employees were encouraged to spend their time researching, learning and developing outside their normal routine. Part of the InDay was dedicated to Hackday—a contest for employees where teams were given five minutes to demo their "hack" in front of the entire company and a panel of judges, which had two minutes to ask questions.
The company yesterday announced a new site called LinkedIn Labs, where it will house some of these internal projects. User feedback will propel some projects to primetime while some may simply be added and removed over time based on popularity and support. New innovations will circulate through Labs frequently; the four currently live are: NewIn 2.0; ChromeIn; Instant Search and Signal, which was announced a few weeks ago. Here's what they're all about.
[Google Labs All-Stars: 8 Must-See Projects]
[Google Labs: 5 New Tools to Try Now]
1. NewIn 2.0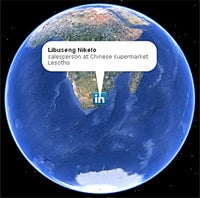 NewIn 2.0 was Hackday's first winner in 2007. This application shows a rotating globe and pinpoints the locations of LinkedIn's newest members, their position and company they work for, using Google Earth.
2. ChromeIn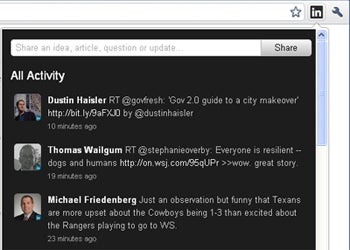 ChromeIn is an extension you can add to Google Chrome that displays and allows you to share the latest status updates from your LinkedIn contacts right in your browser. Download the extension, click the LinkedIn button and browse.
[Want more LinkedIn tips, tricks and analysis? Check out CIO.com's LinkedIn Bible.]
3. Instant Search
Instant Search won September's Hackday, and was the first to leverage LinkedIn's Javascript API. Type in a name, company or topic to search and results will appear as you type. This search is similar to Google Instant.
LinkedIn announced Signal not too long ago and now it's available to anyone in LinkedIn Labs. Signal is a new product aimed at making it easy for professionals to view streaming updates and news. The interface, which is characteristic of Facebook's News Feed and Twitter's website, features streaming updates from your contacts, category filters to sort these updates and a sidebar displaying trending links.
For a tour of Signal, check out "LinkedIn's New Face: Tour "Signal's" 6 Key Features."
Kristin Burnham covers Consumer Technology, SaaS, Social Networking and Web 2.0 for CIO.com. Follow Kristin on Twitter @kmburnham. Follow everything from CIO.com on Twitter @CIOonline. Email Kristin at kburnham@cio.com.