Facebook knows you want more control over your information. That's why it announced this week a new dashboard under your privacy settings that gives you visibility into how applications—think games, productivity apps and business tools—use your data.
The new dashboard, called "Applications You Use," gives you a detailed overview of the permissions that you've granted to these apps. Within the dashboard, you can view which applications you're using, control what information the apps can access and remove applications that you no longer want.
How to find it: Under "Account" choose "Privacy Settings" then click "Edit your settings" under Applications and Websites at the bottom. Then, next to "Applications you use" choose Edit Settings. Here, you can see which applications you've authorized to interact with your account and when you authorized them to do so.
[Want more tips, tricks and details on Facebook privacy? Check out CIO.com's Facebook Bible/]
This new feature rolled out to some users already and will roll out to everyone next week. If you have not yet gained access to "Applications You Use," you can access it by clicking here.
How to view and edit application privileges:

To remove the application entirely, click the X next to "Edit Settings." To drill down deeper to see what privileges the app has and when it last accessed information from your profile, click "Edit Settings."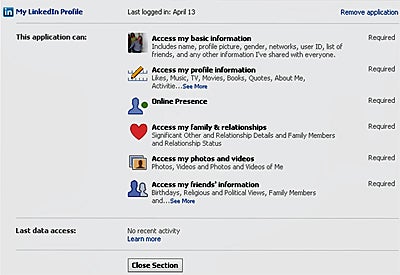 Here you'll see what the application can do. In this case, the app "My LinkedIn Profile" can access my basic information and profile information, see whether or not I am online, view my family and relationships, my photos and videos and access my friends' information. You can also view when the application last accessed your profile information.
Additionally, if you've downloaded an application that allows for it, you can change the settings to make less information available to it, for example revoking its ability to e-mail you directly.
Kristin Burnham covers Consumer Technology, SaaS, Social Networking and Web 2.0 for CIO.com. Follow Kristin on Twitter @kmburnham. Follow everything from CIO.com on Twitter @CIOonline. Email Kristin at kburnham@cio.com.