Research In Motion (RIM) last week held its third annual BlackBerry Developer Conference (DevCon) in San Francisco, and the Canadian company made a variety of interesting developer- and BlackBerry-user-related announcements, not the least of which was the unveiling of the brand new BlackBerry PlayBook tablet computer and the associated Tablet OS.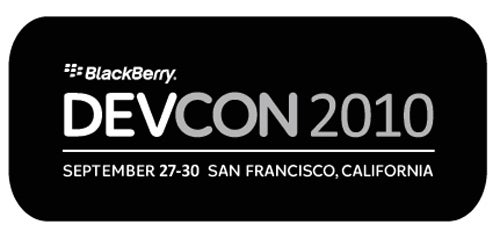 To save you time sifting through all the BlackBerry DevCon 2010 noise, I've collected what I think are the five most significant news announcements made in San Francisco and offered quick summary of each. Hit the links after each announcement for more details and the official press releases, where available, from RIM.
1) The BlackBerry PlayBook Tablet
During his Monday afternoon keynote, RIM Co-CEO Mike Lazaridis unveiled the BlackBerry PlayBook and showed off a video clip of the tablet and the Tablet OS in action. The company didn't have any functioning PlayBook tablets on display for DevCon attendees to handle, but it did have a demonstration room where BlackBerry enthusiasts could get a quick peek at the hardware.
The PlayBook is meant to be an enterprise tablet, and it will connect to a BlackBerry smartphone via Bluetooth to share a cellular connection. The BlackBerry PlayBook is 9.7 mm thick. Its widescreen display is 7 inches. The PlayBook browser supports HTML 5 and full Flash 10.1. Two HD cameras, one on the front and another on the PlayBook's rear side, enable 1080p HD video capture and video conferencing. The BlackBerry tablet uses non-proprietary HDMI connections and USB ports. And the PlayBook packs a powerful dual-core, 1GHz processor.
No pricing details are available at this point, but the PlayBook is expected to become available in early 2010.
Check out RIM's official PlayBook website and the company's press release for more details.
2) RIM Waives BlackBerry App World Submission/Update Fees for Developers
This announcement sort of got lost in the fray of all the BlackBerry PlayBook tablet news, and RIM for whatever reason failed to issue any sort of press release on the subject–at least that I saw–but, in my mind, and according to a number of developers I spoke with at DevCon, it's a significant one: RIM has done away with the registration fees developers had to pay in the past to submit and eventually distribute applications through BlackBerry App World, RIM's mobile app store.
From RIM's App World Distribution page:
"BlackBerry App World limited time offer: registration and submission fees are waived."
That means any new developers who may have been interested in working with RIM to market their applications through BlackBerry App World, but were scared away by the fees, can now submit to App World for "free"–devs may still have to pay for BlackBerry signing keys, etc. And existing developers who were holding application updates back until they could justify charging users for them–in part, to cover new application-update submission fees–can now offer updates for free to users, if they so choose.
This is potentially big news to BlackBerry developers and their users–though developers would be wise to act fast, since the offer is only for a limited time. (Rumors suggest RIM is considering waiving the fees permanently, but I haven't heard anything solid on that note.)
3) RIM Announces BlackBerry Messenger (BBM) Social Platform
RIM announced the new BlackBerry Messenger (BBM) Social Platform at DevCon, which gives BlackBerry developers access to a wide variety of new BBM-related APIs so that they can integrate various aspects of RIM's popular BlackBerry IM service with their own applications.
BBM is one of the most popular consumer-oriented core BlackBerry applications, and the company wants to continue to build BlackBerry- and BBM-loyalty, by letting developers drawn on various BBM features and functionality, such as the ability to connect to BBM contact lists through third-party apps; access BBM user profiles; transfer data using BBM transport methods; and invite others to connect to BBM through a third-party app.
"Access to BBM services from within apps will revolutionize gaming, enhance multimedia experiences, and add a new dimension to location based applications," says Alan Brenner, RIM's SVP of the BlackBerry Platform.
The BBM Social Platform is expected to be available in the spring of 2011, according to RIM. Check out the official BBM Social press release.
4) Mac OS X Plug-In for Eclipse Means Mac Users Can Develop BlackBerry Apps
On Monday, RIM announced a new Eclipse plug-in developer tool that will allow Mac users to develop BlackBerry applications. Again, RIM decided not to issue an official announcement on the Mac OS X developer tool, but based on the number of Apple Mac users I saw at DevCon, this could be very big news.
Few details on the new plug-in are available, but it will reportedly have all the features available to BlackBerry Eclipse developers who use PCs. And the Mac OS X tool is available as a beta release, with an official version expected before the end of 2010, according to RIM.
RIM has never really devoted the attention that it probably should to its Mac-user customers, whether they're BlackBerry owners or developers. It's nice to see the company take this step.
5) BlackBerry Payment Service and BlackBerry Analytics
RIM announced a handful of developer-related tools and services at DevCon 2010, but the two most interesting new offerings, in my opinion, are the new BlackBerry Payments and BlackBerry Analytics services. (RIM's BlackBerry App World Senior Product Manager, Alex Kinsella, agrees. Read my DevCon interview with Kinsella here.)
The BlackBerry Payments Service basically makes it easier for BlackBerry App World developers to sell applications and application content via a variety of methods, including "in-app" payments: These can help developers hook users by offering free or ad-supported apps that offer additional functionality, such as new or hidden levels in games, which users can pay for from within the apps. In other words, users could try an app first to ensure it's worth the cost, then purchase additional content without ever leaving that app. With BlackBerry Payments Service, RIM handles many of the back-end financial details so developers don't have to deal with that. And carrier-billing options in App World mean users may not ever have to use a payment card; app purchased could be billing directly through their carriers along with monthly service.
The new, free BlackBerry Analytics Service provides developers with new insights into who is using their applications, when, where and what specific features those users are employing most often, to help educate and inform app creators. The idea is help developers see their apps' strengths and weaknesses–the features that are used the most and the least, etc–and target users in specific geographic areas that they might not have known existed. And the news was announced along with Webtrends, which will provide many of the app-metrics.
Read more about the BlackBerry Payments Service and the free BlackBerry Analytics Service.
And for a more general wrap-up of RIM's third annual BlackBerry DevCon, visit the official website.
AS
Al Sacco covers Mobile and Wireless for CIO.com. Follow Al on Twitter @ASacco. Follow everything from CIO.com on Twitter @CIOonline. Email Al at ASacco@CIO.com.