BlackBerry-maker Research In Motion (RIM) held its third annual BlackBerry Developer Conference (DevCon) in San Francisco this week, and BlackBerry enthusiasts of all kinds, including developers, analysts, media and other mobile-industry-watchers, showed up in droves to see what RIM has in store for the coming months and years.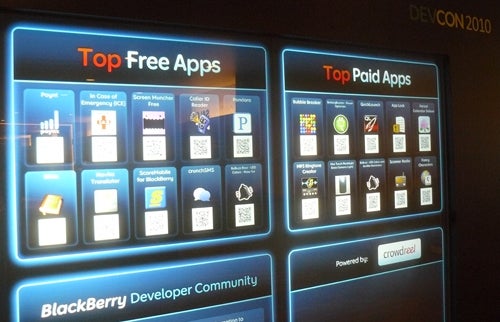 CIO.com was lucky enough to get a sit-down with RIM's BlackBerry App World Senior Product Manager Alex Kinsella, and the App World staffer shared a number of interesting details, including information on the next version of the company's mobile app store, BlackBerry App World v2.1, the new BlackBerry platform development features and services he's most excited about–and why you should be too–as well as what the company is doing to ensure mobile malware doesn't find its way into App World and onto unsuspecting users' devices.
Keep moving for specifics.
The New BlackBerry Payment and Analytics Services
On Monday, RIM unveiled a variety of new and improved developer tools and services, including the new BlackBerry Payments Service, which offers developers more ways to sell their applications and reach more potential customers. The service also relieves many of the financial headaches associated with selling mobile applications, because it manages all the technical and financials of payment so developers dont have to waste time managing relationships or business terms with payment providers and coding for integration into each of those providers' unique products.
For example, developers who use the BlackBerry Payment Service can offer "in-app payment services" to let customers purchase applications they like after free-trial periods expire or unlock additional application content, like new levels or functionality in games or advanced application features, without ever leaving the app.
Kinsella is particularly excited about the new Payment Service. Creating engaging BlackBerry applications is the best way for developers to build their customer bases, but that's really just the first step, according to Kinsella.
"That's the foot in the door," he says. The BlackBerry Payment Service is really about maintaining customers' attention, according to Kinsella.
The BlackBerry Payment Service will help developers keep their customers engaged by offering new content within their apps, which helps to ensure those apps are "fresh." And that's a good thing for developers, who are ultimately trying to profit from their apps, and BlackBerry users, who want quality mobile applications with evolving functionality.
Kinsella also says he's excited about RIM's new, free BlackBerry Analytics Service, which it announced at DevCon along with Webtrends, a Web metrics firm, to give commercial BlackBerry developers greater insight into who's using their applications, when, how and for what specific purposes.
BlackBerry Analytics Services will help to better educate developers on how their apps are being used, and it should improve their ability to target new types of customers and geographic areas, since they'll be able to see the people and locations in which their apps are used most frequently, among other metrics, Kinsella says.
BlackBerry App World 2.1 and Localization
RIM's Kinsella also shared details on the upcoming version of BlackBerry App World, v2.1. (RIM released BlackBerry App World 2.0, with carrier-billing functionality and other new features, in June.)
BlackBerry App World 2.1 should become available this fall, Kinsella says, and it will allow for far greater "localization" opportunities for developers than the software store's previous iteration, as well as much improved application-recommendations for users.
The BlackBerry App World "carousel" that promotes new and interesting applications on the App World front page will be country-specific in v2.1, according to Kinsella. That carousel currently looks mostly the same to all BlackBerry users with the same device models right now, regardless of their locations, which is not ideal, Kinsella says. App World 2.1's country-specific carousel will provide more appropriate recommendations to users, based on their locales. And Kinsella says developers will also soon be able to target specific devices models via the App World carousel.
For example, a BlackBerry Torch user on AT&T in the United States might see a recommendation for an NFL football application with touch-screen features, while a European Bold 9700 user might see a soccer app with no touch functionality instead.
Better application recommendations should lead BlackBerry users to experiment with and eventually purchase more BlackBerry apps, according to Kinsella. And App World users should also gain trust in those recommendations over time, which would keep them coming back for more.
BlackBerry App World and Mobile Malware
RIM is "very concerned" about the possibility of malware making its way to BlackBerry App World, Kinsella says, though no potentially dangerous pieces of software have been distributed through RIM's app store yet, at least that he knows of.
The closest thing to malware distributed via App World that Kinsella can remember was an application that collected users' contact information upon download and installation so that the app-maker could later pitch them on other mobile software. Kinsella didn't identify the specific app, but said that a number of App World users were rubbed the wrong way when contacted by the company, and they complained to RIM, calling the app "malware." (As it turned out, the app's terms of service did indeed state that users might later be contacted by the company.)
Every application in App World undergoes a "smoke-test" before it's listed for download, according to Kinsella, to make sure that the software doesn't interfere with the BlackBerry's basic phone functions, like wireless connectivity, battery life, memory availability etc. This is an easy way to identify potentially harmful apps, according to Kinsella. But it is possible that a crafty developer could create a dangerous app that passes these basic tests and ends up in App World.
Kinsella admits the smoke tests aren't fool proof. But he says RIM's various security safeguards available through the BlackBerry Enterprise Server (BES) and consumer-oriented offerings like BlackBerry Protect help to ensure the integrity of information on users' BlackBerrys and make it easy to "wipe" a BlackBerry at any point, should malware be suspected or detected.
Though it hasn't become an issue at this point, RIM is definitely keeping a close eye on mobile malware, and the company is certainly aware of the possibility of harmful apps showing up in BlackBerry App World.
AS
Al Sacco covers Mobile and Wireless for CIO.com. Follow Al on Twitter @ASacco. Follow everything from CIO.com on Twitter @CIOonline. Email Al at ASacco@CIO.com.