LinkedIn announced the launch of Signal today, a new product aimed at making it easy for professionals to view streaming updates and news. The interface, which is characteristic of Facebook's News Feed and Twitter's website, features streaming updates from your contacts, category filters to sort these updates and a sidebar displaying trending links.
LinkedIn Signal is a vast improvement over its predecessor, Network Activity, formerly known as Network Updates. LinkedIn Signal is a dedicated page (rather than part of the homepage like Network Updates), but what sets it apart from Facebook's and Twitter's streams are its filters, which let you drill down as specifically or broadly as you'd like to find information.
[For more LinkedIn tips, tricks and analysis, visit CIO.com's LinkedIn Bible.]
LinkedIn Signal is rolling out in limited beta today. After collecting feedback and analyzing usage patterns in the next few months, LinkedIn plans to roll out the feature to the rest of users.
Read on for a sneak peek of Signal's six key features and how they work.
1. The Real-Time Stream
The core feature behind LinkedIn's Signal is its real-time content stream. Much like the old Twitter, you'll see an alert at the top of the stream once new data is available. Scroll all the way to the bottom and you can load older updates.
The content featured in this stream include status updates (both from LinkedIn and Twitter if accounts are linked), links to online articles and news stories, and video links (videos can't yet be previewed inline).
2. Filters
To help you hone in on the information that matters most, look to Signal's eight filters. These filters include My Network, where you can sort posts by you, your first connections, your second connections, or everyone; Industry; Company, Time Published; Geography/Region, School or most popular hashtags.
These filters are more powerful and robust than Twitter's lists or filters you create yourself on Facebook. In a matter of seconds, you can narrow down your stream of information, eliminating on the "information fire hose" reputation that streams have earned.
3. Search Toolbar
Signal lets you search for specific keywords or topics in your stream of information. This search function differs from Facebook's in that you can search updates from everyone on LinkedIn, not just your direct contacts (if their privacy settings allow that). A search on social media, for example will also update the results of the Trending Links column.
4. Trending Links
Sure, Twitter may be famous for its trending tops, but LinkedIn showcases Trending Links—the most widely shared links across LinkedIn. This column will display the name of a link, a picture related to the link (if available) and the number of shares it has. These links are updated in real-time as LinkedIn's algorithms assess the relevance of a link based on topic, popularity and how recently it was shared.
5. Who's Shared This Link?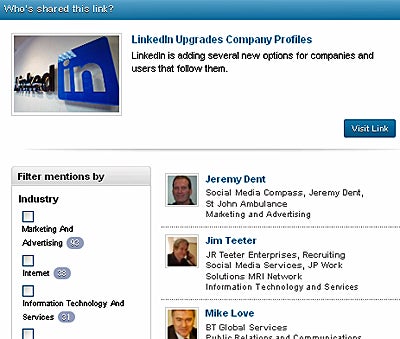 Another cool Signal feature (which is similar to Twitter's "mentions" function) is the "Who shared this link?" button. Available only for the Trending Links sidebar, this brings you to a page that lists who on LinkedIn has also shared the particular link. Much like on Signal's homepage, you can also drill down into these results using the aforementioned filters.
6. Saved Searches
Signal also lets you create personalized views of the LinkedIn stream (similar to Twitter Lists) that you can revisit every day. Search on a topic, set your filters, then click the "Follow" button at the top of the feed. These can later be accessed by clicking on the topic under "Following" on the left side of the page.
Kristin Burnham covers Consumer Technology, SaaS, Social Networking and Web 2.0 for CIO.com. Follow Kristin on Twitter @kmburnham. Follow everything from CIO.com on Twitter @CIOonline. Email Kristin at kburnham@cio.com.