Google Labs—the area Google reserves for applications and tools not yet ready for primetime—is constantly dishing up new features for all of us to try.
The latest batch of experiments includes some clever Gmail add-ons, Calendar features and even an Android app, for good measure. Here's a look at five you should try—which ones will you use?
[For more on Google Labs, check out: Google Labs All-Stars: 8 Must-See Projects.]
1. Open Spot
Finding that elusive open parking spot when you're in the city is enough to drive you crazy. A new Google App available for Android hopes to make that chore a little easier.
Open Spot works by letting people who are leaving parking spots share their spots with people who are searching for parking. As an incentive, the more open spots you mark, the more parking "karma points" you'll earn. The app marks on a map where you and the open spots are located, and assigns a color to the spots denoting how long they have been available.
Open Spot requires Android 2.0 or higher and is currently available only in the U.S., Canada and the Netherlands.
2. Apps Search
If you're a frequent user of Google Docs you've probably accumulated quite a few files, and remembering where that presentation or spreadsheet is living—Gmail or Google Docs?—can be difficult.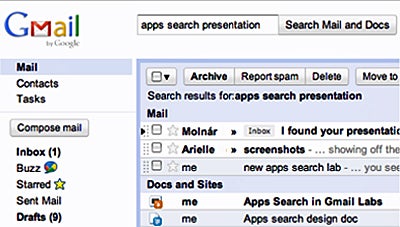 The new Apps Search feature in Gmail Labs aims to make the search for documents a little simpler. Typically, if you want to search Gmail, the button says "Search Mail." But if you enable Apps Search (which can be done from the Gmail Labs tab under Settings in your Gmail account), the button will change to say "Search Mail and Docs." Your search results will now include matching documents and sites in addition to e-mail messages.
[5 Google Labs projects That Should Be On Your Radar]
[5 (More) Google Labs Projects That Should Be On Your Radar]
3. Gentle Reminders
If you like pop-up reminders for appointments and meetings, but don't like how these interrupt what you're doing, give this new Calendar Labs addition a try. Gentle Reminders replaces your Google Calendar pop-ups. When you get a reminder, the Google Calendar window or tab will blink in the background and you'll hear a "pleasant" sound. If you're a Chrome user, you can choose to use desktop notifications there, too.
Find "Gentle Reminders" by visiting your Google Calendar. Choose "Settings," then "Calendar settings," then click the "Labs" tab.
4. Automatically Decline Events

Another Google Calendar feature currently in Labs is a setting that automatically declines any invitations for events during time periods for which you are unavailable. After you enable this feature, which is also found under the Labs tab in your Calendar Settings, you'll see a "Busy (decline invitations)" option in the "Show me as" field.
5. Short URL for Google Maps
"Short URL," a new feature in Google Maps Labs, automatically shortens the URL for a map. Typically, clicking the Link button will generate two long URLs: one to paste into an e-mail or IM and one HTML code to embed in a website.

If you enable Short URL, clicking the Link button will automatically generate a shortened URL that you can embed in tweets, e-mails, IMs or other messages.
Kristin Burnham covers Consumer Technology, SaaS, Social Networking and Web 2.0 for CIO.com. Follow Kristin on Twitter @kmburnham. Follow everything from CIO.com on Twitter @CIOonline. Email Kristin at kburnham@cio.com.