Twitter can be as socially brutal as a middle school playground: Half-baked opinions are delivered by some people with questionable authority; reputations may be altered forever with a single sentence; and gossip serves as a valuable form of currency.
Two HP executives who presented at Oracle OpenWorld 2010 conference felt the full force of Twitter's instantaneous sharing Sunday night—even though the execs hadn't a clue that the OpenWorld Twitter stream (#oow) had turned on them.
The HP executives—Ann Livermore, EVP of HP's enterprise business, and David Donatelli, EVP of enterprise servers, storage and networking—were subject to an onslaught of barbs and negative sentiment during their times on the Moscone Center's big stage.
The essence of the tweets: That the presentations were tedious "infomercials" from HP, remarkably similar to those from the year previous, and just plain boring.
Taken as a whole, the tweets were not petty, however, and the virtual crowd wasn't hostile. It's just many tech people either thought Livermore's and Donatelli's content was not interesting, or the two execs did not present their speeches particularly well. (A sample missive: "For two years now, having HP keynote at #oow10 is like having your ex-wife offer an awkward toast at your 2nd wedding.")
By the close of both presentations, thousands of in-person attendees had left Moscone North Hall D, and a new Twitter hashtag was born: #keynotetorture.
The headline of one blog post summed up the Twitter Tempest quite well: The Day HP Got Killed. Publicly. By HP.
Is Tech Too Boring?
For some in the audience, it seems as if they were transported back to middle school—when the substitute teacher was in charge, and all the kids were able to pass notes around without fear of being disciplined. It was, for all intents and purposes, open season on HP.
Conspiracy theories abounded: For instance, maybe the HP execs were boring on purpose, just to get back at Oracle for all that went down with the acrimonious Mark Hurd hiring? (Seems unlikely.)
There's probably a less sinister reason: Could it just be that this stuff—servers, storage, databases, networks—simply doesn't translate well to big-time, big-stage presentations?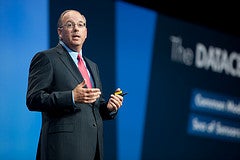 Let's face it: Very few of these large conference presentations are very good. (Even Larry Ellison's keynote after HP's received a few negative tweets.) Of course, any type of public speaking is not for the weary, never mind doing it before 40,000 people who are a hands-length away from a BlackBerry. And execs' PowerPoint slides are either too busy or too confusing when simplicity is needed.
[ IMAGES: Courtesy of Hartmann Studios / Oracle]
So it's not easy. But then again: This is why these executives make the big bucks, right? And if tens of thousands of people are going to travel from all over the world to a conference, then shouldn't the presentations—especially the keynotes—be dynamic and powerful?
HP paid considerable dollars for this slot, and to whiff on such a grand stage must be frustrating.
When Steve Jobs Screws Up
Even the almighty Steve Jobs had a bad "preso" day when he introduced the iPhone 4. (See How Steve Jobs Beats Presentation Panic.)
Carmine Gallo, a presentation expert who wrote a book on the presentation secrets of Jobs, says that no topic is so complicated that it cannot be explained simply.
"It takes thought, however," he says, via e-mail. "How are you going to explain the concept in a way that reaches the analytical and emotional side of the brain?"
[ In the "so bad it's good" category, CIO.com honors the best of the worst PowerPoint slides. See: 8 PowerPoint Train Wrecks and 8 More PowerPoint Train Wrecks ]
Gallo notes that recently he's helped companies, which have very complex messages, turn their communications into simplified presentations—"even an organization building nuclear weapons." (Also see: 5 Ways to Ruin Your Next Presentation.)
As for Twitter, Gallo says it is a valuable tool "because people are bolder behind the keyboard. The audience is expressing the same sentiments your employees are thinking—you are boring!"
"You can have the greatest idea in the world," Gallo adds, "but if you can't communicate the idea effectively, it doesn't matter."
Thomas Wailgum covers Enterprise Software, Data Management and Personal Productivity Apps for CIO.com. Follow him on Twitter @twailgum. Follow everything from CIO.com on Twitter @CIOonline. E-mail Thomas at twailgum@cio.com.