DEMO Fall 2010, which kicked off Tuesday in Santa Clara, Calif., ushered in a new class of startups—some in mobile, enterprise tech, cloud, consumer and social media—all vying for a prize of $1 million in funding.
The social space proved hot this year, with 17 businesses presenting their products and services, ranging from license-plate recognition software and communication suites to social review platforms and interactive mind maps.
Here's a look at my top four picks of social startups with the most innovative and unique ideas.
1. Bump.com
What it is: Bump.com is a free, integrated Web and mobile messaging platform that lets users send a message to the owner of any license plate in the U.S., at any time. Messages can be sent via e-mail, text or voice. In order to receive messages, the license plate owner must "claim" the plate, which entails visiting the site and registering. Once registered, users can participate in geolocation-based messages, discounts and offers.
Why it's cool: Bump.com has a few innovative uses. Let's say you hear a car alarm going off in a parking lot, you see someone's car has been backed into or you've left something in a taxi. Bump.com lets users ping the license plate to send the driver a message.
Or, a more business-oriented use: While in the drive-through line at a fast-food restaurant, Bump.com's license-plate-recognition software registers your car and takes note of your purchase. The next time you drive through, the software recognizes your car yet again, remembers your last purchase and displays on the order screen a personalized, special offer.
2. Social Smack
What it is: SocialSmack is a Web and mobile reviews platform that engages both consumers and brands. Users can easily share their brand interaction experience with "props" or "drops." These reviews can be pushed to other social networks such as Facebook or Twitter, and users are awarded points and badges that increase their SocialSmack status.
Why it's cool: What differentiates SocialSmack from other consumer review sites such as Yelp is its partnerships with businesses on the receiving end of reviews. SocialSmack enables brands to dig into information to gain insight into products or service sentiment, on a broad or location-specific level. SocialSmack hopes that this will lead brands to offer-targeted advertising, discounts or other special incentives.
3. Sococo Team Space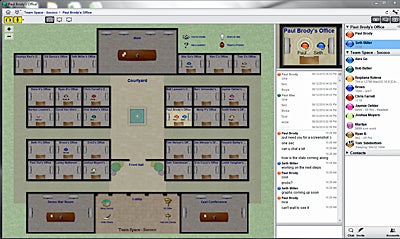 What it is: Sococo's Team Space is a communication service that helps distributed teams communicate more effectively. Its home screen is a virtual layout of an office with individual cubes occupied by employees who login remotely. Visual cues show you who's in the office, who's busy, who's free and who's meeting with whom. By clicking one of the cubes, you can connect with that coworker via voice or chat.
Why it's cool: Sococo's Team Space is an easy and useful way to bring together workers who work remotely or in distributed teams. The home screen gives users a sense of a "home base" where connecting and sharing work with others is easy and intuitive.
4. Trailmeme
What it is: Trailmeme, a venture by Xerox, is where users create and publish "curated trails," or reading lists, of Web content—similar to mind maps—using a visual editor. When you complete a trail, other users can follow the map-like interface. You're essentially telling stories via hyperlinks. These trails become creatively annotated collections.
Why it's cool: When you're done creating a "trail," Trailmeme lets you create a PDF version of the content that you've created. This can be printed out and organized more traditionally, say in the format of a training manual for new employees.
Kristin Burnham covers Consumer Technology, SaaS, Social Networking and Web 2.0 for CIO.com. Follow Kristin on Twitter @kmburnham. Follow everything from CIO.com on Twitter @CIOonline. Email Kristin at kburnham@cio.com.