Perhaps Facebook is taking advantage of the summer doldrums, or maybe it's a sign that it really is listening to its users.
Either way, the social networking giant continues rolling out updates to its arsenal of features, this time even announcing some new ones.
Facebook's most recent updates include new tools for Notes, a more streamlined user interface for Photos, and access to its revamped privacy controls via mobile devices. Also new: a beta tool that lets you to pose questions to the Facebook community.
Many of these changes are a step in the right direction to streamlining and simplifying its most popular tools. Here's what you need to know and what you can expect with these updates.
New: Facebook Questions Gives You the Answers
Looking for a new book to read? Should you really see "The Social Network"? These are the types of questions Facebook wants to help you solve with it's new beta tool, Facebook Questions.
Here's how it works: To ask a question to the community (which includes your Facebook friends and their Facebook friends), click the "Ask Question" button at the top of the homepage. You'll also have the option to add a photo or a poll. Once you post your question (or if you choose to answer someone's question), it will be public and visible to everyone on the Internet.
Other features include tagging, so your questions are categorized appropriately and easily searchable, as well as search function that lets you explore other questions around a topic that interests you. Another cool feature: a "follow" button that will notify you anytime someone submits a new answer.
This tool is available only to a select number of people. Facebook hasn't announced when Questions will be publicly available.
New: Facebook Privacy Goes Mobile
When Facebook unveiled its most recent privacy controls back in May, users were only able to access their settings from a computer. Facebook is changing this, announcing that anyone can access and alter their Facebook privacy controls from any browser-enabled mobile device.
To do this, visit m.facebook.com/privacy or by visiting the Settings page and clicking the "Change" link next to the words "Privacy Settings." Here, you'll be able to choose who can see the content you post, customize your granular settings and read through Facebook's Privacy Guide.
Update: Text Editor Makes Facebook Notes Easier to Use
Facebook's "Notes"—a feature some use to start discussions—used to be a clunky tool. Editing old notes, saving drafts for later and styling them the way you want was never easy. Until now.
Last week, Facebook introduced a new text editor. This feature has buttons to make your text bold, italic or underlined, as well as buttons for numbered lists, bulleted lists and a style for indented quotes. Combined, these get rid of the need to look up HTML coding.
Facebook also added tagging features for Facebook Pages. In addition to tagging your friends, you can tag celebrities, interests, activities and nonprofits that you "Like." Also new: a cleaner interface with a left-hand menu that displays links to your note, notes about yourself and your drafts.
Update: Facebook Photos Gets a Makeover
A simple, but much-improved change Facebook made to its Photos feature—which comes on the heels of a similar change Google made last month—alters the way you browse photos.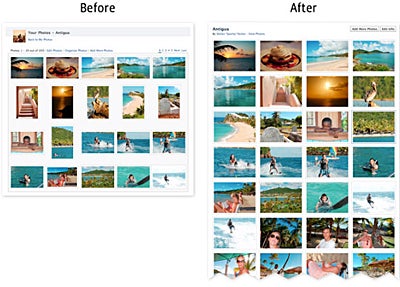 Before this update, Facebook only displayed 20 photos per page. Browsing dense photo albums required you to flip through several pages to view the entirety of the album. Now, navigating albums is simpler.
When you view an album, additional thumbnails populate automatically as you scroll down the page—there's no more need to click "Next" several times to make it though an album; you'll be able to see up to 200 photos on one page. Facebook is also making the thumbnails larger, making it easier to browse for a particular photo.
Kristin Burnham covers Consumer Technology, SaaS, Social Networking and Web 2.0 for CIO.com. Follow Kristin on Twitter @kmburnham. Follow everything from CIO.com on Twitter @CIOonline. Email Kristin at kburnham@cio.com.