For the past four years, social media has been a tool that organizations have adopted largely as part of a marketing strategy—using platforms such as Facebook, Twitter, Google+ and others to broadcast messages about your business to increase brand awareness and improve customer loyalty.
"We hear about the marketing side of social more often because so many brands have flocked to Facebook and Twitter to try and do the land grab and get as many customers as possible," says Chris Carfi, strategist for Ant's Eye View (AEV), a company that partners with enterprises to implement strategies and programs for engaging with consumers, partners and even employees.
"It may not be as sexy, but a lot of the really cool stuff is happening in other areas," he adds, referring to social media efforts in customer support and product departments, to name two.
Today's consumers post more than 1 million social messages every 60 seconds. In addition to talking about what they do in their personal lives, they're sharing thoughts, comments and complaints about the companies with which they interact. Smart companies are listening to these conversations and using social media for much more than marketing.
Author, speaker and consultant Brad Cleveland is known globally as an expert in customer management and has worked for clients such as American Express, Apple, Coca Cola and the Government of Australia. He says there is a huge retool going on in corporations to pull social contacts into their operations and treat them like they would any other channel.
"From a broad perspective, social is a lot more than just a channel. We use the term channel, but the first thing I advise is to have a strategy," Cleveland says. "There's marketing aspects, operations aspects and technology considerations, so social is more than a channel, but ultimately you need to bring it into your operations."
Social Customer Support: It's Not a New Trend
Carfi describes the enterprise journey to being social as a five-stage process—traditional, experimental, operational, seeing real results and finally, being a fully-social, fully-engaged organization. The path to being social can be defined by organizational steps, but it's a process that takes years.
"Organizations may aggregate to the fifth step of being fully engaged," he says, "but different parts of the organization, like marketing, support or HR, will be at different stages at different times during the journey."
In social, Carfi sees a lot of places where the customer support side of a business has done well. The social applications that predated Facebook, after all, were tied to forums and online communities. Examples of "outstanding organizations" that have connected with customers as social businesses go back to 2005, if not earlier, Carfi says. "Some businesses, like Autodesk, have community forums that go back more than 15 years [and] have grown and evolved."
Dell is another company that started on its path to being a social business more than six years ago. Back then, Dell typically tracked around 4,000 comments a day about the company on the social Web, mainly in forums and discussion boards.
Fast-forward to today—there are more than 25,000 comments a day about Dell in the social Web, and the company is answering customers and providing tech support on a number of different social platforms.
Social Companies Need Social Agents
Companies need to plan and strategize social customer support on both sides of the firewall—internal process and policies and external customer experience goals.
Inside the firewall, Dell's social strategy starts with a core team that is responsible for training, governance and social platform testing. This group of more than 3,500 Dell certified social media and community professionals also engages with customers via social media.
There is also a dedicated social team at Dell providing customer and technical support resolution via social. The team, Dell Social Outreach Services (SOS), was formed more than two years ago, mainly because of the increase in conversations related specifically to "Dell support" that were taking place. The social support team, approximately 80 strong, serves customers globally in 11 languages.
"The core of what we do is listen to conversations where customers indicate a need for technical help from Dell and we engage in those conversations and offer support," said Jason Duty, Dell's SOS team director. "The Dell Social Outreach team will see those cases through to resolution."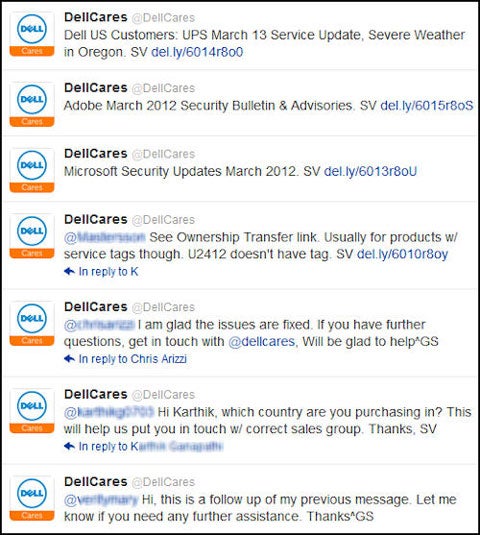 There may be complex cases or a request for a phone call from a customer, but Dell agents also converse with customers in many ways—they troubleshoot issues in 140 characters in Twitter and answer a customer's question on Facebook, in the Dell Forums, on Google+ and a few third-party discussion forums as well. The goal is to stay engaged and provide a resolution in the same channel the customer initially used.
How the Social Customer Support Process Works
One key factor any business needs to look at is how to effectively listen, engage and measure a social customer support strategy.
"You can't just measure effectiveness by how many tweets or Facebook posts you're putting out to the world," Cleveland says. "You have to have a qualitative handle on reaching those who have the most influence and getting the right kind of information out there."
Dell's Social Outreach Services provides support for 2,000 to 3,000 customers per week via social and, according to Duty, achieves a social resolution rate of 97 to 98 percent. Internally, the customer support resolution process is just like any contact center process, only agents are using social listening and engagement tools.
"We use a partner's listening tools and engagement console to help organize the social conversations we are interested in," Duty says. "Our agents use these tools to find, listen and engage with the customer."
When Dell SOS agents spot these tech support-related conversations, they use internal support tools to research a case, figure out the right solution and go back to the social engagement console to provide the customer with a resolution.
Dell's social customer support strategy is similar to those on the other platforms it supports. The biggest difference is that customer expects a much faster response and resolution on social platforms than, say, an email-based inquiry.
Another difference is in the policies that agents use in social media compared to traditional contact center methods. Call centers, for example are usually scripted; agents use a strict set of procedures to resolve issues for customers. In social, companies tend to empower agents to make decisions and work without a script.
The Importance of Building Customer Relationships
It's important to remember that transactions between individuals and a business are really an outcome of relationships and, as a result, conversations. Social customer support is only going to work if companies engaged in meaningful conversations with customers.
"You're trying to discover what a customer's vision and goals are," Carfi says. "You might be trying to help a customer with a particular challenge or technical issue, but it's the conversation that will help you diagnose the root cause. These types of conversations will help an organization get to a place where they can help the customer do whatever it is the customer wants to do."
It might be easier to connect with the customer today, with Facebook and other popular social platforms, but building that connection into a meaningful relationship requires a lot of work.
Carfi reminds businesses not to read too much into a customer clicking "Like" on your Facebook page—a Like is not a relationship. Metrics such as numbers of fans or followers are a good place to start, he explains, "but you have to go to the next step and tie goals to things that mean something to both customer and organization."
Businesses should think about things from the customer's point of view, too. Carfi says it's important to remember that, as individuals, we're also customers. When you remember this, he adds, you'll bring empathy to business conversations.
Duty agrees that putting the customer first is an important aspect of providing customer support through social media.
"Our motto is, let's do what's right for the customer. If there's a policy that gets in the way of that, or a process that is customer unfriendly, we'll throw it out the window at that point," he said. "There's no script for us. There's a high level of research to see the history of the customer. Then it's a judgment call to determine what is the right decision for the customer—and it's often independent of what the 30-day return policy or warranty exception policy says."
Based in Nova Scotia, Canada, Vangie Beal has been covering small business, electronic commerce and Internet technology for more than a decade. You can tweet with her online @AuroraGG. Follow everything from CIO.com on Twitter @CIOonline, on Facebook, and on Google +.