The Hewlett-Packard HP Folio 13 is a sleek 13.3-inch Ultrabook that comes in a slim profile measuring just 0.7 inches (18mm) thick. HP positions it as a business-grade laptop that eschews an optical drive for portability and crams in a battery that the company says is good for up to 9.5 hours. The HP Folio 13 also includes a number of business-centric capabilities ignored by other computer makers.
So how does the HP Folio 13 fare for business?
HP Folio 13 Ultrabook: Tale of the Tape
The HP Folio 13 Ultrabook is powered by a second-generation Intel Core i5-2467 M processor operating at 1.6GHz, and it is sold with a maximum configuration of 4GB RAM. An integrated Intel HD Graphics 3000 GPU drives a 13.3-inch LED display at a resolution of 1366×768, while an HDMI port means it can drive an external display or projector with HDMI inputs.
To connect with external devices, the HP Folio 13 is equipped with one USB 3.0 port and one USB 2.0 port. The sole memory card slot supports common card formats such as MMC, SD and SDHC, as well as the latest SDXC. The SDXC format supports memory cards of up to 2TB, compared to SDHC's 32GB limit. HP opted to use a solid-state drive (SSD) instead of relying on a hybrid device or a standard hard disk drive; under the hood, the HP Folio 13 incorporates a Samsung 128GB SSD, a speedy SSD that was billed as a top-tier SSD when it was released in the middle of last year.
Other HP Folio 13 hardware includes an integrated dual-microphone array and HP TrueVision HD3 Webcam for Skype calls or video conferencing. A Gigabit Ethernet port helps ensure brisk data transfers within the corporate LAN and is complemented by a TPM 1.2 embedded security chip. HP has also taken the unusual step of bundling the 64-bit version of Windows 7 onto the laptop, which helps ensure that the 4GB RAM is fully utilized. The HP Folio 13 Ultrabook weighs in at a relatively lightweight 3.3 pounds.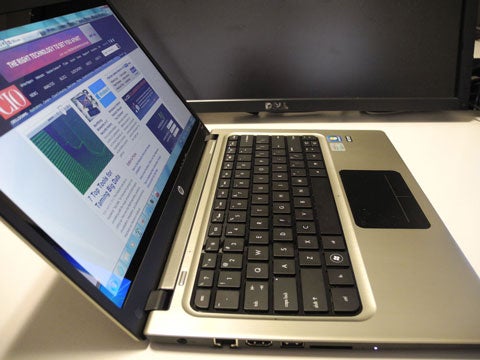 HP Folio 13 Test Drive
The HP Folio 13 responded quickly when launching applications in our tests designed to simulate business conditions, no doubt thanks to the presence of the fast 128GB SSD. (These tests included copying files over the network, copying files to and from a USB 3.0 external disk drive and opening about 10 Web browser windows at once.) The HP Folio 13 also entered and exited sleep mode within seconds, making sleep mode—not a more time-consuming shutdown—ideal for moving around. Despite its comparatively slow CPU, the HP Folio 13 handled well even with 10 active tabs open in Internet Explorer. Surprisingly, our quarrel was with the internal fan that proved to be loud enough when operating at full speed as to be mildly distracting.
HP says the HP Folio 13 provides up to 9.5 hours of use for a full workday without having to recharge. In our tests, we were able to get about six hours of Internet surfing with the screen at full brightness. We could probably get about eight hours with the brightness set at half. The battery life was certainly impressive, though it remains doubtful you'll want to leave your AC adapters at home simply to squint at a dimmer-than-normal display.
It's evident that HP took pains to improve the usability of the Folio 13. Take the shortcut keys, for example: Instead of accessing volume controls, mute toggle, brightness controls and other media buttons via a cumbersome function key combo, HP makes these shortcuts available to you as the primary functions along the top row. Given how rarely function keys (F1 to F12) are used on modern applications, this subtle tweak is appealing.
As you expect with an ultrabook, the HP Folio 13 a great-looking business laptop. The bottom is flat, which means that the ultraportable laptop takes up little space in laptop bags. Moreover, the backlit "islet" keyboard also adds a touch of usability as well as class to the HP Folio 13, while the unassuming but large touchpad proved comfortable to use.
The Business Case for the HP Folio 13
The HP Folio 13 incorporates a number of capabilities that will appeal to businesses. For example, the TPM 1.2 chip offers security features, such as a pseudo-random number generator, while also serving as secure storage for encryption keys. Though not completely impervious to all forms of physical attacks, the TPM significantly increases the difficulty of breaking into a stolen or lost laptop. When used in conjunction with full-disk encryption software such as Microsoft's BitLocker or TrueCrypt, the TPM provides a level of security that should appease even the most security-conscious organizations.
Some laptop and ultrabook vendors have opted to remove the Ethernet port to either reduce manufacturing cost or to attain better design. This is not ideal from an IT support perspective, however—mid-sized and enterprise businesses often store applications and requisite security updates on centralized storage. These are then automatically deployed over the network using system management software.
As you can imagine, attempting this over a Wi-Fi network will not only be significantly slower, but a widely deployed update will also bog down the corporate wireless network. With this in mind, the Gigabit Ethernet port in the HP Folio 13 should serve to greatly accelerate system maintenance or restoring a baseline system.
Despite possible complaints over a lackluster storage capacity of just 128GB, the decision to go for a lower capacity, and therefore cheaper, SSD for the HP Folio 13 is a good one—especially considering that the HP Folio 13 was designed as a business laptop, not a multimedia powerhouse or gaming machine. Most employees will never even come close to filling up 128GB of storage space with documents, spreadsheets and other work-related files. Workers who need additional storage capacity will find it a relatively trivial affair to purchase a fast USB 3.0 portable storage drive.
HP Folio 13: The bottom line
The HP Folio 13's slower mobile processor and lack of upgradability means that it is not an ideal machine for power users who need a faster processor and ample storage capacity. However, there is no sign that HP has sacrificed functionality in any way to bring costs down. Conversely, it's clear that HP deliberately chose to incorporate capabilities into the HP Folio 13 that benefit business users. Finally, the decision to use an SSD is an excellent one, despite the reduced storage space.
Overall, despite the relatively high starting price of $999 and modest hardware specifications, the HP Folio 13 Ultrabook is a solid business laptop that we would recommend for users with modest computing needs.
Paul Mah is a freelance writer and blogger who lives in Singapore. Paul has worked a number of years in various capacities within the IT industry. Paul also enjoys tinkering with tech gadgets, smartphones and networking devices. You can reach Paul at paul@mah.sg and follow him on Twitter at @paulmah.
Follow everything from CIO.com on Twitter @CIOonline, on Facebook, and on Google +.