Eight months after killing its Deals feature, Facebook is launching a new service called Offers, which makes discounts and coupons available from businesses you have "Liked" on the social network.
Facebook first announced Offers in March at its first-ever marketing conference in New York. The feature—which some say is just another push to to make ads look less conspicuous—will roll out gradually over the next few months.
Redeeming Facebook Offers is easy. Once you see an offer that interests you in your News Feed, click the "Get Offer" link. If you have more than one email listed on your Facebook account, choose the one you'd like Facebook to send the offer to.
Shortly after you select an offer, you'll receive an email. Bring the offer—either printed or on your mobile phone—to the business offering the deal and show it to the staff to redeem.
Facebook Offers do have expiration dates set by the business offering them so be sure to check the date listed below the offer's headline. The expiration date will also be included in the email you receive when you claim an offer.
Also note the Offer's terms and conditions, which are special redemption rules that apply. To read an offer's terms and conditions, click the offer's headline or refer to the email you receive when you made your claim.
[Want more tips, tricks and details on Facebook? Check out CIO.com's Facebook Bible.]
After you claim an offer, a story about it will automatically be added to your Timeline. By default, this story is visible to your friends, but you can change the privacy settings if you want to keep your offers private.
To change the privacy settings, click the "Friends" icon next to "Post offer to timeline" on the Offers confirmation box. Select the audience you want to share the story with (you can choose "Only Me" if you want it to be private), then click Okay.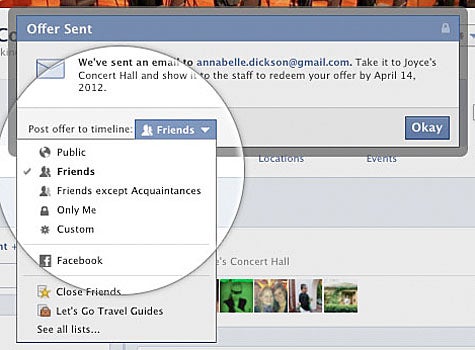 If your activity has already been posted to your profile, you can still hide or delete it to prevent your friends from seeing it. To do this, find the "Recent Activity" box on your profile and click the X next to the story. You can also choose to hide or delete the story from your Timeline by visiting your Activity Log.
You cannot opt out of viewing Offers in your News Feed, and some analysts worry that this could lead to a more cluttered News Feed. If you find that a business you have "Liked" is posting too frequently, you can either unlike the brand entirely, hide the particular story or hide all stories by that brand.
To unlike a brand, visit its Facebook page and click unlike from the bottom of the menu on the left. To hide an offer from your News Feed, hover over the post then click the drop-down menu on the top-right. Then, select "Hide story" or "Hide all by [the page]."
Kristin Burnham covers consumer technology, social networking and enterprise collaboration for CIO.com. Follow Kristin on Twitter @kmburnham. Follow everything from CIO.com on Twitter @CIOonline and on Facebook. Email Kristin at kburnham@cio.com