Windows 8 Features, Challenges and Competition
From invoking 'God Mode' to hacking the lock screen, make Windows 8 act the way you want.
Windows 8 faces skeptical IT customers and a hardware landscape dotted with iOS and Android mobile devices. The good news for Microsoft is that Windows 8 will gain market traction by 2014 and be a true tablet player by 2016, according to research firm Forrester.
Windows 1.0 came out in 1985. Now, 27 years later, Windows 8.0 is set to come out. For the first time the operating system acts as a window, one that comes in many sizes and offers a view of Microsoft's back-end services. And, despite all the iPhone 5 talk, it pushes Microsoft ahead of Apple.
Some useful Windows 8 apps highlighted here can cover all your travel needs, from deals to wheels to digital photography reels — no baggage check-in required.
This tutorial for Windows 8 covers both desktop and touchscreen users.
Microsoft is counting on strong sales of Windows 8 Pro and Windows RT tablets–and, to a lesser extent, Windows phones–to help drive its new Windows 8 desktop operating system in the enterprise. But what if the plan doesn't work?
Windows 8 fell further behind the pace of Windows Vista's uptake last month, a metric company said today, even as usage share of the new operating system continued to slowly climb.
After three months, the world has had plenty of time to live with the Windows 8, and now we can more comfortably score whether it's a success or failure.
Revenue at Microsoft's Windows division was up 11 percent in the fourth quarter of 2012, bucking the long-running trend where the company's OS sales have mirrored PC sales. But the unexpected results, which made Windows the company's top revenue-producing group for the first time since 2009, did little to answer the question on analysts' tongues: How did Windows 8 perform in its first sales test?
Day two at Microsoft TechEd 2012 was all about Windows 8. CIO.com caught up with Windows corporate VP Antoine Leblond, who discussed why CIOs should test Windows 8, why developers should love it, and why we'll all be touching our laptop screens sooner than we think.
In another illustration of the diminishing importance of the PC, a research firm today said that more than a third of surveyed consumers who once used personal computers to access content have switched to tablets and smartphones.
Microsoft's future hinges on attracting developers to build Windows 8 apps. But by offering financial incentives, supporting a range of programming languages and allowing developers to write code once for multiple devices, those developers may soon follow.
Calling Windows 8 "Vista Part 2" is premature and naïve. Yet Windows 8 is vulnerable in the same way Vista was and will pay a higher price for failure.
Windows 8 in the Enterprise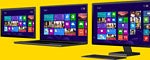 Microsoft's new operating system has received mixed early reviews. Get past the missing Start menu and the 'ribbonized' File Explorer, though, and you'll likely find a faster OS that should make workers more productive — especially if you give them new Windows 8 tablets.
Regardless of whether your business is Fortune 500 big or mom-and-pop small, transitioning to a new operating system is a major endeavor–and a major headache. There's a reason why so many companies still use Windows XP, after all. So when you do bite the bullet, you want to make sure you're picking an operating system that meets all your needs.
Microsoft is in the smartphone and tablet doghouse in the enterprise. But a global survey by Forrester shows there is a surprisingly strong desire for Windows tablets among the worldwide workforce.
Windows 8 may conquer previous tablet limitations with larger screens, access to the full Office suite, more controlled security features and compatibility with legacy apps. However, there are also drawbacks, says research firm Gartner.
In a world where iPads and Android devices are the rage, Seton Hall University bucked the BYOD trend and opted for Windows 8 tablets and ultrabooks for students and faculty, even though the OS doesn't ship officially until October. Why did the university go all in on Windows 8?
Speakers at Microsoft TechEd touted the virtues of the upcoming Windows 8. No surprise there — except the speakers were using Windows 8 on tablets, with nary a desktop in sight. Will the strength of Windows 8 on tablets finally get IT and end users on the same BYOD page?
Because the radically redesigned Windows 8 will struggle to gain acceptance with consumers and businesses, Windows XP shops should focus on Windows 7 upgrades now, and not wait for Windows 8 to mature, says research firm Gartner.
When it comes to post-PC computing, Apple's iPad has taken a commanding lead in the enterprise. However, will the security, networking and management features of Microsoft's Windows 8, slated for release next month, help Microsoft tablets take a bite out of Apple in the enterprise?
Most of the attention on Windows 8 and Windows RT has involved consumer features and the Metro UI. But the Windows 8 Pro version offers security and virtualization features tailor-made for IT organizations.
Both Microsoft and industry analysts discourage businesses using Windows XP from skipping Windows 7. The key reason: XP support is likely to expire before Windows 8 is ready for deployment. Research firm Gartner provides guidance for XP holdouts.
Microsoft Surface Pro, Surface RT and other Windows Tablets
Microsoft Surface Pro, the Windows 8 ultrabook designed and built by Microsoft, goes on sale Feb. 9, joining its sister device Surface RT. Here's a look at what it has to offer.
Microsoft's scarcity of 128GB Surface Pro devices in retail has frustrated shoppers and drawn accusations of a publicity stunt. It's a shame because people want to buy the Surface Pro, if only Microsoft would let them.
Microsoft made big bets on Windows 8, Windows Phone and Surface tablets in 2012, and now it needs to make those bets pay off. As more consumers and businesses go mobile, 2013 will be Microsoft's most challenging year yet.
Confused about Windows 8? Youre not alone. Heres a quick guide on what to expect from Microsofts new operating systems, as well as which OS is best suited for you.
Microsoft's low-end Surface Pro tablet, slated to start shipping Feb. 9, sports just 23GB of free storage space out of the box, Microsoft confirmed.
From drop tests to protests at launch events, the Internet has been watching Microsoft Surface closely.
For most users, the upcoming Microsoft Surface Pro is too expensive and power-hungry to bridge the worlds of tablets and ultrabooks, writes CIO.com's Shane O'Neill.
The introduction of Microsoft Windows 8 has spawned a variety of new and exciting devices. Here are 7 tablets that were built especially to accommodate the new operating system. Some include keyboards and other add-ons, but will those extras — and the promise of Windows on a tablet — be enough to lure buyers away from the iPad and Android tablets?
Surface RT, the Microsoft-built tablet/notebook, offers a sleek design and sturdy feel. Its got more memory per dollar, a bigger screen and more external storage options than its chief rival, the iPad.
After using the Microsoft Surface Windows 8 Pro for work and play for two weeks, CIO.com's Shane O'Neill came to appreciate the device's versatility, despite some flaws. Just don't call it a tablet.
Samsung, Acer, Asus and Lenovo are selling Windows 8 alternatives to Microsoft's upcoming Surface Pro tablet.
Despite poor branding and confusion about the difference between Windows 8 and Windows RT, the tablet-only RT might be exactly what Microsoft needs to stay alive against Apple and Google in the post-PC era.
Buying a Windows RT slate is not going to be as simple as buying an iPad or Android tablet.
Shane O'Neill is the Assistant Managing Editor for CIO.com. Follow Shane on Twitter @smoneill. Follow everything from CIO.com on Twitter @CIOonline, Facebook, Google + and LinkedIn. Email Shane at soneill@cio.com