Apple lovers across the country hope to get their hands on the new iPad—or is it New iPad?—when it hits stores this week, but the geeks at iFixit headed to Australia and got a hold of one early thanks to time zone differences with the U.S.
Burning the midnight oil, iFixit was the first to perform a teardown of the new iPad. What did iFixit find after bending over backward to remove the glued-in glass panel? A massive battery.
The new iPad boasts a 42.5 watt-hour battery, much bigger than the iPad 2's 25 watt-hour battery, which is why the new iPad is slightly heavier than the iPad 2 (1.44 pounds compared to 1.33 pounds) and thicker (.37 inches compared to .34 inches).
The new iPad and iPad 2 have comparable battery lives, 10 hours of use. So the extra juice of the new iPad will be used to power the new dual-core AX5 processor and integrated quad-core graphics.
Apple unveiled the new iPad earlier this month, showcasing a high-resolution display that doubles the number of pixels in the iPad 2 and even surpassing HDTV. Screen display, of course, eats up battery life. The bigger battery capacity must accommodate the new iPad's 2048-by-1536 pixels resolution.
Here is a list of the new iPad's specs, courtesy of iFixit:
* Dual-core Apple A5X processor with integrated quad-core graphics
* 9.7 inch LED backlit in-plane switching LCD with 2048×1536 pixel "Retina Display"
* 16, 32 or 64 GB Toshiba NAND flash memory
* 5 MP HD rear-facing camera
* 1 GB DRAM comprised of two 4Gb Elpida LP DDR2 parts
* Broadcom BCM4330 802.11a/b/g/n Baseband/Radio with Integrated Bluetooth 4.0+HS
* Qualcomm MDM9600 3G and 4G wireless modem (not the expected 2nd generation MDM9615)
* Qualcomm RTR8600 multi-band/mode RF transceiver for LTE bands
The toughest challenge to the teardown, says iFixit, was removing the glass panel display, which is seated similarly in the iPad 2. Technicians used a heat gun to loosen the adhesive, as well as guitar picks and suction cups to lift the glass. They were able to do so without breaking the glass, although "the adhesive on the front is extremely difficult to remove," iFixit says.
This will pose a problem down the road, says iFixit's Kyle Wiens. As Apple pushes iPads into high schools, students will be essentially replacing bulky, durable text books with glass text books—and this means breakage and battery replacements will be an ongoing concern for high school administrators.
How will the iPad hold up?
"This is going to be a problem, and I don't know that schools are anticipating it," Wiens told CIO.com. "Now schools will need to figure out a way to be good at fixing iPads. Or they'll be shelling out a lot of money for service."
Here are more images of iFixit's new iPad teardown: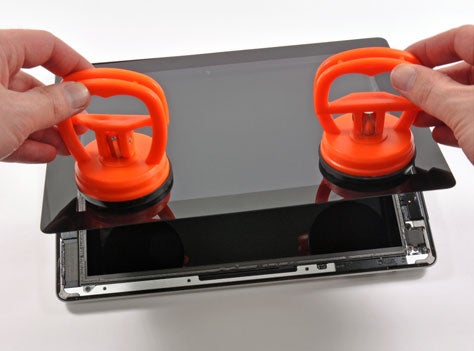 Tom Kaneshige covers Apple and Networking for CIO.com. Follow Tom on Twitter @kaneshige. Follow everything from CIO.com on Twitter @CIOonline and on Facebook. Email Tom at tkaneshige@cio.com