Facebook rolled out a new feature on Thursday called "Interest Lists," an aggregation tool that turns Facebook into a social, personalized feed for topics that you find interesting: tech news, sports, entertainment and more.
Facebook's Interest Lists are similar to Twitter lists: They're created and curated by users, and, like Twitter lists, you need to subscribe to follow them. When you subscribe on Facebook, the most popular updates from the list will appear in your News Feed, but the majority will appear only in a new section on the left-side navigation under the "Interests" subhead.
To get started with Interest Lists, visit facebook.com/addlist. Use the search bar to enter a topic, and then click on the name of the list to browse it. You'll be able to see who has created the list, the people and pages included in it, and its most recent posts.
You'll also be able to subscribe to the list and share it with others from this page.
Also from the "Add Interest" page you can create your own list for others to follow. To get started, click the "Create List" button at the top of the page.
[Your Complete Guide to Facebook Timeline]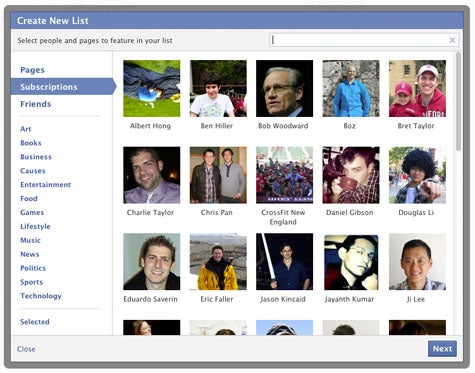 From here you can browse and select the Facebook Pages you've liked, people you've subscribed to, members of more general lists such as "sports," and the friends you want to include in your Interest List. After making your selections, click "next" to name your List and set its privacy settings (public, friends, only me). Even if you choose a list with the "Only Me" privacy setting, you'll need to create a unique list name that no one else has chosen.
Facebook Interest Lists: The Cons
While Interest Lists could be a useful new feature if you want to stay up to date on subjects that matter to you, there are a few drawbacks that could deter you from using it.
First is the News Feed clutter problem. When you subscribe to a new Interest List, the most popular posts from it will appear in your News Feed alongside all the other posts from your friends, pages and subscriptions.
Part of the allure of the Interest Lists is that, like Facebook lists, you create for groups of friends, you can view posts from only that group. With the News Feed becoming more and more cluttered with ads, games and more, featuring top posts from your Interest Lists in your News Feed should be an optional feature.
[Want more tips, tricks and details on Facebook privacy? Check out CIO.com's Facebook Bible.]
The second imperfection in the Interest List feature is that while the members may be hand-picked, there's no guarantee the content will relate to the topic. For example, if you follow a list about technology, the people included in the list are likely to post frequently about technology. But because these lists aggregate all public posts and activity from its members, you'll also likely see unrelated content they share.
Lastly, it does not appear that there is a feature to opt out of being added to an Interest List, nor are you alerted when someone ads you to one. This could be problematic if you're mistakenly added, or added to a list that's inappropriate: another reason to double-check your privacy options.
Kristin Burnham covers consumer technology, social networking and enterprise collaboration for CIO.com. Follow Kristin on Twitter @kmburnham. Follow everything from CIO.com on Twitter @CIOonline and on Facebook. Email Kristin at kburnham@cio.com