Social media privacy awareness is increasing among Americans, according to a new study. However in the battle of the sexes, women trump men when it comes to locking down the privacy of profiles.
The Pew Internet & American Life Project released a new report that details trends in privacy management on social media sites in 2011 compared to 2009. Pew surveyed 2,277 adults, age 18 and over.
According to the report, "As social media use has become a mainstream activity, there has been an increasingly polarized public debate about whether or not 'privacy' can be dismissed as a relic in the information age." The report addresses new data surrounding the privacy settings people choose for their social networking profiles.
In 2011, almost two-thirds of adults (63 percent) reported they currently maintain a profile on a social networking site, which is up from just 20 percent in 2006. A majority of those (58 percent) say they have their privacy settings set to private so only their friends can see it, while 19 percent say friends of their friends can view it and 20 percent say their profile is completely public.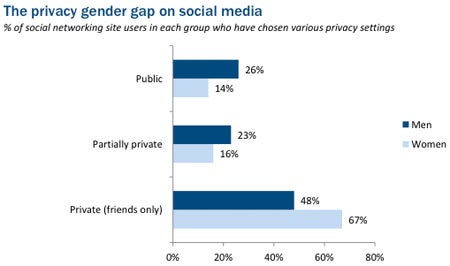 Women, however, are significantly more apt than men to keep their profiles private. Sixty-seven percent of female profile owners restrict access to friends only, compared to 48 percent of male profile owners. Men, though, are more likely than women to choose partially private settings (23 percent versus 16 percent) or fully public settings (26 percent versus 14 percent).
While women are reportedly better at controlling their profile privacy, they're also more likely than men to "unfriend" people, a trend that Pew says is on the rise overall.
According to the report, "Over time, as social networking sites have become a mainstream communications channel in everyday life, profile owners have become more active managers of their profiles and the content that is posted by others in their network."
[How to Protect Your Reputation Online]
For example, 63 percent of people surveyed said they have deleted people from their networks or friend lists, up from 56 percent in 2009. Breaking it down by gender, 67 percent of women say they have deleted people from their network, compared to 58 percent of men.
Profile pruning is on the rise, too. Forty-four percent of people surveyed say they have deleted comments that others have made on their profile, up from 36 percent in 2009; and two-thirds have removed their names from photos that were tagged to identify them, up from 30 percent in 2009.
But posts by other people isn't the only area in which social media users are feeling remorse. According to the report, "Even as social media users become more active curators of their profile, a small group of what might be described as trigger-happy users say they post updates, comments, photos or videos that they later regret sharing." Men are the biggest culprit of this, with 15 percent admitting to it, compared to just 8 percent of women.
Kristin Burnham covers consumer technology, social networking and enterprise collaboration for CIO.com. Follow Kristin on Twitter @kmburnham. Follow everything from CIO.com on Twitter @CIOonline and on Facebook. Email Kristin at kburnham@cio.com