BlackBerry-maker Research In Motion's (RIM) first entry into the fiercely competitive tablet market, the PlayBook, wasn't exactly well-received by the masses when it was released last April. A variety of factors contributed to the lukewarm reaction, but the PlayBook's lack of a dedicated e-mail client and native personal information management (PIM) apps, such as a calendar and contacts, were the focus of the negativity. The PlayBook also did not connect to corporate BlackBerry Enterprise Servers (BES), making it less than ideal for businesspeople.
Yesterday, RIM shored up some of these holes in its PlayBook software with the much-anticipated release of PlayBook OS 2.0. PlayBook users now have native e-mail and PIM, and the tablets can be connected to Microsoft Exchange servers for access to corporate mail, contacts and calendar–though not via BES. What follows is a quick list of facts that all BlackBerry and IT managers who are responsible for RIM smartphones and tablets should know about the new PlayBook 2.0 software.
1) BlackBerry PlayBook 2.0 Native E-Mail, PIM Apps
With the PlayBook OS update, corporate BlackBerry PlayBook users can now securely connect to their organizations' Microsoft Exchange Servers for access to Outlook e-mail, contacts and calendar. The native applications will work over a BlackBerry smartphone's wireless connection if the tablets and handheld are "Bridged" using the BlackBerry Bridge app, so Wi-Fi isn't necessary to access native e-mail and PIM. However, the PlayBook doesn't connect to Exchange via BES, like the current crop of BlackBerry smartphones. Instead, the PlayBook supports Microsoft ActiveSync for Exchange access.
This new support is notable because RIM has traditionally avoided ActiveSync like the plague, in an attempt to build loyalty around its BES software. And because PlayBooks don't connect to BES, IT managers cannot use BES software to secure and manage them. To address this new need for tablet management options, and for security and management features for additional mobile platforms including iOS and Android, RIM has released BlackBerry Mobile Fusion.
BlackBerry Mobile Fusion is a software tool that works in conjunction with the latest version of BES to help IT remotely manage PlayBook, iPhones, iPads and Android smartphones and tablets, via a Web-based Mobile Fusion Studio console. And RIM yesterday released the initial version of BlackBerry Mobile Fusion, which currently only works with the PlayBook and not iOS or Android devices. (Interested parties can get a 90-day free trial for up to 500 users for a limited time. And the full version of Mobile Fusion with iOS and Android support is expected in late March.)
The BlackBerry Device Service component of Mobile Fusion Studio allows IT to manage PlayBook tablets and apply "key settings and IT policies" to PlayBooks remotely after admins associate the tablets to specific users. (That association must be made via a USB connection to a PC with RIM's BlackBerry Web Desktop Manager software installed, according to RIM.)
2) BlackBerry Mobile Fusion Security and BlackBerry Balance
As stated above, PlayBook tablets do not connect to BES software, and as such, they cannot take advantage of the security safeguards in BES. But that doesn't mean that IT managers can't securely manage PlayBooks thanks to BlackBerry Mobile Fusion and RIM's BlackBerry Balance technology, which effectively separates personal user data from "work" or corporate data stored on or accessed via PlayBook.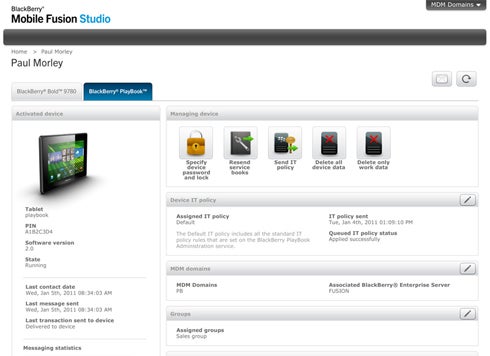 And the secure, corporate sections of the BlackBerry PlayBook fully support hardware encryption, so organizations that require this feature will be able to secure and employ PlayBooks in the enterprise.
The relationship between the personal and secure, corporate "silos" within the BlackBerry is rather complicated, so I won't get into too much detail here. But to simplify, the corporate silo secures data via XTS-AES-256 encryption along a security record that includes 512-bit random salt and several attributes of the file, according to BerryReview.com. The security record is then encrypted using another 512-bit random domain key. The process is similar for BlackBerry Bridge data which is isolated into its own perimeter and encrypted with XTS-AES-256 encryption. Unfortunately, the PlayBook does not encrypt users' personal data, but corporate data is protected.
RIM's BlackBerry Balance technology comes into play when certain applications or services access data stored in both the corporate and personal silos. Balance lets admins access these apps and wipe associated corporate-related data without, in most cases, affecting personal data. Again, this is a simplification, but you can pop over to RIM's 68-page PDF on the subject if you want more details.
3) New Version of BlackBerry Bridge App for PlayBook 2.0
Along with the PlayBook software, RIM also released an update for its associated BlackBerry Bridge smartphone app. (The latest version is 2.0.0.25.) But why would you want to continue to use Bridge, which for the past year has been the only way to get corporate mail on PlayBooks, if you have native e-mail and PIM apps?
For one, users can employ their smartphones' cellular data connections to access the Web and use select PlayBook applications when connected to their handhelds via Bridge, when Wi-Fi is not available or reliable. (Visit RIM's site for details on which apps and services work over Bridge and which ones require a separate Internet connection.)
The latest version of Bridge also offers a number of cool new features for PlayBook OS 2.0, including the Remote Control option.
Remote Control in PlayBook 2.0 lets users employ the BlackBerry Bridge app to remotely control their PlayBook tablets using BlackBerry smartphones. The feature could be particularly handy while PlayBooks are connected to monitors or TVs and users are away from the PlayBook, to scroll through music or fast forward through a video, etc. And you can even use your BlackBerry smartphone's keyboard to type in messages and documents on your BlackBerry PlayBook.
4) New and Improved Productivity Features
In addition to the previously mentioned PlayBook enhancements for the enterprise, PlayBook 2.0 also packs a handful of cool new productivity features, including a new Print to Go option, enhanced Documents to Go document editing capabilities, improved video chat, support for addition applications via a new "Android Player" and UI customization options.
Print to Go is one of the more significant new app additions, and lets you quickly and easily "beam" documents and other files from your work PC to your PlayBook for quick file transfers–and environment friendliness due to a reduction in paper printouts. You simply ensure that your PlayBook and PC are connected to the same Wi-Fi network, install the associated software on your PC–sorry Mac users, Print to Go is Windows only at this point–choose the "Print" option from your Windows File options, then make sure the PlayBook Print to Go printer is selected and click "Print." The documents or files are then sent directly to your PlayBook, where they're instantly much more portable.
PlayBook 2.0 also support the much anticipated "Android Player," which lets PlayBook users run select Android apps on their tablets. However, Android app makers must submit their apps to RIM for approval and distribution via BlackBerry App World. Honestly, I haven't seen too many valuable Android applications for download at this point. (Read more about the PlayBook Android Player and its limitations.)
Finally, one relatively minor feature enhancement that greatly improves the PlayBook's UI is the ability to create and name new folders, and then group apps by category in the folders of your choice. The modification lets you reduce the overall number of "panes," and applications on each individual pane, so you can quickly navigate your PlayBook in a more intuitive way.
For more details on RIM's PlayBook OS 2.O and BlackBerry Mobile Fusion, visit the company's tablet site and Fusion page.
AS
Al Sacco covers Mobile and Wireless for CIO.com. Follow Al on Twitter @ASacco. Follow everything from CIO.com on Twitter @CIOonline and on Facebook. Email Al at asacco@cio.com