As Apple's much anticipated March unveiling of the iPad 3 (or whatever it'll be called) fast approaches, the Apple rumor mill is in hyper-drive about what to expect. This week, it's all about the iPad 3 and LTE.
The Wall Street Journal reported that "people familiar with the matter" said that Verizon Wireless and AT&T will sell the next version of the iPad running on their fast LTE data networks. If this turns out to be true, then it'll be the first time the iPad has trumped the iPhone (which does not support LTE).
The iPad sure could use the speed of the LTE network. "Apple needs to solve the bandwidth issue if they're going to roll out 1080p video," says Kyle Wiens of iFixit, a Web site that provides free repair manuals and advice forums. "Their new wireless sync feature is great, but it's way too slow."
(Wiens has been a reliable Apple prognosticator. Check out our Q&A with Wiens, iPad 3: Predictions and Challenges.)
The iPad has emerged as a great multimedia consumption device that streams video and delivers graphic-intensive games and other apps. The iPad 3 is also expected to double the resolution of its predecessors. All of this translates into the need for bandwidth speed on the iPad, more so than the iPhone.
But there's another reason the iPad needs LTE, one that impacts the iPad's future: Faster wireless network bandwidth speed can usher in a whole new class of big, beautiful hosted apps.
Mobile trend spotters already know the value of cloud computing, even in Apple's world. Cloud computing plays a role in nearly all iOS apps, not just popular cloud storage apps such as Dropbox. Just take your Wifi-only iPad out of range and see what you can and can't do with it.
Slideshow: 15 Ways iPad Goes to Work
With a faster wireless data network, coupled with wireless optimization technology from companies such as OnLive, hosted apps can deliver an entirely new experience on the iPad.
Imagine a movie producer in Hollywood, a director in London, and a technical director in San Francisco working collaboratively in real-time on their iPads. They're pinching, zooming, adjusting and discussing high-res 3D images with little lag time. The app is industrial-strength Autodesk Maya, which costs more than $3,500. This isn't an iOS lite-version of Maya, but the real thing running on a server.
The only way Maya can run like this on the iPad is via a fast connection and network optimization technology. That's where OnLive, a cloud gaming platform provider, comes in. OnLive stole the spotlight at this year's Consumer Electronics Show in Las Vegas with its Microsoft Office apps on the iPad in a virtual desktop infrastructure environment. (Here's Walt Mossberg's review.)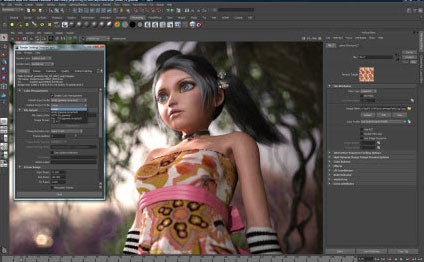 OnLive plays in the big leagues of tech sophistication: gaming. Let's face it, techies love games. They play with a critical eye, noticing poorly overlapping 3D images and getting frustrated over tiny lag times. As a result, OnLive has had to push the proverbial envelope to satisfy these savvy customers. The company has found a way to silence extraneous networking chatter that slows down data transfer speeds.
The result? Autodesk Maya on the iPad.
"I really hope the iPad 3 will support LTE," says OnLive CEO Steve Perlman.
However, LTE does have its own problems. The two biggies are immature chip sets that drain battery life and the fact that the network isn't widely available. That's why Apple didn't build LTE support into the iPhone 4S.
But the iPad isn't the iPhone.
For starters, the iPad has a bigger battery and thus is better positioned to handle power-inefficient chip sets. The chip vendors are also working hard to bring down the power consumption. Also, limited LTE network availability probably won't stymie iPad 3 sales. The majority of iPads sold to date are Wifi-only. For these consumers, wireless data network speed doesn't matter.
But it'll matter soon enough. If big, beautiful hosted apps come to the iPad, consumers will want to be able to access them all the time—and they'll need LTE. At some point, the Wifi-only iPad will become a distant memory.
If you're still not convinced, recall Apple's parallel universe: As more iOS apps needed a truly mobile connection, the Wifi-only iPod Touch became a brick compared to the always-connected iPhone.
Tom Kaneshige covers Apple and Networking for CIO.com. Follow Tom on Twitter @kaneshige. Follow everything from CIO.com on Twitter @CIOonline and on Facebook. Email Tom at tkaneshige@cio.com