Facebook enabled the amped-up security feature last year, and now LinkedIn is following suit with news that it will support hypertext transfer protocol secure (HTTPS) browsing as well.
HTTPS browsing, which provides encrypted communication and secure identification of a network's Web server, will be opt-in, according to a blog post by LinkedIn's Arvind Mani. However, the feature is highly recommended for people using public networks such as open WiFi hotspots. LinkedIn says it is rolling out the feature gradually in the coming weeks.
Until now, HTTPS was enabled only during the log-in process when you entered your username and password. The new security option will let you browse securely during your entire session on LinkedIn.
[Want more LinkedIn tips, tricks and analysis? Check out CIO.com's LinkedIn Bible.]
Here's how to turn on HTTPS:
First, select "Settings" from the drop-down menu that appears when you hover over the link to your name in the top-right corner. In the "Profile" tab at the bottom, select "Manage Security Settings." Note that if HTTPS has not yet been enabled on your profile, you will not see this option, so keep checking back.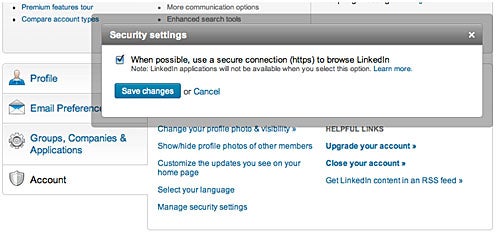 Next, check the box and save your changes.
To double-check whether you've enabled HTTPS browsing, look to your browser's address bar for the "HTTPS" prefix whenever you're logged into your LinkedIn account.
Kristin Burnham covers consumer technology, social networking and enterprise collaboration for CIO.com. Follow Kristin on Twitter @kmburnham. Follow everything from CIO.com on Twitter @CIOonline and on Facebook. Email Kristin at kburnham@cio.com