WASHINGTON — A group of more than a dozen activists converged on Apple's store here in Georgetown to deliver petitions protesting working conditions at the firm's supply chain partners in China, part of a day of demonstrations at Apple locations around the world.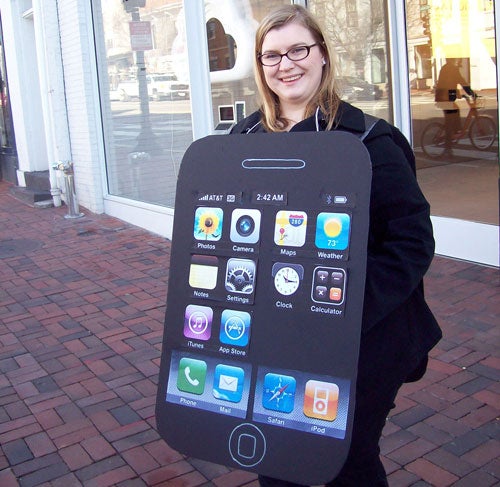 The petition, started by Washington resident Mark Shields, a self-described Apple user, calls on the company to release a strategy for protecting factory workers involved in future product releases and to publish the results of the audits of its supply-chain partners that Apple has arranged with the Fair Labor Association.
Shields started his petition on Change.org in response to a radio broadcast documenting the conditions at Foxconn, a manufacturing colossus in China that produces iPads, iPhones and other Apple products, as well as electronic devices for many other blue-chip tech companies.
The story on "This American Life" that motivated Shields to take action and other news reports have described in grim detail unsafe working conditions and the stories of factory employees who live in cramped dormitories working excessive overtime on the assembly lines, the carpel tunnel syndrome many have developed from performing repetitive tasks, and the despair that has driven some to suicide. Foxconn has hung up nets outside its buildings to catch jumpers.
"I don't think that it has to be that way, and we're calling on Apple to make an ethical iPhone," Shields told reporters outside of Apple's store on Thursday. "The thing is Apple's a leader in the world. They've set themselves apart from other companies and other industries. And they've changed how we listen to music and how we see movies and use technology. I believe that they have the creativity and the capital to make a change and stop this terrible suffering."
In addition to the demonstration at Apple's D.C. store, activists have been delivering petitions to Apple's locations in San Francisco, New York, London, Sydney and Bangalore. Organizers said that more than 250,000 people had signed letters of protest through campaigns spearheaded by Change.org and the activism group SumOfUs.org.
"Tim Cook, who's the new CEO of Apple, faces an enormous challenge here of whether he's going to respond to the concerns of consumers and keep the brand that Apple has built over the years of thinking differently and of appealing to the kinds of ethical consumers who love Apple products … or whether he's going to sort of stick with this supply chain that he's responsible for, coming out of his position as the COO of Apple, and continue to willfully ignore the abuses in the supply chain," said Taren Stinebrickner-Kauffman, the president and founder of SumOfUs.org. "We as Apple consumers call on Tim Cook personally to make the iPhone 5 the first ethically produced Apple product."
Apple, which did not respond to a request for comment for this story, has acknowledged the workplace issues in its partners' facilities, and has implemented a supplier code of conduct and audited factories to evaluate their health, safety and environmental conditions, in addition to the independent inspections conducted by the Fair Labor Association.
"When suppliers don't respect the code or they refuse to take corrective actions based on audits, we terminate our relationship with those suppliers," Apple says on its website.
"I think that Apple has in the past proved themselves a sort of company that is responsive to consumer requests," said Amanda Kloer, Change.org's director of organizing, who donned a homemade iPhone sandwich board at Thursday's demonstration.
"Apple has not made a response so far to this petition or to this campaign or to any others that I've seen, but I know that they have heard consumer feedback in the past for campaigns and responded to those with changes, so I'm hopeful that we'll be able to see some improvements down the line in their manufacturing process as a result of this."
The conditions that workers assembling Apple products at Foxconn endure are often attributed to a combination of the scant workplace protections in China and the demanding quotas that Apple sets in anticipation of new product launches.
The organizers of the petition drive emphasized that they are not calling on Apple to reinvent its supply chain, but rather to enforce its code of conduct for manufacturers more vigorously and hold its up auditing process for public scrutiny. Those reforms would lower production quotas to more manageable levels and offer workers relief from the repetitive motion tasks that have reportedly left some without the use of their hands.
"There's a lot of really simple things that Apple could do to improve working conditions that are not going to be incredibly costly," Kloer said. "This campaign isn't asking Apple, for example, to move manufacturing back to the United States. It's asking them to put in basic worker protections."
Many other prominent consumer electronics companies rely on Foxconn and other overseas manufacturers with questionable employment practices. When asked why they are singling out Apple, several of the petition's signatories said that they are appealing to that company due to its position as a market leader. The activists are hopeful that Apple, which reported $13.06 billion in profits on sales of $46.3 billion in its last quarter, is uniquely positioned to pressure its suppliers to improve their working conditions, and that a firm stance would, as Shields put it, create a "trickle down effect" that would extend to other companies.
"Apple, by being so visible, the hope is that it has much more power over Foxconn than a lot of other companies," said Claiborne Deming Jr., research coordinator at SumofUs.org. "Foxconn will listen to Apple much more so than it will listen to Amazon or HP."
Several activists also took Apple to task for its "think different" motto, arguing that a company that so prides itself as both an icon and iconoclast, preaching a message of disruption in its marketing and business strategies, should reject the harsh working conditions that have been reported as institutional practice in the factories at Foxconn.
"It should apply to the entire supply chain, not just the end user," said Phoebe Kilgour, a Washington resident who signed the petition.
Said Shields: "If they want to be a leader we hope that they'll lead. Apple's branding is about, you know, 'think different.' Well, we're here today to say, 'Apple please do that.' Please do spend your energy and think differently about how these products are made."
Kenneth Corbin is a Washington, D.C.-based writer who covers government and regulatory issues for CIO.com.
Editor's note: Corbin signed Change.org's electronic petition.