U.S. carrier Verizon Wireless has released the much lauded DROID RAZR MAXX smartphone, which was very recently announced at the 2012 Consumer Electronics Show (CES).
With so many feature-packed handhelds available today, it can be a chore to determine which smartphone is best suited for your individual needs. To help ease that burden, I've broken down the facts and features that set the new Motorola DROID RAZR MAXX with Google Android apart from the competition. I filmed the unboxing along with a quick hands-on hardware walkthrough so you can get a closer look at this cool new device. (See video clip below.)
You can also find more official details on the DROID RAZR MAXX, which retails for $299.99 with a new, two-year Verizon Wireless service agreement or $649.99 with no contract, on Motorola's Website or VerizonWireless.com.
1) Stellar Battery Life, Even on 4G LTE
Best battery life of any comparable smartphone, according to Motorola, with more than double the battery life of other leading 4G smartphones. Specifically, Motorola says the DROID RAZR MAXX gets about 21.5 hours of talk time on a single charge. (The iPhone 4S get around 8 hours of talk time per charge, according to Apple, and the BlackBerry Bold 9900 provides roughly 6 and a half hours of talk time, Research In Motion [RIM] says.)
Almost a full day of battery life? That's mighty impressive, especially when you consider the fact that the DROID RAZR MAXX is a 4G, LTE handheld. (More on that coming up shortly.)
One downside: The DROID RAZR MAXX's 3300 mAh battery pack is fixed in the device and, therefore, it cannot be removed by the userat least not easily and without voiding the warranty.
2) Ultra-Thin Profile
The device is just 8.99 millimeters, making it one of the thinnest Android devices and high-end smartphones to date. (The iPhone 4S is 9.3mm , according to Apple, while the BlackBerry Bold 9900 is about 10.4mm, RIM says.)
3) No Android v4.0 (Ice Cream Sandwich)…Yet
The DROID RAZR MAXX ships with Google's Android 2.3.5 (Gingerbread) software. Unfortunately, the brand new device does not come with the latest Android software, v4.0, a.k.a. "Ice Cream Sandwich." That's unfortunate, since Ice Cream Sandwich packs a variety of cool new features for consumers and business users.
DROID RAZR MAXX buyers or would-be buyers can, however, take comfort in the fact that the handheld is Android 4.0 "upgradable," according to Motorola, and it should get the new software sometime in the not too distant future.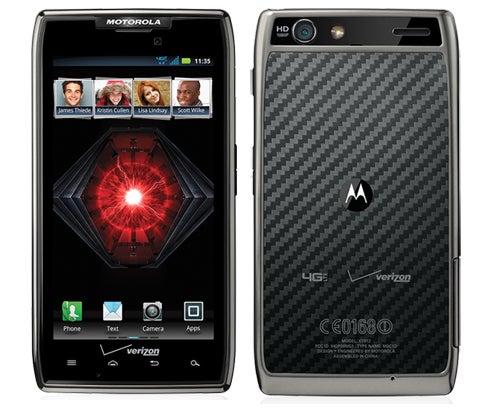 4) Solid Construction, Durability
The DROID RAZR MAXX is built to last. The handheld itself is protected with a KEVLAR fiber and a "force field" of water repellant material to protect it from moisture. And the device's 4.3-inch, Super AMOLED Advanced (540 x 960) screen is made of tough, Corning Gorilla Glass.
5) DROID RAZR MAXX is a 4G, LTE Smartphone
It runs on Verizon's 4G, LTE network for some of the faster cellular network data speeds available in the United States. Specifically, Verizon says its LTE network provides average data rates per user of 5-12 Mbps down and 2-5 Mbps up. Those speeds should make for smooth multimedia streaming and/or uploads.
6) Sorry Travelers, DROID RAZR MAXX is Not a "World Phone"
The Motorola DROID RAZR MAXX may be a blazing fast device while connected to Verizon's LTE network, but unfortunately for global travelers, it is not a world phone, meaning the device won't work on GSM networks outside the United States. (Many of Verizon's other high-end devices, such as the BlackBerry Bold 9930, work on both Verizon's CDMA network and other GSM networks.)
The Thunderbolt's network compatibility is officially listed as LTE B13 (700), CDMA (800/1900), so it will only work on Verizon 3G and 4G networks in the United States. That could be a deal breaker for many folks who frequently travel internationally, though the device should roam on compatible LTE networks across the globe in the future.
7) Ready for Its Close Up with 8MP Digital Camera
The DROID RAZR MAXX packs a solid, 8 megapixel, rear-facing camera with 8x digital zoom, autofocus and an LED flash. The camera can capture full HD video, as well. The 1.3 megapixel, front-facing camera shoots 720-pixel HD video. And included image tools allow for easy picture cropping, rotating, resizing, geotagging, and brightness and color enhancements, as well as other effects.
8) Powerful, Dual-Core Processor for Speed, Performance
The DROID RAZR MAXX features a 1.2GHZ, Cortex A9, dual-core processor, which means that it's one of the most powerful handhelds available today. That beefy processor should come in handy when streaming video content or other large files.
9) Built-In Storage and Expandable Memory via MicroSD Card
The RAZR MAXX has about 11.5GB of built-in storage space that's available to users, according to Motorola, and it also supports microSD media cards up to 32GB so owners can have roughly 43GB of storage at any given time. The device ships with a 16GB media card, as well.
10) Motorola Webtop Compatible
Motorola's Webtop application turns all of the company's high-end handhelds into PC-like mobile computing environments when used along with an HDMI-compatible displays, keyboards and mice. And the DROID RAZR MAXX is Webtop compatible.
Webtop allows you to use your RAZR MAXX with a monitor to access content on your device, surf the Web and much more, via a larger display and using desktop PC UI tools.
For more details and a video look at Webtop in action, check out "Hands-On with Motorola's Webtop App, Atrix 4G."
AS
Al Sacco covers Mobile and Wireless for CIO.com. Follow Al on Twitter @ASacco. Follow everything from CIO.com on Twitter @CIOonline and on Facebook. Email Al at asacco@cio.com