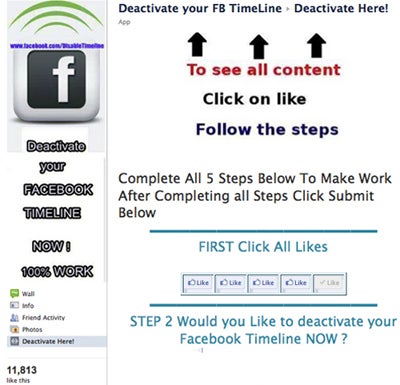 If you're not a fan of Facebook's new Timeline, you're not alone. In a CIO.com poll of more than 600 people, 87 percent responded that they dislike the new profile design.
Unfortunately for them—and contrary to Facebook Pages and Groups popping up—there's no hitting the rewind button to revert to the old profile.
Since Timeline rolled out to the public in December, and the backlash that ensued over yet another Facebook change, scammers and spammers have been busy creating bogus Facebook Pages and Groups claiming to give you instructions on how to get your old profile back.
These pages, which you can find easily by searching Facebook for the keyword "Timeline," have attracted tens of thousands of people. They are generally entitled "Deactivate Facebook Timeline on your Profile" or "Deactivate Your FB Timeline" and are found under app, public figure, community, cause, website and organization categories.
They also have a number of characteristics in common: Most request that you "Like" its page before it reveals how to receive your old profile design, then it instructs you to click a cluster of "Like" buttons and a "Share" button; select a state or country; and choose friends to invite to the application or group.
[4 Facebook Security Tips to Stay Safe in 2012
Michael Sutton, vice president of security research at Zscaler ThreatLabZ, says that these scams are typical. Scammers, he says, aren't usually looking for information, rather they're "social engineering" users into performing acts that further the scam, ultimately earning the scammer a few cents.
There are two parts to this specific scam, Sutton says. The first falls under the aforementioned propagation category, in which the scams convince victims to "Like" its Facebook page, then posts a link to it in the users' News Feeds and potentially sends a link to users' friends via Facebook chat.
The second part is the pay-per-action scam, in which the page ends with asking the user to take a survey, for which the scammer will earn a few cents.
"If [the scammers] can convince thousands of Facebook users to participate, such a scam can become a lucrative venture," Sutton says. "The scams often leverage current events or popular Facebook topics in order to draw the attention of potential victims."
Facebook, which generally does issue a warning or clarification regarding rampant scams or spammy memes, has not yet addressed these groups claiming to get your old profile back.
[Want more tips, tricks and details on Facebook privacy? Check out CIO.com's Facebook Bible.]
Generally, though, Facebook's official Facebook page and its official security page are two good resources to check if you're unsure about whether or not a page or meme is legitimate. On these pages, Facebook will post information about new security features, tips and setting rumors straight.
As a general recommendation, Sutton says to avoid "Like" or "Share" buttons on sites or in links that are sent to you, even from Facebook friends, since their profiles could have been already compromised. You can also download Zscaler's free Likejacking protection plugin.
Kristin Burnham covers consumer technology, social networking and Web 2.0 for CIO.com. Follow Kristin on Twitter @kmburnham. Follow everything from CIO.com on Twitter @CIOonline and on Facebook. Email Kristin at kburnham@cio.com